A further 23,281 people in Ireland have tested positive for COVID-19, the Department of Health has confirmed. 
The figures are the highest since the pandemic began and 656 hospital patients have contracted the virus as well - of whom 85 are being treated in ICU. 
The five day moving average now stands at 17,876 - up from 14,567 yesterday.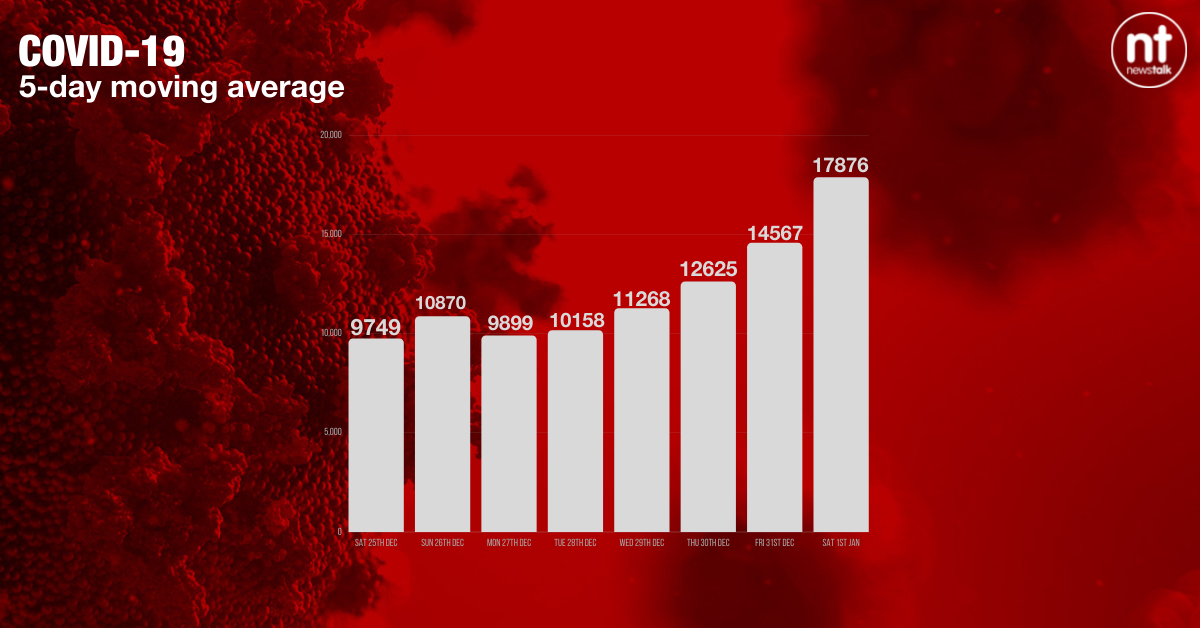 However, the true number of people infected is likely far higher due to the huge pressure on the testing system; at the time of writing there were zero available slots to book on the HSE's website. 
Earlier this week Dr Holohan told Late Breakfast that changes around testing, announced on Thursday, will "take a significant burden or pressure off the PCR testing capacity".
However, he continued: "It may well be the case that we're having to take further measures, because we can't be certain how long this disease is going to continue to increase.
"And so long as it continues to grow at the rates that it's growing, we may have to take further measures to give further prioritisation - if you like - of our PCR testing capacity".
Booster shots
Today also marks a significant new chapter in the rollout of booster shots, with all individuals over the age of 16 now eligible. 
Minister for Health Stephen Donnelly told Newstalk: 
"We're starting with a small number of the vaccine centres on Sunday and then through the week more and more vaccine centres will be offering those scheduled appointments for people aged 16-29. 
"And on top of this, we've had in place now for about a week and a half self-scheduling. So people can now go on and book a time that works for them."
"It's proven very popular and it's reduced the number of 'Do Not Shows' that we've seen. So that's gone down very well."
Close contacts
Meanwhile, the retail sector has urged the Government to relax the rules regarding self-isolation for close contacts. Talking to Newstalk, Vice-Chair of Retail Excellence Jean McCabe said: 
"Most retailers are operating with a skeletal workforce," Ms McCade said. 
"And some have had to close their doors because they just don't have the staff to operate. 
"And you have to consider as well, this is after a very stressful period for employees and now having to operate with skeletal staff is a real challenge for the sector." 
HSE CEO Paul Reid has previously said such a change would be worth considering for healthcare workers - although the idea has been strongly opposed by trade unions.
Main image: Paramedic Chris Rowan swabs David Rowlands at the Ballyfermot Sports Complex. Picture by: Sam Boal/Rollingnews.ie.