Did you spot it?
Don't Look Up viewers were shocked to discover a phone number featured in the movie leads to a sex hotline.
The Netflix movie starring Leonardo DiCaprio and Jennifer Lawrence follows two astronomers as they desperately attempt to warn the world about an incoming asteroid.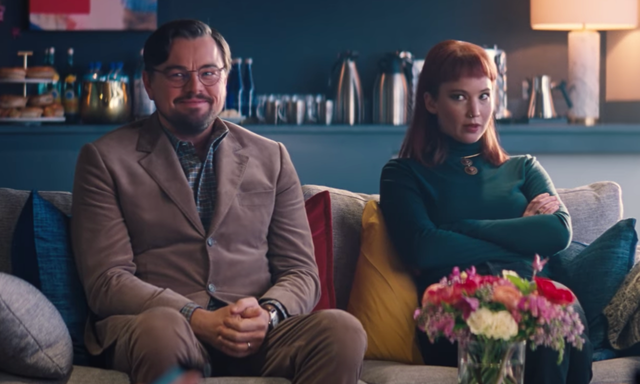 In one scene, DiCaprio's character, Randall Mindy, is seen in a public service announcement urging Americans to call a phone number – 1-800-532-4500 – if they seek "peace of mind" following news of the comet's collusion course with earth.
However, when some inquisitive viewers went to call the number, they ended up getting a lot more than they bargained more.
According to PEOPLE and the New York Post, an automated message from a female voice says: "Welcome to America's hottest hotline. Guys, hot ladies are waiting to talk to you. Press 1 now.
"Ladies, to talk to interesting and exciting guys free, press 2 to connect free now."
It is unknown whether the inclusion of the phone number was intentional.
In the scene, Dr. Mindy says: "Right now, millions of you are having theses same doubts and questions about the approaching comet.
"That is why BASH Cellular, in conjunction with the United States government, is creating a new hotline, free of charge, to answer all of your questions.
"And who knows: Maybe, just maybe one of our scientists ... can be that friend we all need to lean on during uncertain times."
A narrator then says, "Call 1-800-532-4500 for peace of mind. Offer only available to BASH customers. Details of your call may be shared with other subsidiaries to enhance your future customer experience. Data and roaming charges apply."
Follow @98FM online for all the latest news