If you've never seen Desperate Housewives, let us give you a quick low-down.
It's set on Wysteria Lane and follows the lives of four women who are trying to figure out the events which led to their friend, Mary Alice's death. 
The comedy-drama-mystery series first aired in October 2004 and ran for eight seasons. 
We've compiled a list of reasons why you need to get over to NOW TV and get watching/re-watching the hit show:
Friendship
Imagine living on the same road as all your best mates - now that's the dream!
Each of the four are so different - there's Bree who is the perfect housewife, Susan - a single mum, stay-at-home mum Lynette and former supermodel Gabrielle.
They fight and betray each other over the course of the show, but their friendship always prevails and they come out stronger together. 
Strong Female Characters 
You'll start to feel like these four funny, strong and complex women are your friends. 
Susan Mayer (Teri Hatcher)
Although her life experiences could have made her a bit cynical and bitter, she is the opposite of that.
Susan continues to be a die-hard romantic and an eternal optimist, no matter what is thrown her way. 
Lynette Scavo (Felicity Huffman) 
Living with her husband Tom and three kids in a house with a white picket fence on Wisteria Lane, is what she thought she always wanted.
Now a full time Mum, Lynette is a former successful advertising executive. 
Her character struggles with the challenges of being a housewife and misses her corporate job. 
Bree Van de Kamp (Marcia Cross)
Bree takes pride in her skills as a housewife. She is determined to be known as Wisteria Lane's best mom and most elegant resident – no matter what.  
Behind her kind, polite outer persona is a rigid and controlling woman. 
Bree knows what she wants and isn't afraid of telling it how it is. 
Gabrielle Solis (Eva Longoria)
Vain and selfish - These aren't usually the traits of someone you'd like, but Gabrielle pulls it off all while making you laugh.
Gabby has everything she could possibly want but she is unhappy. Her character is charming and fun despite her flaws. 
The Guest Stars
There's a massive list of famous celebrities who made guest appearances across the 8 series, but here are just some of our favourites.
Kyle MacLachlan
The Twin Peaks star played Bree's second husband Orson Hodge on the show. 
Vanessa Williams
The actress/singer played the role of Renee Perry on Desperate Housewives from 2010 until 2012.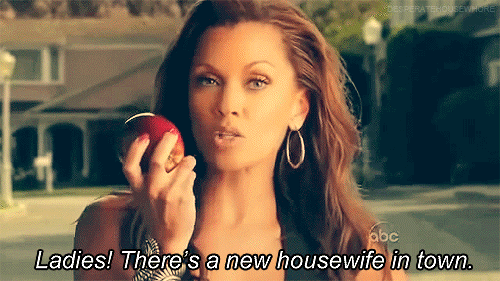 Heidi Klum
The supermodel played herself in an episode of the show!
Jane Lynch
The former Glee star played the role of Maxine Bennett on the show. Watch the moment her character gets arrested...
Chloe Grace Moretz 
A young Chloe Grace Moretz played Sherri Maltby in a 2006 episode. She then returned to the show in 2007. 
Brian Austin Green
The former Beverly Hills 90210 star was a guest star in the show's 7th season and played a handyman who was hired to redecorate Bree's house after her divorce and then becomes her boyfriend. 
The Crazy Storylines
You'd assume that a TV show set around a group of suburban housewives could get a bit dull at times, but this show brings heaps of drama! 
From murders to affairs, you'll be hooked in from the first episode.
Who can forget Gabby trying to cover up her fling with her high-school student gardener....
Or the time Susan ends up locked out of her house naked...
Shocking Moments
*Contains spoilers*
Let's just say the writers on the show weren't afraid of killing off key characters. 
One of the most shocking and unexpected, has to be when Susan's husband Mike died. 
This has to be one of the saddest scenes, out of the whole 8 seasons.
Watch all 8 series of Desperate Housewives with NOW TV's Entertainment Pass.
With this you access over 300 box sets and get the latest shows. Try out the 14 day free trial.
This content is brought to you by NOW TV