Extra garda resources are to be put into catching on-street drug dealers.
The Garda Commissioner Drew Harris has told senior gardaí that they need to do more to protect communities on the ground.
Until now, the force was more focused on high profile targets.
On New Year's Eve, seven people were arrested in Dublin city on suspicion of dealing.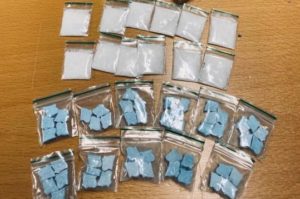 Cocaine and MDMA worth an estimated €4,500 was seized.
Independent Councillor Mannix Flynn, says it's about time the issue is tackled head-on by the gardai.
He said, "If you think some ad-hoc community group is going to deal with this if you throw a few bob at it; it's just completely ridiculous."
Families Affected
Drew Harris also wants gardaí to do more to protect families affected by drug debts.
The force deals with scores of cases where a property has been attacked by gangs seeking repayment of a debt.
Councillor Flynn says some dealers offer addicts drugs on credit and then threaten their families.
He said, "This is a law enforcement issue, this is criminality, but we have yet to see anybody brought to court for that kind of intimidation.
Councillor Flynn continued, "Drugs are as common as litter on our streets and what's not common is a response from An Garda Siochana.
He said, "As Vice-Chair of the Dublin Joint Policing Committee, I welcome this news."
Follow @98FM on Twitter for the latest Dublin news