85% of residents on Capel Street say the pedestrianisation of the area has improved their experience of the street.
That's compared to 71% of businesses, who responded to a survey by Dublin City Council.
The street became traffic free in May, and the council carried out a survey of the change, over four weeks during August and September which received 3,189 responses.
People were also asked for suggestions to further improve the area, and they included more greening, additional seating, and reducing the speed of cyclists.
The initial analysis of the latest round of consultation with Capel Street businesses, residents, and members of the public is here.
It shows overwhelming support for the project.🥳
(It's also comes with full transparency on the responses collected FWIW)https://t.co/O0ELe9VVD6 pic.twitter.com/ccCnbJQYL7

— Janet Horner (@JanetPHorner) September 20, 2022
Dublin City Council says: "The consultation was an opportunity for people to express their views, raise concerns and also to allow people to make suggestions for how the street could be improved.
"As well as informing the public through social media and online at the DCC consultation hub, every business and residents in the area received a leaflet informing them of the consultation and how to engage with us. In total 1,371 leaflets were hand delivered where possible and a further 1,260 leaflets posted to premises where it was not possible to gain access (such as apartment blocks).
"In addition, there have been numerous meetings with businesses and residents and any business that has requested a meeting has been met. Dublin City Council is still available to meet any business that wishes to discuss any suggestions or concerns they have.
"There were 3,189 submissions received through the Consultation Hub and 2 email submissions
"The results show that overall the traffic-free arrangement has been very well received by residents and businesses, with the majority stating it has improved their experience of the street. The public are overwhelmingly in favour of the measure."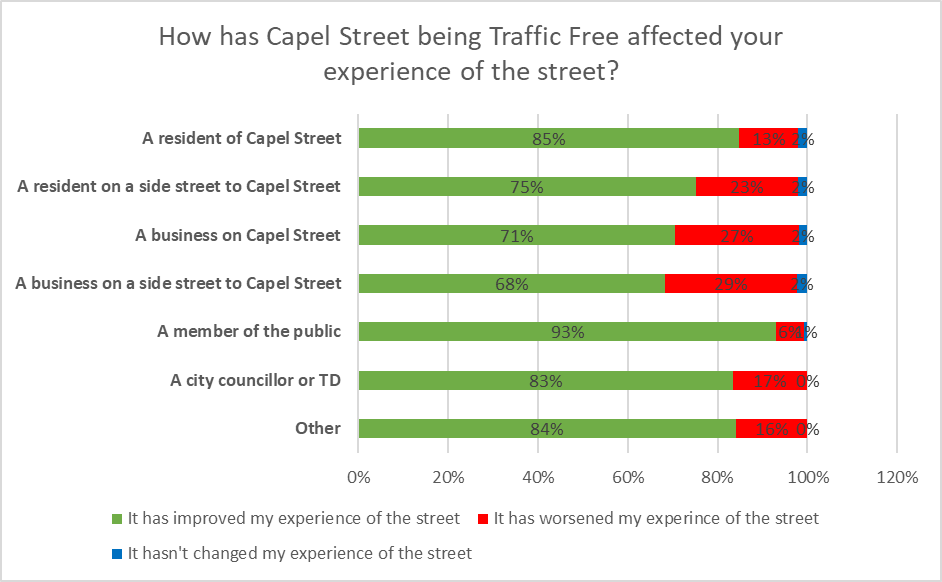 DCC adds: "A full analysis of the comments is currently being undertaken and a more detailed report on the consultation will be issued in due course.
"Initial readings of what changes need to be made are more greening, seating and reducing speed of cyclists. The Traffic department will continue to make changes including a trial next month of making a section of Jervis Street two-way to provide an alternative route for southbound car park traffic. The changes at Little Strand Street are now complete and in operation.
"We are also working closely with the Parks department on measures to provide greening and seating and altering the layout on Capel Street to reduce speeds. A landscape architect is due to be appointed shortly and workshops and initial proposals will follow in the near future."
Follow @98FM on Twitter for the latest Dublin news