Europe's big night is here
Right now in The Ahoy venue in Rotterdam, wind machines are being tested, unnecessary key changes are being arranged, and a global audience of over 180 million viewers are preparing to take in every minute.
Eurovision 2021 is here, and following last year's postponement, the 39 competing countries are pulling out all the stops to win.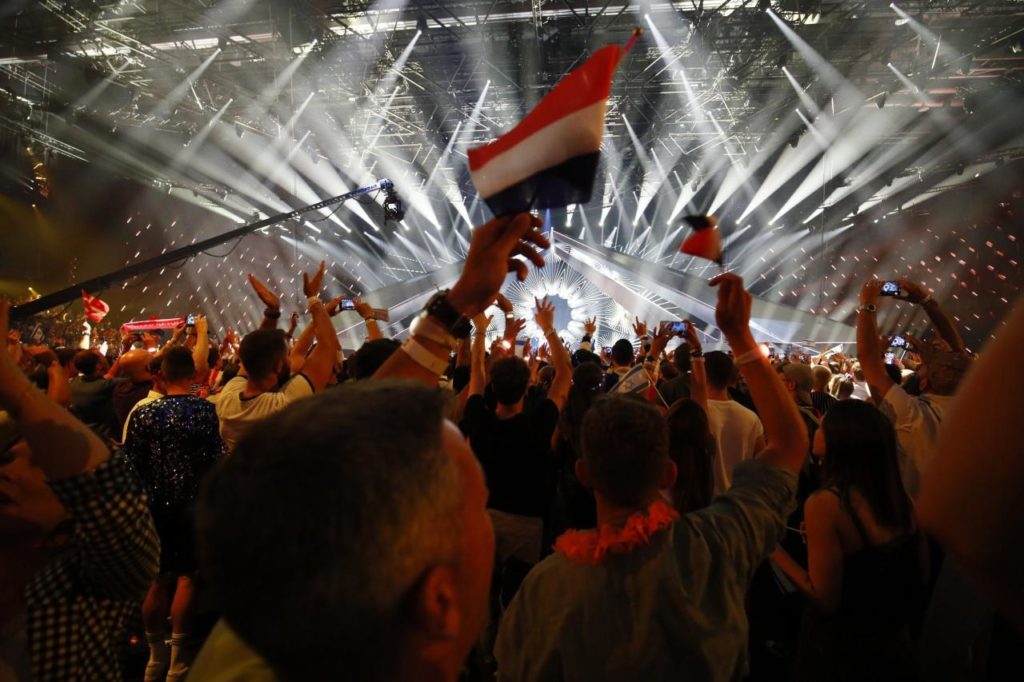 We're guessing that means dangerous amounts of glitter and pyrotechnics, but we're totally here for it. 
The theme this year is 'Open Up', which ironically was also planned to be used last year as the world went into lockdown.
We know Eurovision can be confusing, so here's a guide on what you can expect:
When is it happening?
Eurovision 2021 will take place this week across three nights, with two semi-finals, on Tuesday May 18th and Thursday May 20th, followed by the grand final on Saturday May 22nd.
All shows start at 8pm Irish time.
Who is hosting?
The winning country in 2019 was The Netherlands, and as last year was canceled, they retain the hosting rights once again. 
How is it all working with Covid?
All 39 acts will be performing live in Rotterdam except for Australia.
Organisers felt it was too much of a risk for their team to travel, so their song will be a 'live-on-tape performance'.
There is a similar back-up procedure in place for other countries if delegations cannot make it.
The Dutch government have allowed 3,500 seated fans to attend, so there will still be some audience atmosphere which the event is famous for.
What's the craic with the Irish entry? Is it any good?
Yes! Our song this year is Maps by the wonderful Leslie Roy, and it's a belter.
Not only have we a decent tune, but our stage presence has received praise by some Eurovision fans.
Leslie will perform to a backdrop of forests and oceans in a storybook fantasy theme. 
When will we perform?
Ireland will feature in Semi-Final 1 on Tuesday night.
We'll be competing against Lithuania, Slovenia, Russia, Sweden, Australia, North Macedonia, Cyprus, Norway, Croatia, Belgium, Israel, Romania, Azerbaijan, Ukraine and Malta.
Ten of these countries will make it through to the final on Saturday. No pressure.
Who are the bookies favorites?
The countries tipped to win include Malta (Destiny - Je Me Casse), France (Barbara Pravi - Viola) and Italy (Maneskin - Zitti E Buoni).
But this is Eurovision - anything can happen on the night.
Will there be any fun acts this year?
Of course! Check out Ukraine, it'll leave you feeling dizzy and confused. The lead singer is dressed in green feathers and is surrounded by hyperactive dancers in raincoats as they leg it through a dodgy looking forest while the music speeds up to a chaotic pace. You might want to sit down watching.
Other bits to watch include Greece, who will have invisible dancers morphing into the green screen. and Germany, who have a backing dancer dressed as a giant hand giving a peace symbol.
Is it true Flo-Rida is competing?
Yes, Flo-Rida randomly features on San Marino's entry.
The track is called 'Adrenalina' by the artist Senhit. Flo-Rida features on the track and is expected to appear on stage on the night. He hasn't yet taken part in rehearsals, with Senhit saying it'll be a surprise if he shows up on the night. Watch this space!
What will be this year's Riverdance interval act?
The organisers have planned a performance called 'Music Binds Us' which mixes Dutch dance music with a classical orchestra and features Dutch DJ, Afrojack.
Also, during the final seconds of voting, a dance piece called "The Human Countdown" will take place.
How long will all this last?
Listen, you need to be prepared for these shows. Stock up on the snack and the drinks (you'll need them). Each semi-final lasts a whopping 3 hours, and the final itself is almost 4 hours. 
98FM's Big Breakfast caught up with Eurovision icon Linda Martin - Listen.