It is understood the Kilkenny county board will be appealing Richie Hogan's red card from Sunday's All-Ireland senior hurling final defeat to Tipperary at Croke Park.
Referee James Owens gave the 31-year-old his marching orders shortly before half-time for what was perceived as a high elbow on Tipp star Cathal Barrett.
The Irish Independent are reporting this morning that Kilkenny are awaiting the contents of the referee's match report to ascertain exactly what the 2014 Hurler of the Year was cited for.
As things stand Hogan would miss the first match of Kilkenny's 2020 championship campaign. The player is understood to be fully behind the decision to appeal.
Hogan told Joe Molloy on Off the Ball this week that he felt the decision was harsh and said that the tackle had been merely mistimed.
"I watched it back there this morning, I stayed away from it earlier on - but I was going in for a shoulder on Cathal Barrett, he stepped inside and my momentum took me through.
"In my opinion, there was absolutely no way it was a sending-off."
"There was absolutely no way it was a red card."@KilkennyCLG's Richie Hogan exclusively speaks to Off The Ball about his #AllIrelandFinal red!

Full interview with Richie: https://t.co/zTYSiJyz1U pic.twitter.com/1qMIbm89pk

— Off The Ball (@offtheball) August 20, 2019
Hogan also remarked that he felt sympathy towards match officials having to make a decision in such a big game.
"It's not an easy game to referee, so I wouldn't be pointing any blame at James Owens, Cathal Barrett or anyone.
"It's just a difficult situation," before turning to the mechanics of the sport.
"They spoke about your arm not being down by your side. This is not Irish dancing.
"We have hurleys in our hands, how do we hold a 36-inch hurley without bending your arm?"
Former Kerry star Kieran Donaghy gave his thoughts on the matter to OTB AM this week, remarking that given the occasion he felt the red card was harsh.
"If he'd come in and threw the elbow deliberately," suggested Donaghy, "then absolutely it is a straight red card.
"I just felt that in the spirit of the game, and spirit in which Richie Hogan plays the game, there wasn't a bad stroke.
"Let's call a spade a spade, it ruined the game."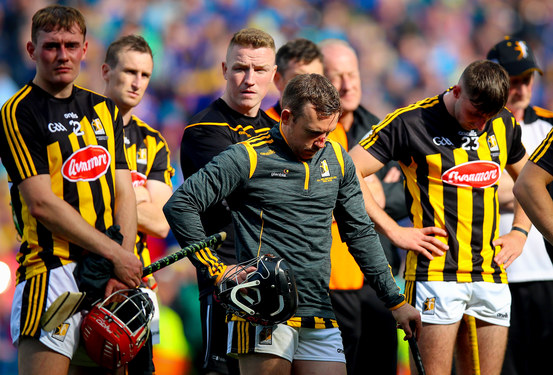 Donaghy also said that there was no malice in the incident.
"They're the rules," he conceded, "but I think when it comes to the All-Ireland final there is no next game, there's no tomorrow.
"In an All-Ireland final, at the speed that these guys are going and given everything that's on the line, technically it was a red card but I think it could have just resulted in a yellow card.
"There has to be malice for a red card in my eyes. I don't think there was any malice in that.
"You even saw by his reaction that Richie Hogan was never expecting a red.
"In fairness to the ref, he consulted with his linesmen and there was a call to be made, but I think there's a bit of common sense that could come into it."