Are you looking for ways to live more sustainably?
This weekend SSE Airtricity is hosting a special "Protect Our Planet" event at Dublin Zoo to help families learn more about sustainable living.
SSE Airticity is Ireland's largest provider of green energy and is the official Sustainability Partner to Dublin Zoo.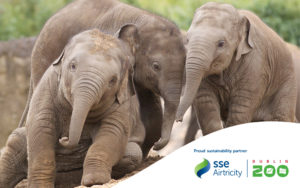 The event will see families discover The Eco Explorer Trail which will bring sustainability to life in a fun and interactive manner.
Families can use the Eco Explorer App to follow the trail, which features education stations and the opportunity to collect virtual Explorer Badges.
Become part of Generation Green and join SSE Airtricity on June 15th and 16th in Dublin Zoo.
If you want to take some steps to living a more sustainable life check out our Generation Green tips below.
10 Ways To Live Sustainably
Always carry a reusable water bottle/keep cup
Saving the waste of a cup every time you buy a coffee will make a huge difference. You could even save yourself some money with many places offering discounts for those who bring their own cup.
Buy fruit and vegetables loosely or in recyclable contains
Food packaging is one of the biggest generators of waste.
Leave the car at home as much as possible
Get some exercise and save yourself some money by walking or using public transport
Recycle your rubbish correctly
Educate yourself on what can and can't be recycled, and which bin it belongs in.
Choose paperless billing
Most companies now offer paperless communication. It's also easier to keep track of information in digital form.
Turn off lights when you leave a room and plug out your devices
A simple step which can also save you money in the long run.
Watch your water usage 
Time your showers, turn the tap off while brushing your teeth, only use your dish washer on a full load.
 

View this post on Instagram

 
Reduce fast fashion purchases
It takes roughly 7,600 litres of water to make a pair of jeans. Buy second hand or invest in key pieces that will last a long time.
Eat less meat
Whether it's choosing to eat vegetarian/vegan, or having one meatless day a week. Every little helps.
Invest in reusable cutlery, straws and shopping bags
Avoid reaching for single use plastics as much as possible.
 

View this post on Instagram

 
Learn more about living sustainability and become part of Generation Green.
Join SSE Airtricity at Dublin Zoo for 'Protect Our Planet' weekend. You'll get the buzz on biodiversity and have the chance to discover the Eco Explorer trail.