Love Island bosses have confirmed 'leaked messages' claiming Sherif Larne was kicked out of the villa after fighting with Anton are fake.
Rumours have been flying since Sherif's shock exit from the show yesterday. It was announced the 20-year-old had left the programme after "breaking the rules".
Last night, screengrabs emerged online which appear to show Instagram messages from the contestant revealing that he and Anton had a bust up over Anna Vakili.
A screengrab states: "Anton happened. Purposely moving to Anna while I'm right next to him trying to touch her leg.
"Asked him for a chat in private because I wanted to confront him and it got heated and security had to split us up, heartbroken but s*** happens man."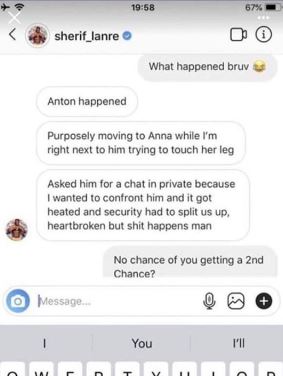 Now, a spokesperson told Heart that the messages aren't real.
"We have checked and these messages did not come from Sherif."
Sherif's Mum Diana has since slammed the show for "treating her son unfairly".
Speaking to the Daily Mail, she said: "I don't know the real reason yet, but I'm determined to get to the bottom of it.
"I don't know if he has actually done anything wrong yet.
"I need to look at his Love Island code of conduct and I need to speak to him properly to find out what really happened.
"But I'm his mum, I'm going to think it was a bit unfair. I think so. I'm going to defend my son."
Love Island continues tonight on Virgin Media Two at 9pm.
Follow @98FM on Twitter for the latest Dublin news