Ireland captain Rory Best says the squad still has plenty of confidence heading into their final Pool A fixture of the Rugby World Cup.
Joe Schmidt's side were unconvincing 35-o winners over Russia in Kobe yesterday but scored five tries in the bonus-point victory.
Results-wise it was a step in the right direction after defeat to the hosts Japan last time out, but Best says the squad bounce back well from adversity.
"I think when you lose a game, and it's been the same with every team I've been involved with, when you look across the board and chat to other players and teams - whenever you lose a game and go from being supposedly contenders in the first game and useless in the second game... ultimately it's always going to affect the confidence a little bit.
"I think we bounced back well. This group understands what we need to do to play well, we understand what our core values, if you like, are."
Best also spoke about not getting too carried away in defeat.
"Ultimately, it's always going to affect the confidence a little bit"

Rory Best on bouncing back from the Japan loss against Russia #IREvRUS @VodafoneIreland #TeamOfUs

Full press conference: https://t.co/XZYJX9Jzva pic.twitter.com/e2Ettl27UN

— Off The Ball (@offtheball) October 4, 2019
"We know we probably weren't as good in those areas against Japan, but ultimately you take a look back... after the England game, and Wales, Wales, Scotland, that run of games where we felt in a good slot and felt we were improving.
"Sometimes you've gotta just take it on the chin and go 'We didn't play as well as we can'. Japan played very well and they put us under a bit of pressure and used the opportunities.
"In terms of confidence within our group, we're still very assured of what we're capable of and how we get there."
Johnny Sexton captained his country for the first time from the start in the win yesterday, and Best sees plenty in the Leinster man that confirms his leadership skills.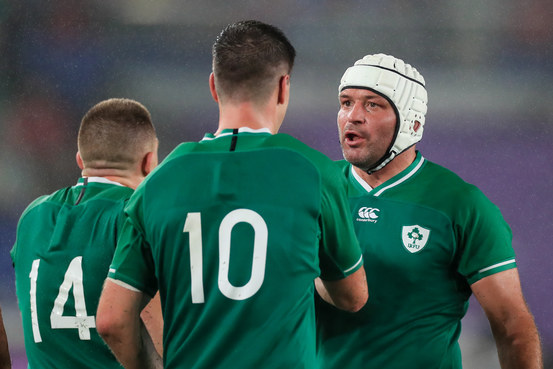 "I think he's a fantastic captain. If you look at the way with Leinster... the problem is when you get somebody as good as Johnny the tendency sometimes is to focus on the negatives. If you look at the way he's led Leinster, there's not a lot been said about how successful they were last year.
"You see the way they [Leinster] want to play for him and I think the sign of a really good captain os you get the sense that people want to play under you. You got that from Leinster last season and you got that from the boys last night.
"He's definitely maturing into somebody that understands the difference between being a quality player and a quality captain. I thought he did really well - I thought he had a really strong forty minutes not just as a player but as a captain last night.
"There's no hiding away from the fact that he's a big, big leader within this group."
Ireland play Samoa in their final pool game this Saturday morning in Fukuoka from 11.45 am Irish time.
Everyone's in the Team Of Us.
Vodafone. The Official Sponsor of the Irish Rugby Team.