Shamrock Rovers head coach Stephen Bradley noticed some big changes in youth football as he took in several games during the under-17 UEFA European Championship which was hosted in Ireland this month.
For the most part, it looks like the days of the small, nippy and technically proficient player could be numbered with the stronger teams in this tournament fielding many big and athletic footballers.
That said, Bradley was very impressed with the performances of 16-year-old Hoops left-back James Furlong who played every minute of the Republic of Ireland's three group matches.
"It's the biggest honour any player could have, to play for your country and James is one of the lucky ones that get to play in a competition like that in Ireland and they don't come around too often," Bradley told Off The Ball on Thursday.
"It was, first of all, great for Ireland to have such a good tournament and so many talented players showcasing their talent here in Ireland and I thought James was one of the standout players in the tournament, I thought he was excellent.
"It was great for us, as a club, to see one of our young players perform like that on a big stage."
The Boys in Green drew all three matches which wasn't enough to progress to the knockout stages but Bradley was impressed by Furlong's performances.
"I thought he did really well," Bradley added. "I still think there's a lot more in him but I thought overall he did really well considering the calibre of opponent he was [playing] against.
"He was against some really top class opposition and I thought he was excellent.
"Like I said, there's more to come from him but for such a big tournament for young players I thought a lot of them did really well."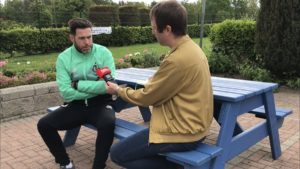 Stephen Bradley believes football is getting physical again
Bradley was an interested spectator at several matches throughout the tournament and he has noticed some big changes in how youth teams are approaching and playing games.
"Yea, I went to a lot of the games and I think it's important you try and watch games like that when they're on show because you'll always find something that you find interesting and there's a lot you can learn from them.
"You see different trends in the game and where it's going at youth level and I thought that was very interesting.
"I think you could see [from a] tactical aspect that there's a lot more high pressing with a lot of the younger teams now, a lot more possession based.
"It was interesting to see the physicality of a lot of the teams as well, I think Italy, Holland, France, were, physically, really, really imposing players.
"I think football, for a time, went small and technical and it looks like it's going back to big, physical, athletic players."
Furlong is just one of many young players coming through the Shamrock Rovers Academy at present but to match what other countries are doing now, Bradley explains that it isn't as simple as making players spend more time in the gym bulking up.
"There's a lot that goes into that, it's genetics as well."
"I think with the way society is in Ireland at the moment, I think that's definitely helping us in terms of, some of the young players now, the genetics are definitely different.
"We're seeing a lot more players with different attributes than what we would have had before.
"A lot more players that we have are power-based and are quick and agile and explosive and that's good to see around the country, that young players are definitely changing."
Rovers will be in action at Tallaght Stadium tomorrow night when they welcome a resurgent Cork City side, as they attempt to keep pace with the SSE Airtricity League Premier Division champions Dundalk.