He's probably the most famous kitman in Irish sporting history, and now Charlie O'Leary's received official recognition from the FAI.
The diminutive Dubliner was an ever-present by Jack Charlton's side during the Republic of Ireland's most memorable days.
Now 96, O'Leary has become the 21st recipient of the FAI's Special Merit award.
"They're saying 'look Charlie, this is our way of saying thanks', and you have to appreciate that", O'Leary told FAI TV.
"Thanks is a wonderful word. It's worth a million pound be times."
O'Leary made the transition from player to referee in the League of Ireland, and took charge of the 1972 FAI Cup final between Waterford and Cork Hibernians.
He served as Liaison Officer for international teams visiting Dublin for games before joining Jack Charlton's Republic of Ireland backroom staff as kitman.
O'Leary was at the centre of things when Ireland beat England 1-0 at Euro '88. That day in Stuttgart ranks among his favourite during his days with Ireland.
The other was meeting Pope John Paul II as Charlton's men made it all the way to Rome and the quarter-finals of Italia '90.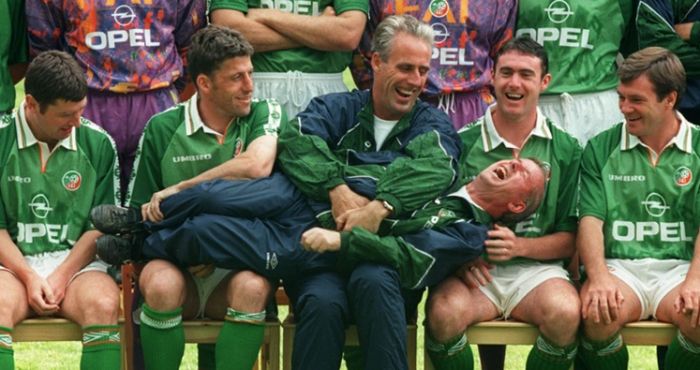 "It was all top-class," he said of the mini-ceremony, "We don't need a big dinner, a big meal, to project it.
"It's the same to me. When I was handed that trophy out there and was handed that trophy, it was the same as if I was walking up on the stage in some big hotel.
"I appreciate it for the same as a thank you for what I've done, and what my family have done.
"In fairness, my wife - Lord rest her, she's dead now - but she gave an awful lot of her time to me. Well I didn't, I took the time from her to give to football."
Interim Deputy FAI CEO Quinn said, "If Jack Charlton was the father figure for the Ireland squad from 1986 to 1995 then Charlie O'Leary and Mick Byrne were the two Irish Mammies who looked out for and looked after us all.
"I always think of Charlie and Mick as a pair and it is a pleasure to present him with this Special Merit award of behalf of the FAI and Irish football.
"Charlie is such a special man. He was brilliant with us as players and he was brilliant have around us as players, always with a smile on his, always looking out for you, getting you up in time for training after a good night out and ensuring we had everything we needed to do our best for our country. I congratulate Charlie on this award, it is well deserved."