Contrary to public perception, Graham Hunter insists that Gareth Bale's decision to place himself on the periphery of life inside Real Madrid isn't as problematic as it appears.
However, as Zinedine Zidane prepares for an unexpected return to the club, Hunter believes the Welshman's on-field woes with the Spanish giants are not set to subside anytime soon.
"It's not so bad for poor old Gareth Bale," Hunter reassured on Tuesday's OTB AM.
"Some of the players do take the mickey out of him a little bit, but the way in the which the remarks by [Thibaut] Courtois, for example, were reported takes out of proportion what the rest of the squad think of him.
"There is a division and he's only got one or two people with whom he is close, he doesn't speak Spanish or include himself with things going on outside the training ground, but there's been many hundred top footballers who've lived that way.
Not a source of great consternation in and of itself, Hunter concedes that when concerns regarding Bale's injury record and, subsequently, form emerge, such factors can take on a more menacing quality.
Zidane wanted Bale out, so to twist the kaleidoscope a little, now there is a problem because Bale knows his coach doesn't fancy him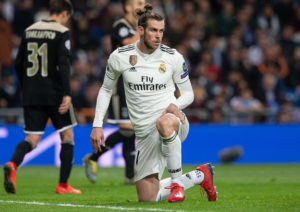 With Cristiano Ronaldo departing last summer, it had been touted that the Welsh winger may finally find himself in possession of the necessary leeway to succeed the Portuguese.
However, having fallen foul of Zinedine Zidane during the Frenchman's tenure in charge of the club, that the former Real Madrid star is set for an unexpected return does not perhaps bode well for Gareth Bale.
"Zidane wanted Bale out," Hunter believes, "so to twist the kaleidoscope a little, now there is a problem because Bale knows his coach doesn't fancy him."
Contracted until 2022, Hunter doesn't necessarily think, however, that the established friction between Bale and Zidane will result on any downturn in the Welshman's playing responsibilities in the short term, at the very least.
"Whether it's necessarily an issue on the playing side between now and May, I'm not so convinced," Hunter stated.
"Right in front of [Zidane] now is an injury-list, there are problems with Isco and they've also got Getafe six-points behind breathing down their neck and Atletico Madrid five-points ahead in third-place."
Although Real Madrid may continue to utilise Gareth Bale for the remainder of the season, it is believed that Zidane has returned to the Spanish club with a good degree of personal clout, and may well get his way if the Welsh winger is deemed surplus to his requirements going forward.