Hours before Declan Rice was expected to be named in Gareth Southgate's latest England squad, the West Ham United midfielder with 3 Irish caps to his name was revealed to be Ireland's Young Player of the Year for 2018.
Coming after Rice had opted to pledge his international allegiance to the country of his birth, Off the Ball's Nathan Murphy, one of the five-man judging panel that selected Rice as the recipient prior to the announcement that he would not represent the Republic of Ireland again, joined former Irish international Kevin Kilbane on Wednesday's OTB AM.
"He was the best player for Ireland in 2018," Nathan stressed by way of justifying the selection amid the admittedly strange circumstances that have followed.
"This is just reverberating rubbish really," Kilbane surmised. With his thoughts on the Rice affair well-established by now, Kilbane directed his attention toward Nathan, the judging panel and how this latest twist had manifested itself.
"In September when he turned the call-up down, it was never going to end happily after that," Kilbane argued.
"It was done then, so surely when you were talking about that award in January [when the vote was carried out] it must have been the case where you said, 'hang on lads, we might need to go back and have this conversation because this could cause problems.'
"Surely that conversation was had, regardless of what happened on the pitch because this situation arises now where it is embarrassing.
"No matter what we say, it is embarrassing."
I'm not embarrassed, we just answered the question we were asked. Declan Rice was the best young player, and it is simple as that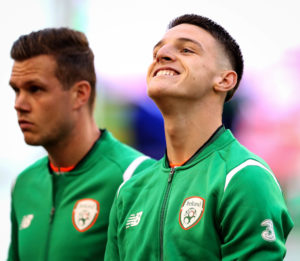 Naturally aware that there was every chance Declan Rice would no longer be an Ireland player when the award ceremony rolled around, Nathan explained why this wasn't necessarily the concern of the judging panel, however.
"That was literally the only question being asked," Nathan responded to Kilbane's assertion that it was no longer relevant whether Rice had in fact been Ireland's best young player in 2018.
"I'm not embarrassed, we just answered the question we were asked.
"Declan Rice was the best young player, and it is simple as that."
Questioned as to whether he honestly believed Rice would play for Ireland again after refusing the call-up from Martin O'Neill, Nathan explained that the judges were afforded a carte blanche to vote honestly.
"At no stage last January when we were having these discussions did the FAI say there was any issue with nominating Declan Rice," Nathan revealed.
"We obviously discussed what would happen if Declan Rice decided [to choose England], but our feeling was that we were being asked to judge on what happened last year, not what might happen in the future."
Labeling as "ridiculous" the panel's decision to award Rice even as late as January, Kilbane was perplexed as to why the FAI are choosing to plow ahead with the award, nevertheless.
"Why wasn't the award just scrapped though? It would have taken away this embarrassment," Kilbane argued.
"I never once believed as soon as he turned the call-up down that he was ever going to come back. So, how on earth could he have been voted for?"
"It was never a 50-50 call, it was never on the cards."
Crucially, Kilbane's argument against Declan Rice receiving this award rested on a decision he had made by January: "If you're called up for your country that you're so proud to play for and then you say no, how can you be selected for the award?"