The Ghostbus Tour, Dublin's No.1 night out is set to return to the streets of Dublin next month.
DoDublin is thrilled to announce that after almost three years of suspension due to Covid19 the scariest attraction in Dublin is finally coming back from September 13 2022, just in time for the Spooky season! 👻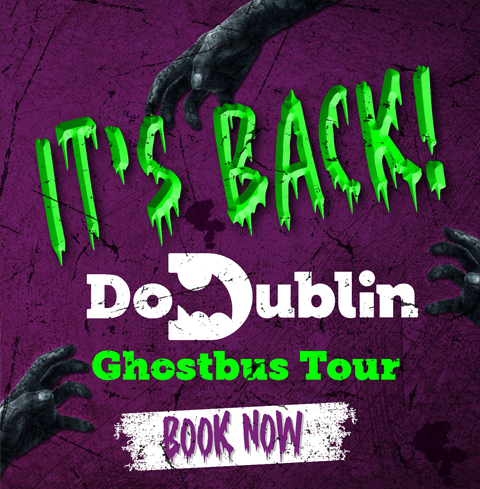 The Ghostbus tour is a great alternative night that will help you delve into the darker side of our fair city. The bus itself is a specially designed house of horrors on wheels, with winding fright filled corridors downstairs and a sinister theatre above where your host for the night, the Ghostbus storyteller, a professional actor with a talent for all things macabre, will thrill, entertain, and horrify you in equal measures.
This tour is the eeriest way to experience the city of Dublin and discover a side to her you never knew existed. Be prepared for an adrenaline filled two hours, lots of laughs and plenty of unexpected jumps!
Dublin's many dark secrets will be revealed by your storyteller and by your sinister bus driver as they take you to visit a hidden city centre graveyard and the haunted 12th Century steps at St. Audeon's Church.
Delve into the little-known past of Dublin's own Bram Stoker and learn about the inspiration for his most famous creation Dracula.
Do you dare to find out about bodies being snatched, about the crazy surgeon of Dr.Clossey, who ran a school of anatomy where he was fond of making the demonstrations as realistic as possible for his students, or about the implements of torture that were once inflicted upon the poor inhabitants of Dublin, both the innocent and the guilty!
Are you brave enough to step on board the Ghostbus Tour? Then visit the DoDublin website and book your tickets now.
The Ghostbus tour is a 2-hour storytelling tour, with professional actors. The tour is based on real life events and Dublin folklore. The Ghostbus tour is ideal for Office nights out, Birthday parties, Stag/Hen nights and even first dates! The tour departs from in front of Dublin Bus Head Office, 59 Upper O'Connell Street, D01 RX04. Tours are currently every Tuesday, Friday and Saturday from 13 September (check Dodublin.ie for departure updates) The tour includes outdoor visits so please dress appropriately. Not suitable for people of a nervous disposition or children under the age of 14 and children under 16 must be accompanied by an adult.
Customers can also get updates on Facebook, or on Twitter @dublinbusnews or call their customer service line on (01) 8734222, lines open from 07:00 - 19:00hrs Monday to Friday and 08:00 – 18:00hrs Saturday, Sunday and public holidays.
Follow @98FM online for all the latest news