After last night's dramatic recoupling, the drama will be turned up a notch on tonight's episode of Love Island. It seems the tables have turned on Maura.
Two male models wine and dine our single ladies, whilst the OG couples sweat over who they think is least compatible.
Just as Anton's finally in a romantic couple, he faces some competition from new hottie Tom over Elma, leaving Maura fuming!
THE ISLANDERS VOTE FOR WHO THEY THINK ARE THE TWO LEAST COMPATIBLE COUPLES
Single girls Anna and Maura head out of the villa to go on dates with two new boys.
However, the coupled-up Islanders in the villa have been informed that they now need to deliberate in their couples and decide who they think are the two least compatible couples. The two couples who receive the most votes risk being dumped from the Island.
While each couple evaluates the compatibility of the others, they also consider the possibility of being deemed an incompatible match by their fellow Islanders.
Speaking with Tommy, Molly-Mae says "I do think we're a bit in trouble. I think there will definitely be people picking us."
Tommy replies "We have had our moments but you can't really say we're not compatible."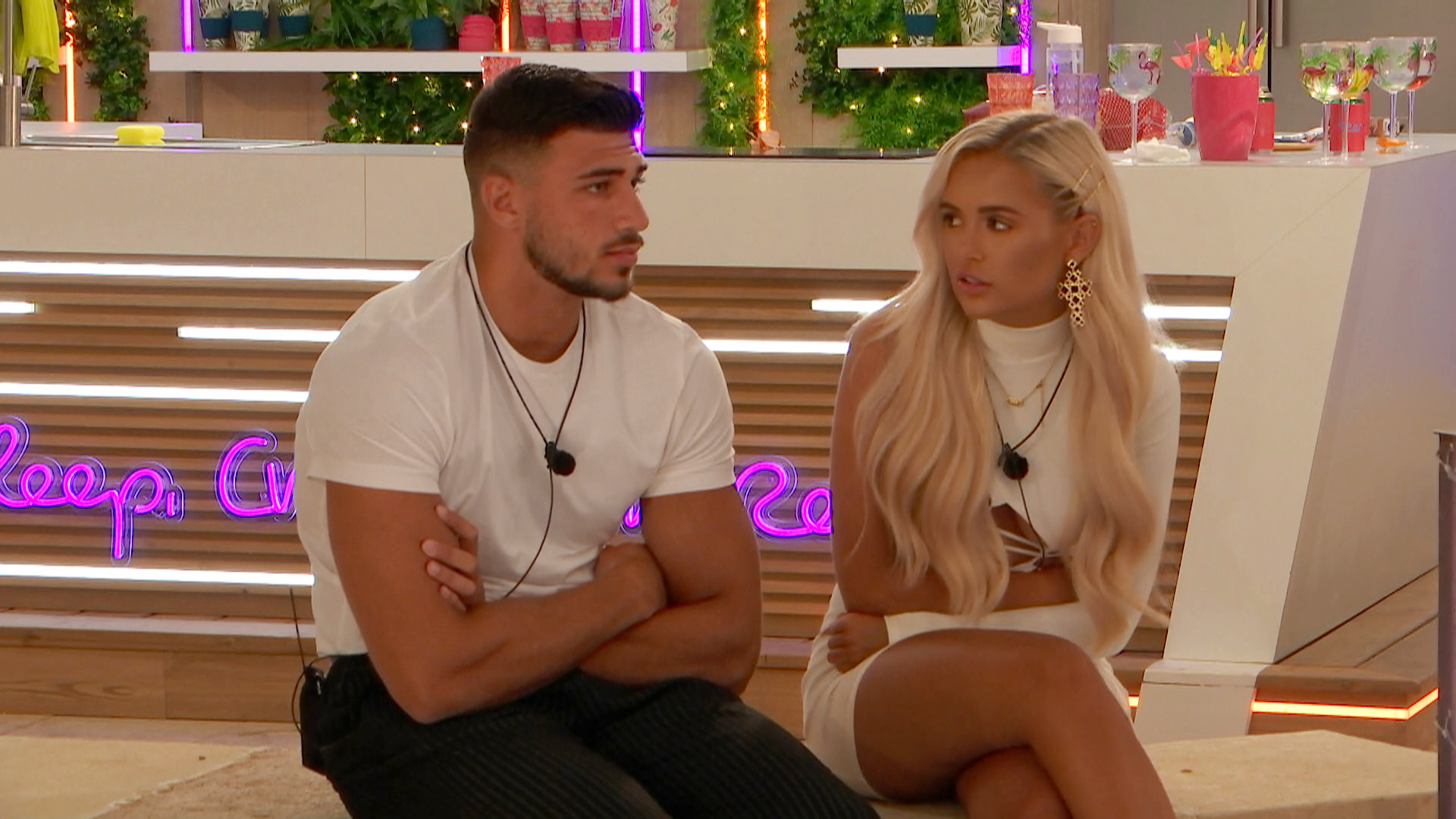 Similarly, Joe is feeling the heat after recently voicing his doubts to his fellow Islanders about coupling-up with Lucie. He says to Lucie "Who do you reckon is going to vote for us? I reckon there will be a few."
Lucie replies "We've been here from the start. You can see there are true feelings."
Once they have made their decision, each couple texts the names of the two couples who they deem the least compatible. But who has received the most votes and who will be at risk of being dumped from the Island?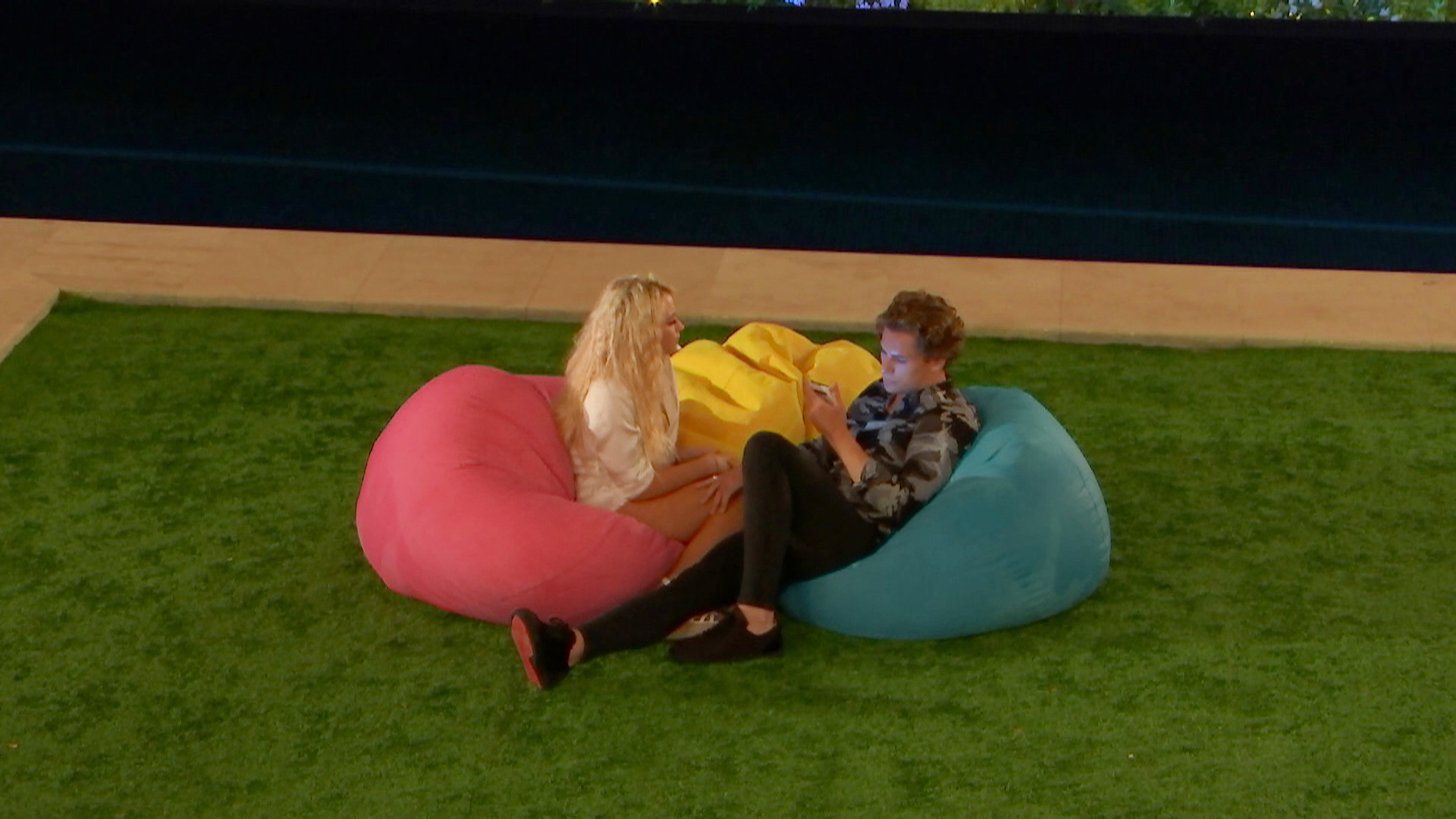 MAURA AND ANNA GET TO KNOW THE TWO NEW BOYS
Whilst the Islanders back at the villa are making some tough decisions, single girls Anna and Maura are heading out to meet two new boys for dates.
The girls arrive and are greeted by Tom and Jordan. Maura initially has a date with Jordan, while Anna has a date with Tom.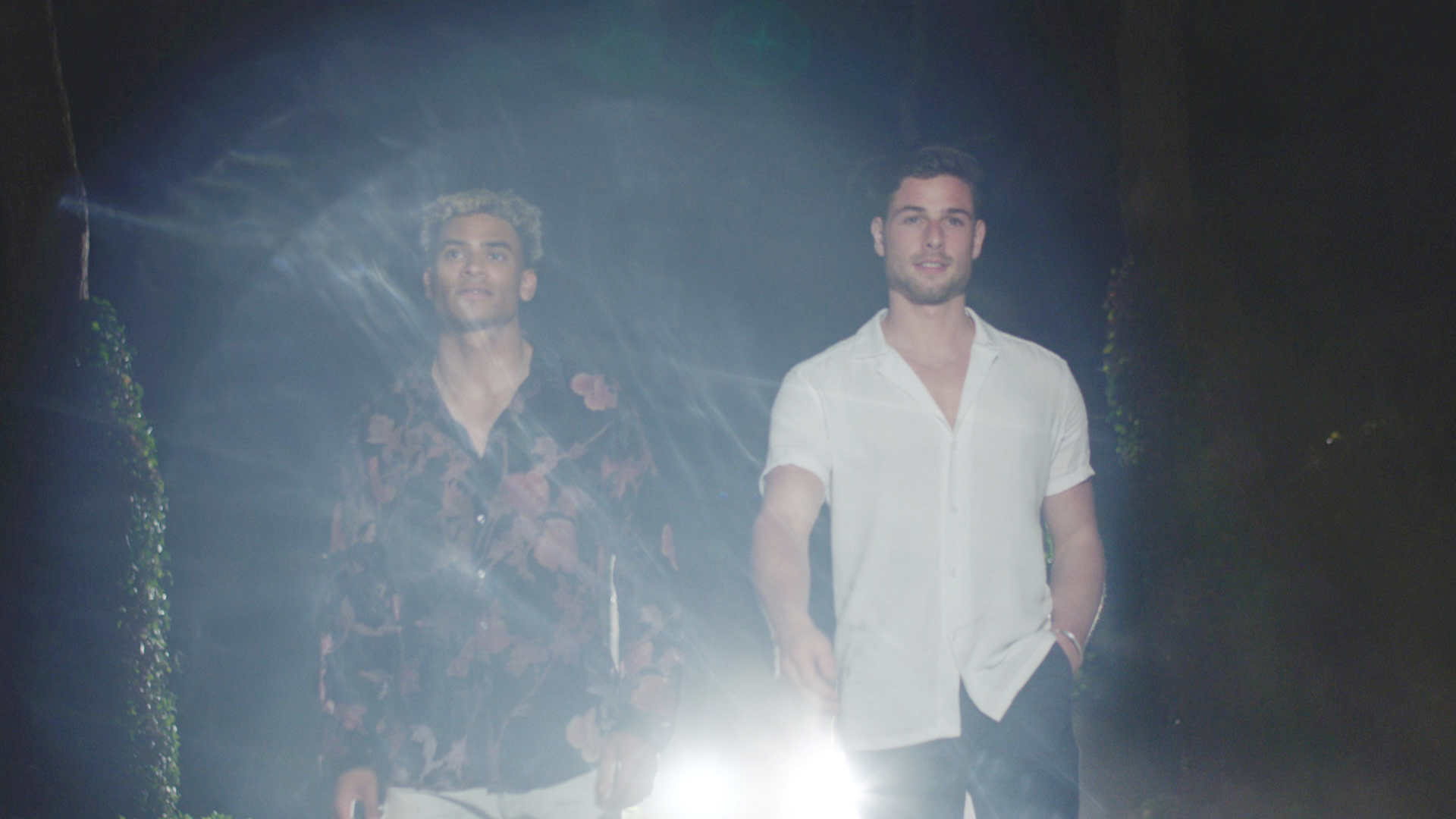 Over a glass of bubbly, Maura and Anna get to know the new boys. Anna has been waiting for a guy older than her to come and sweep her off her feet and when Tom admits he is twenty-nine, she says "I don't think you understand how happy I am! Most of the guys in the villa are from twenty to twenty-four. I'm twenty-eight."
Tom says "You look good!"
Anna is keen to know what Tom's type on paper is. Tom says "I don't really have a type but going on my previous girlfriends, I'd say brunettes."
Could Anna be the brunette that Tom is looking for?
As their first dates come to an end, both Maura and Anna now have the chance to get to know the other boy.
What Tom is really interested in, is how Maura feels about Tommy, who she was previously pursuing.
Since the Recoupling where Tommy coupled up with Molly-Mae, Maura seems to have moved on fast. She tells Tom "Don't go there. I'm not into Tommy anymore."
Tom says "It's his loss I guess because you're beautiful."
Maura wants to know what Tom is looking for in a girl. He says "Athletic brunettes. I like a girl that trains. You've got a good body from what I've seen."
Maura says "Thanks. I don't go to the gym! I eat fifty pizzas a week! I'm just lucky. But if you were training me, I wouldn't say no."
Tom says "Good answer. I'd like to train you."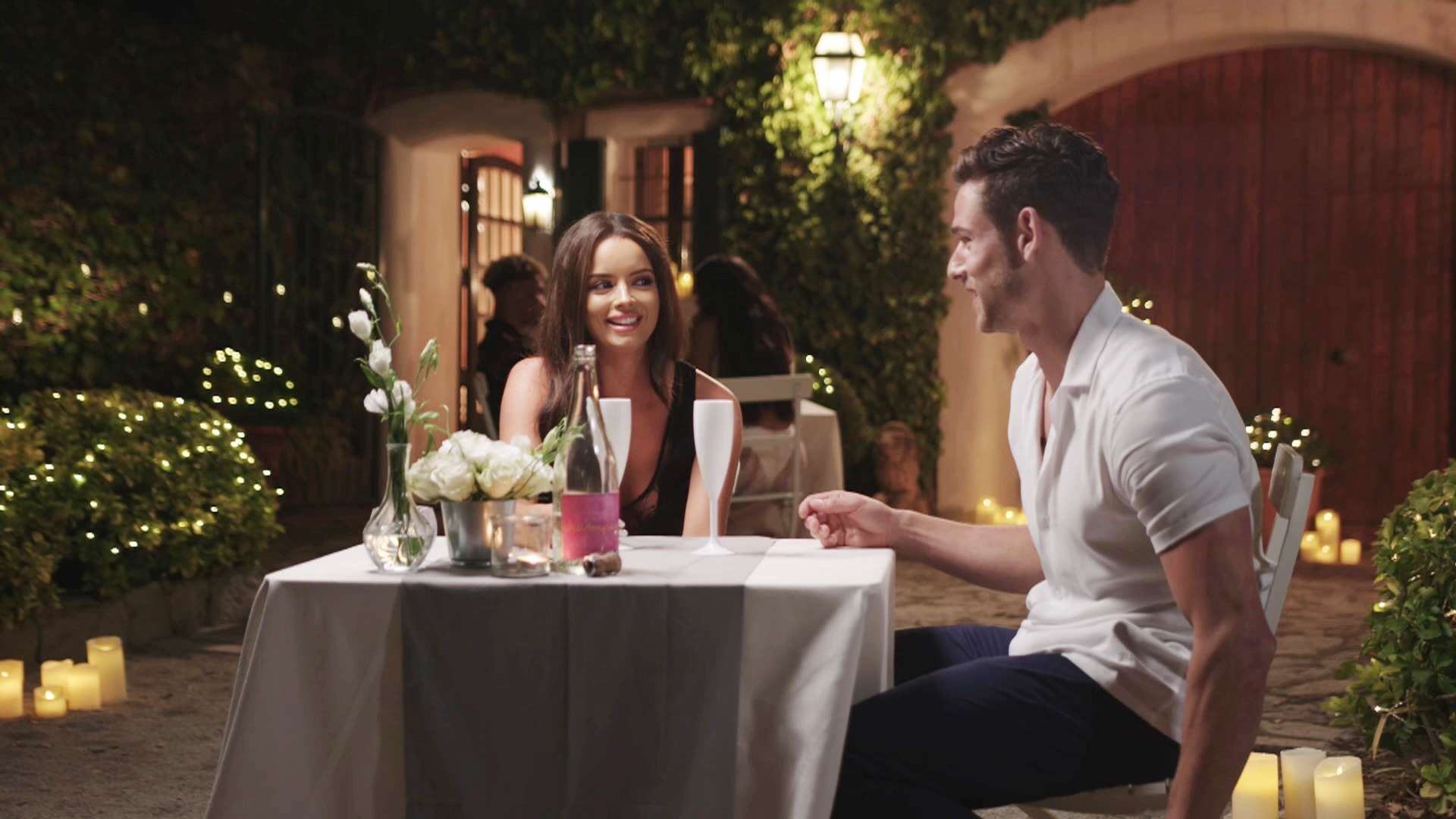 Similarly, sparks are flying over at the next table as Jordan is handing out compliments to Anna. He says "You look like a bronzed goddess."
Jordan soon reveals he is a model and then says to Anna "You look like a model too."
Anna seems impressed by Jordan's moves. She says "Oh babe. Thank you."
But Anna wants to know if Jordan has got his eye on any of the other girls in the villa.
He says "I think I'm getting along with you really well. You're definitely one of the girls I've got my eye on."
Anna says "Did you have your eye on me before you came in?"
Jordan says "I did. I think you're beautiful. It's nice to meet you."
Could Jordan and Tom be the boys to save Anna and Maura from single life in the villa?
As the dates come to an end, it's time for the new boys to enter the villa but will any of the other girls take their fancy too?
JORDAN AND TOM'S ARRIVAL SHAKES UP THE VILLA
Jordan and Tom make their entrance and meet the rest of the Islanders for the first time.
In the Beach Hut, Jordan says "Everyone was really welcoming. The lads seem sound and the girls are really nice. I'm buzzing to be here!"
Tom says "They've all been so nice. They've taken the time out to make us feel welcome."
The Islanders gather around the fire pit and everyone is keen to know more about the new boys. The Islanders also fill Anna, Maura, Tom and Jordan in on the fact that they had to vote for who they thought were the two least compatible couples, putting them at risk of being dumped.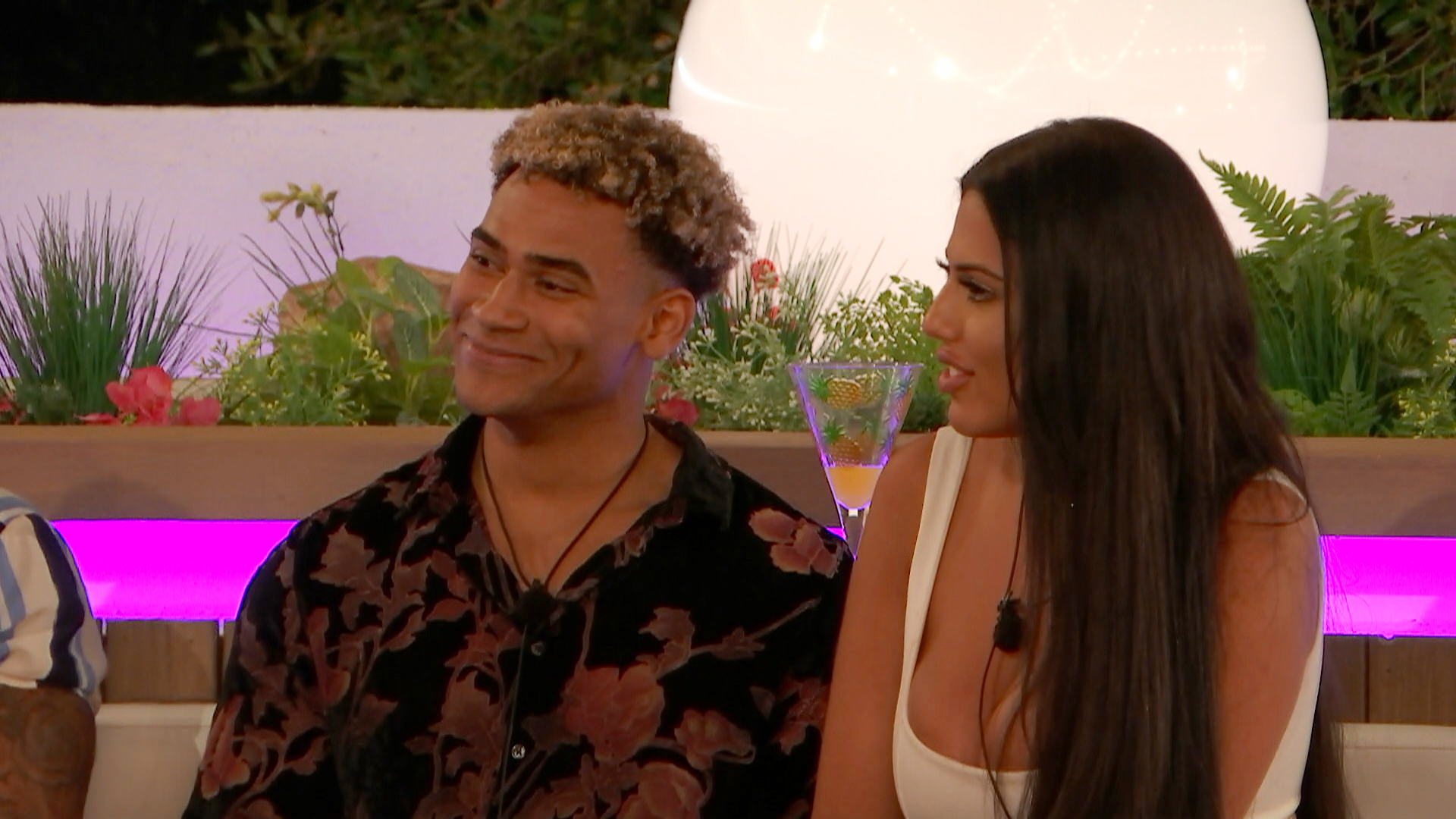 However, Maura seems more fixed on new boy Tom. In the Beach Hut, she says "They got a text when we were on our dates saying that two couples are vulnerable. Sorry huns, I was enjoying my champagne with hunky Tom. Living the dream!"
Amber is keen to know who the new boys are interested in now they've arrived in the villa.
Tom says "Maura. And I like Elma as well."
It looks like Anton, who has been unlucky in love, could once again find himself in a love triangle. In the Beach Hut, Anton jokes "Sums it up. A guy that comes in and his job [as a model] is to be good-looking and he likes the girl that I'm coupled up with!"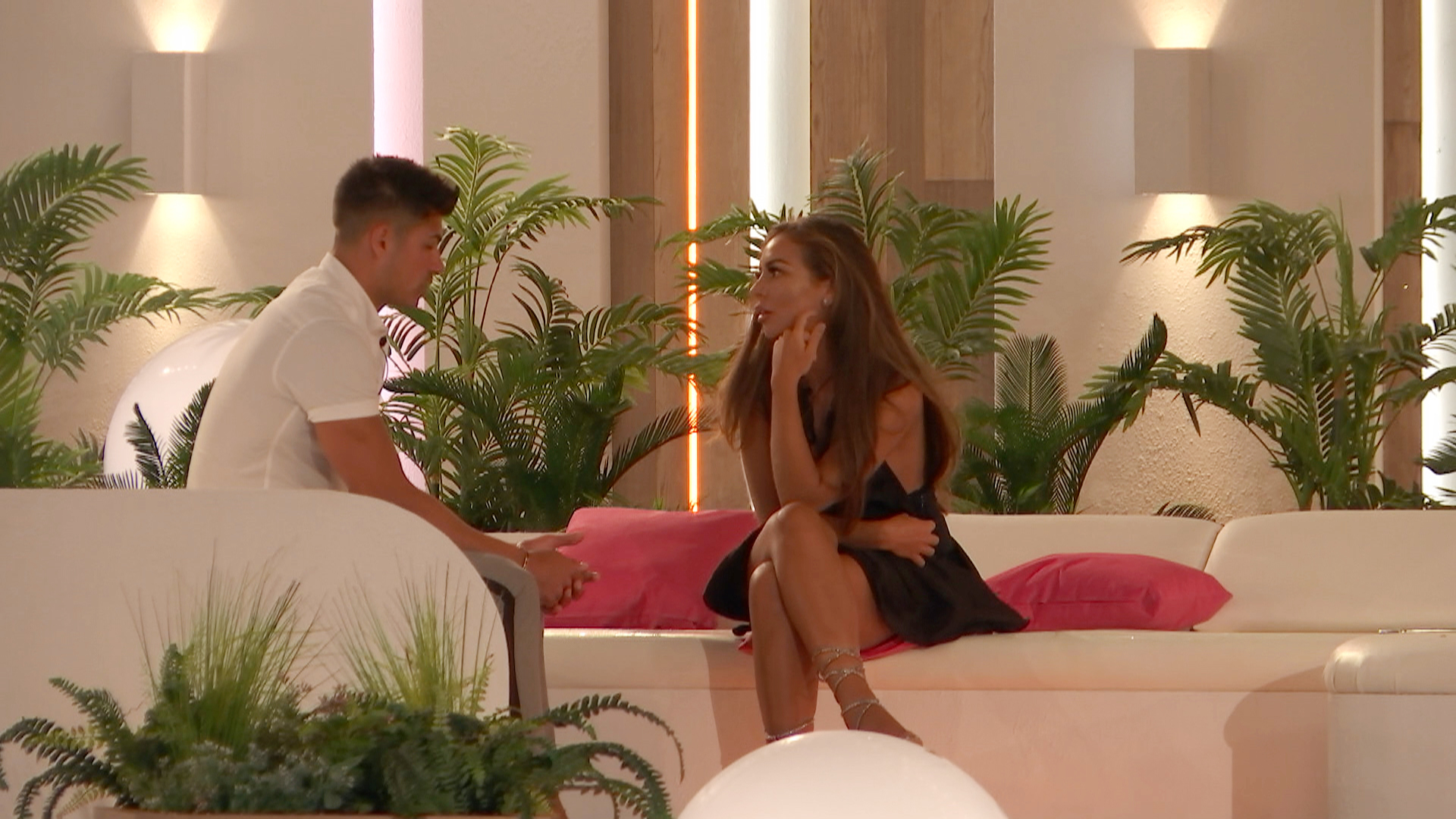 Jordan wants to remain more mysterious and ultimately keep his cards close to his chest. He says "Anna. But I haven't spoken to anyone else yet."
Later that evening, Anna has a gossip with the girls about her dates. Anna says "On my date with Jordan, I was getting nervous! I never get nervous."
The next day, Tom spends time with Maura but also has a chat with Elma, confessing that he finds her attractive.
That evening as the girls get ready for the night, Yewande asks Elma "Do you fancy Tom?"
Elma replies "He's a really nice boy. I'd get on with him."
But Maura is present during this chat and looks less than impressed with the idea of competing with Elma for Tom's affections.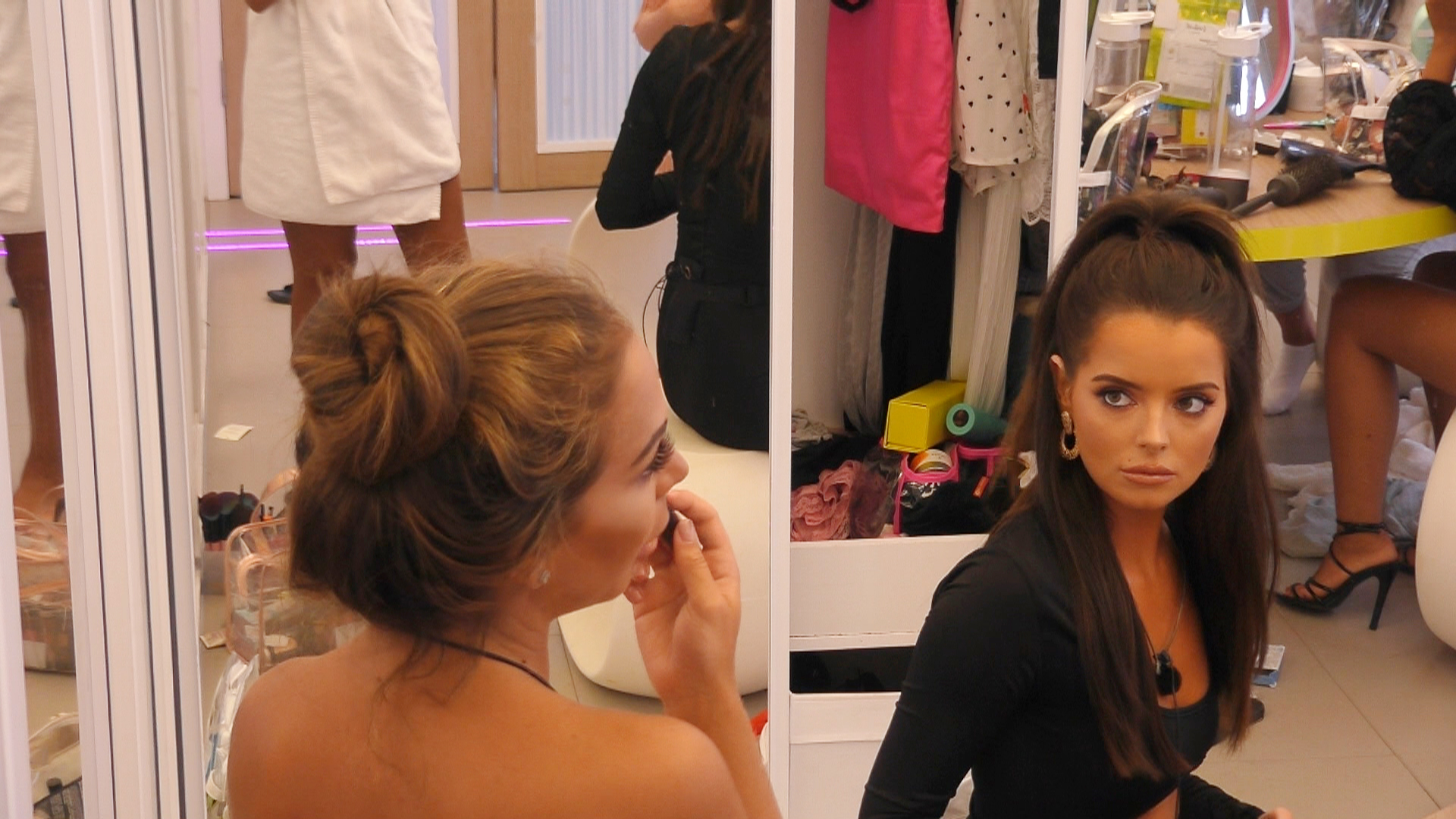 Later as she talks to Lucie, Maura says she is keen to have a one on one relationship in the villa, she says "She's [Elma] going to get in the way. I don't want to be in another triangle!"
Without a doubt, the new boys' arrival has caused a stir amongst the Islanders. But who do Jordan and Tom want to move forward with?
Will they focus on single girls Anna and Maura or are we about to see them make a play for one of the girls who are already coupled up?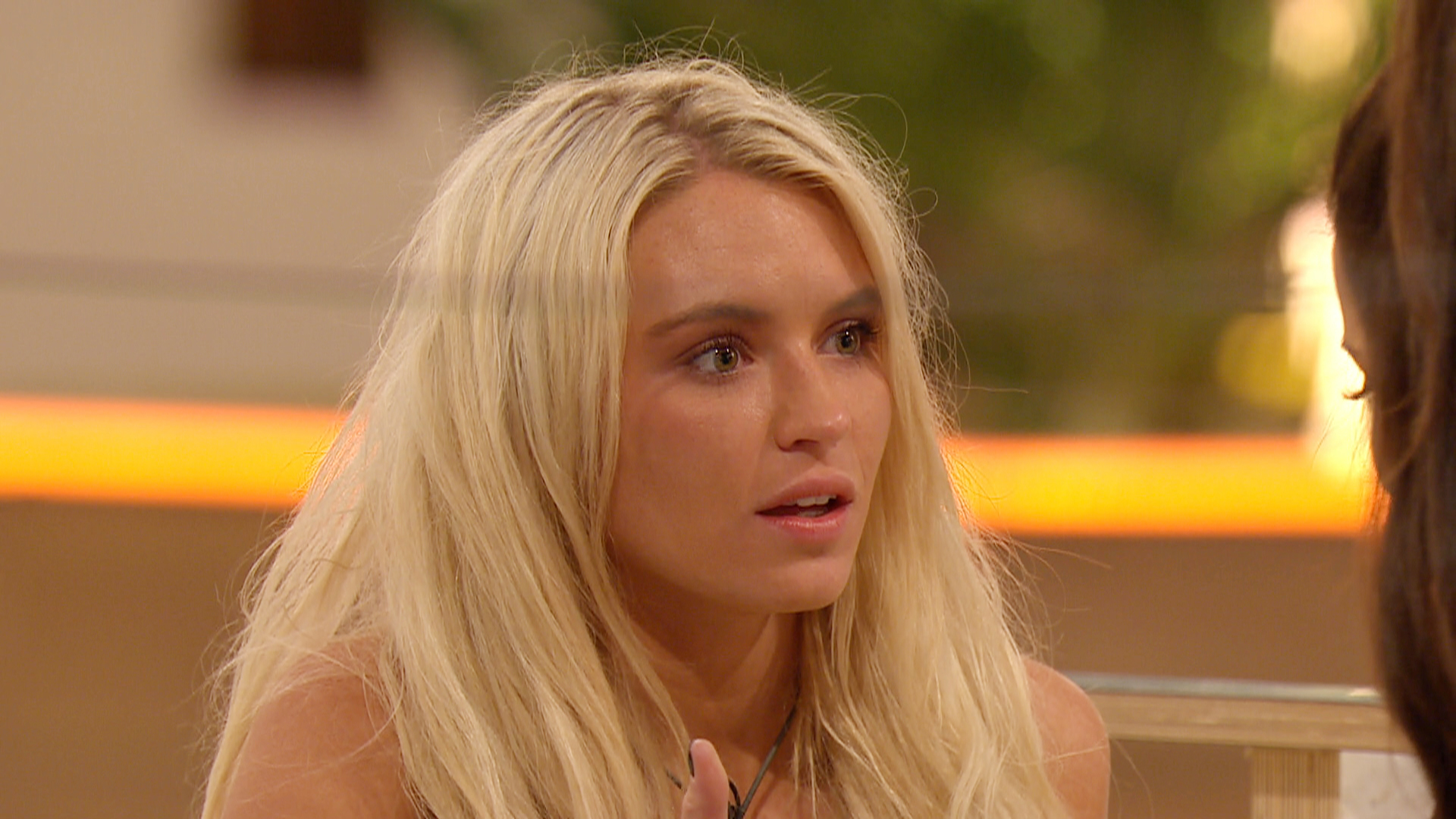 THE ISLANDERS GET MOUTHY IN A GAME AROUND THE FIRE PIT
The Islanders gather around the fire pit for a game of dares with a twist. The Islanders must transfer a playing card to each other, only using their mouths. The Islander who drops the card then completes a dare written on it.
Anton is the first Islander to drop the card and his dare is to have a three-way kiss with two Islanders of his choice. Anton chooses Elma and Maura. But is Maura going to be up for a snog with Elma after tonight's revelations?
And talking of getting lippy, later that evening Tommy is keen to prove how much he likes Molly-Mae and wants to share his first kiss with her.
Tommy reflects in the Beach Hut, he says "Tonight is the night. I'm feeling really nervous."
But will Tommy and Molly-Mae seal the deal tonight?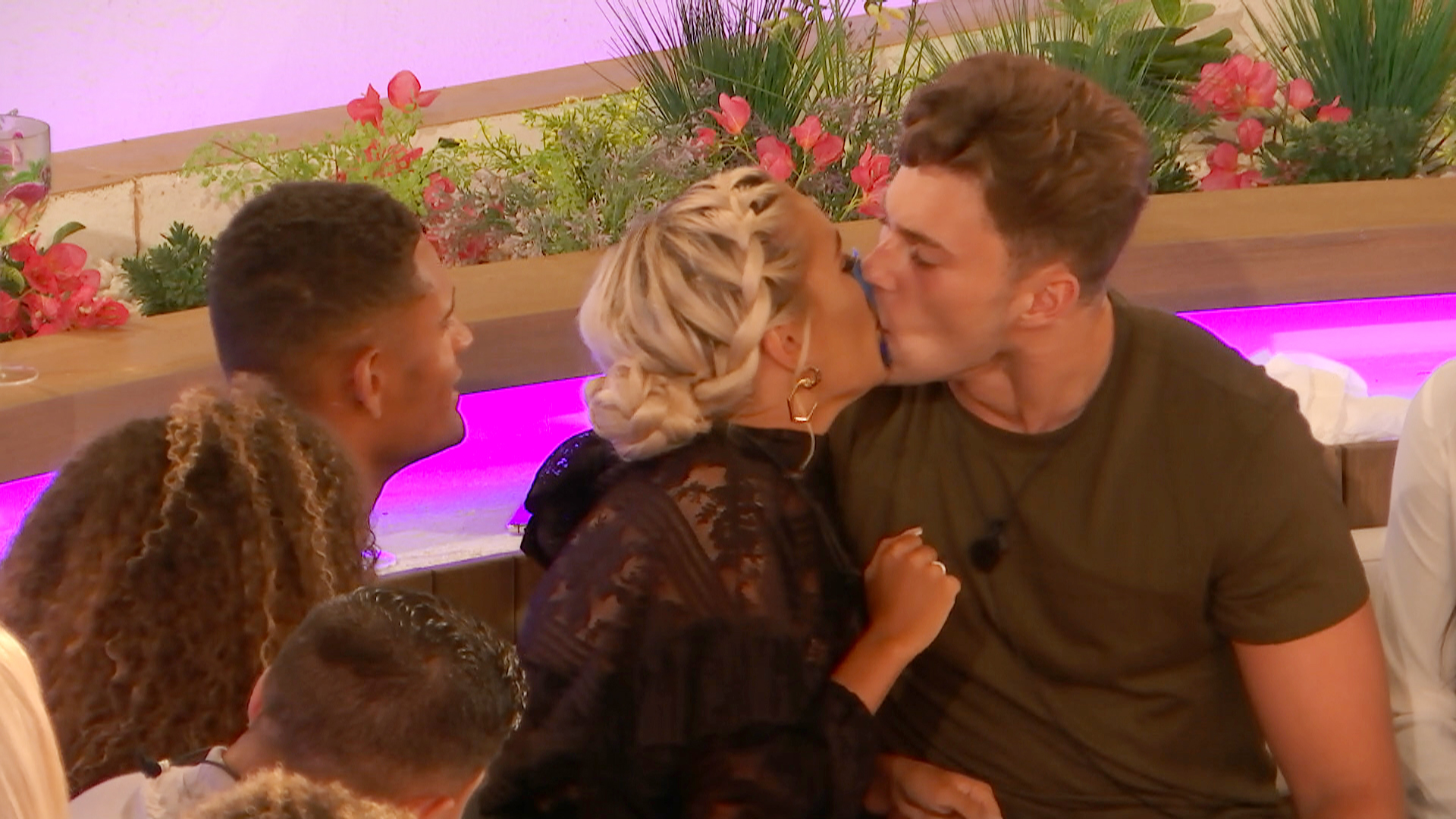 You can find out more about new boys Tom and Jordan here.
Love Island continues tonight from 9pm on Virgin Media Two.
Follow @98FM on Twitter for the latest Dublin news