Jurgen Klopp says he appreciated "the cheek" of a 10-year-old Manchester United fan who wrote to him to complain about Liverpool's Premier League dominance this season. 
Daragh Curley from Donegal told the Merseysiders' boss their unbeaten run was making him sad and begged him to "please make them lose".
Klopp responded with a letter saying "unfortunately" he couldn't grant the request, but that United are lucky to have him.
Speaking ahead of Monday's Premier League visit of West Ham to Anfield, Klopp hailed the Donegal boy's cheek, "It was just nice.
"It was nice, it was cheeky. It was everything together.
"Cheeky, 10-years-old, which I think is a nice age where you should start being cheeky and it was smart as well. It was just that I thought it's a good idea. Try it. Why not?"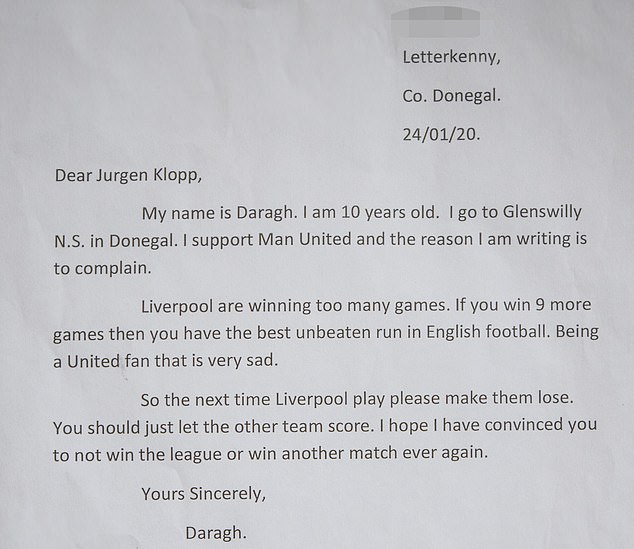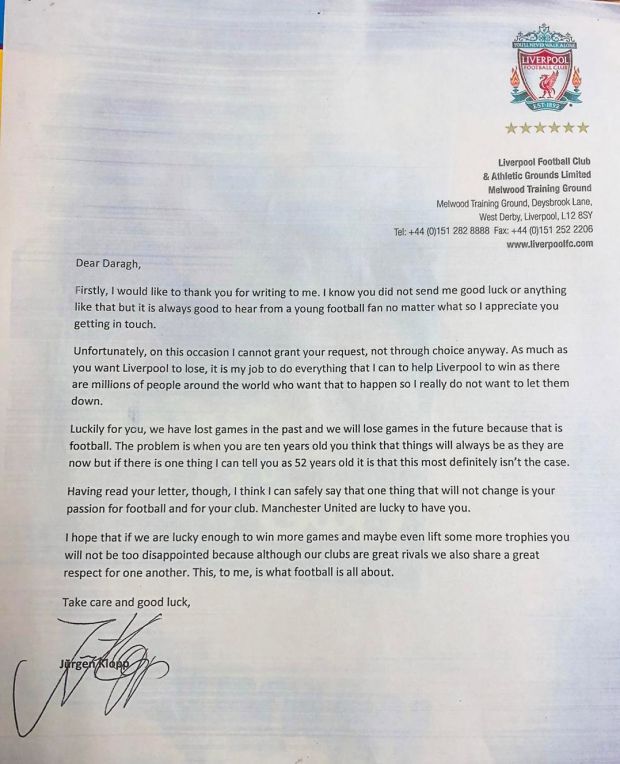 Speaking on Newstalk Breakfast, Daragh said he didn't know what to think when a registered letter arrived at his local post office.
Speaking to Shane Coleman, Daragh admitted that Klopp is "very nice in fairness to him" - and even said he likes Liverpool a little better now.
"If they lose 5-0 I'll be sad but if they lose 4-0 that'll be alright," he said.
Monday's meeting with West Ham will be Liverpool's first since their 1-0 defeat away to Atletico Madrid in the Champions League.
Klopp says the runaway Premier League leaders will have the bit between their teeth for the visit of David Moyes' strugglers, "It's to put things right, just not in the [same] competition.
"It's a little bit strange, yes we lost the game and there's absolutely no positive in it, we lost the game. But it's important if there's any help in that result it's that you felt that defeat and it felt like a defeat.
"It felt after the game like a defeat, it felt the next morning like a defeat, it was nothing. Nobody thought, 'But in the league we are like this'. It's all what we said after the game, like it's not done yet – it's the truth, we know that.
"But it's not that we say that Anfield alone will sort it at the end. We have to put a proper performance in. Atletico showed obviously a lot of passion, desire and stuff like this, fought for the result. They will fight here for the result, 100 per cent.
"But to put it right is to get the other feeling back. The other feeling, I don't think we ever lost how a win feels, but we won a few games, so now we lost it and the difference is massive – much more than three points.
"It's really from sunshine to hardest rain – and that's how it should be. If you really want to be successful and if you could be successful – what we could have been in that game – then it has to feel really bad and that's how it felt.
"So yes, we want to put things right, even when it's a different competition."
Liverpool are without captain Jordan Henderson for the next three-weeks after he suffered a hamstring injury in Tuesday's game at the Wanda Metropolitano.