Many of us collect things - some turn their focus to stamps, some to coins, and others still to Persian rugs. There are those among us for whom autographs have been an interest - and Off The Ball's Shane Hannon shows us some of his collection.
I don't know why it all started really if I'm honest. I mean, I've always enjoyed collecting mementos from sporting events - I still have programmes and ticket stubs going back years. Everytime I see an old man using his GAA match programme to keep his head dry from the rain, a small part of me dies inside.
The obsession with getting another human beings' signature scrawled on something has probably gone back to times of hieroglyphic graffiti in Ancient Egypt.
At the very least it goes back to the drooling over John Hancock's flamboyant (and strangely satisfying) signature on the American Declaration of Independence in 1776.
The birth of my own interest involves waiting for hours in the cold after Republic of Ireland matches at the old Lansdowne Road, seeking out players like Ian Harte, Kevin Kilbane and Niall Quinn to sign my autograph book.
Dad would be keenly keeping an eye on the time so we didn't miss the last DART out to our cousins' house in Killester, from where we'd drive back home to Monaghan. I didn't want to leave though until the last player had left.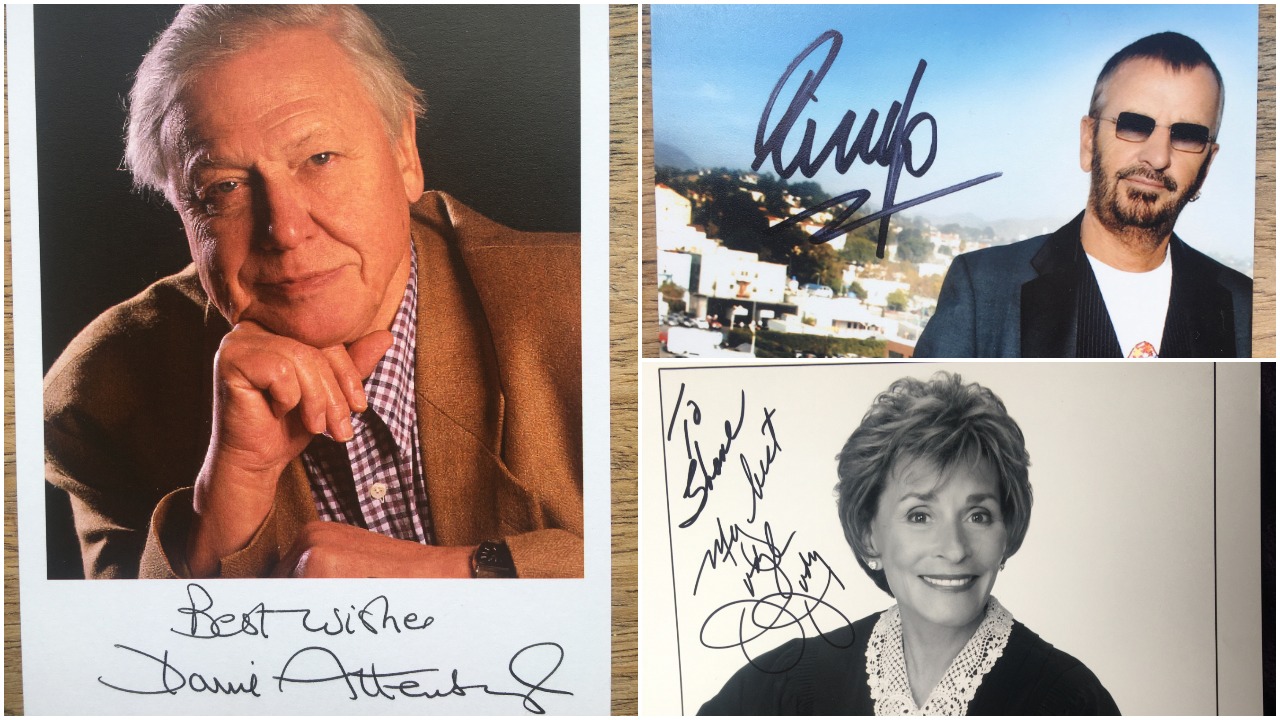 "Seriously Dad, I'm fairly sure Jason McAteer hasn't come out yet, we can't leave!"
Sometimes at those internationals you could meet the odd personality you weren't expecting - I bumped into Chelsea owner Roman Abramovich and got an autograph (presumably he was in Dublin watching his starlet Damien Duff).
Another time Steve Bruce came out, and I even recall an Andorra player giving me a pin of his country's flag after a World Cup qualifier in 2001.
I'd be small enough to wriggle my way right to the front of the barriers, and wasn't afraid to call the players over. Mick McCarthy told me after another World Cup qualifier win 19 years ago "You're the only one tonight who's shouted louder than me!"
Then there'd be the same situation at Manchester United matches. We'd wait where the players came out to collect their cars - between the South and West stands, near the entrance to the Munich Tunnel.
I have plenty of memories of United games over the years there, the first autographs courtesy of Dwight Yorke and Teddy Sheringham before a 2-0 win over Leicester City on St Patrick's Day, 2001.
I'd have probably even taken home Alex Ferguson's used chewing gum from the dugout if given the chance...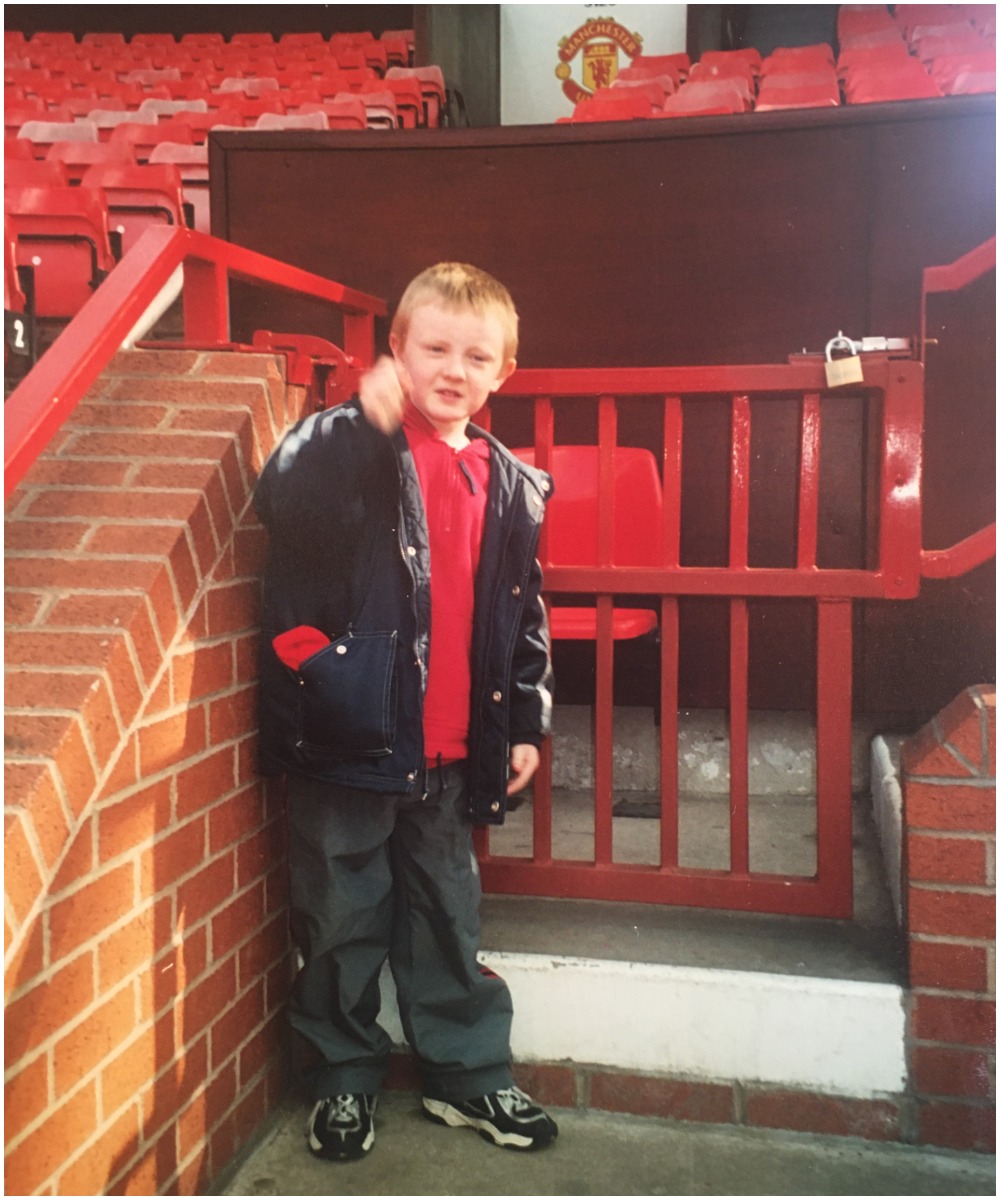 Later then, at the age of 14 or 15, I started writing letters to "celebrities" in the mail. There was a website that collated mailing addresses of people of note (either a home address or agent), and regular users scored the return success, and how likely you were to get an authentic signature.
Nobody wanted a pre-print, an autopenned signature, a forgery, or a secretarial - terms of the trade! All these years later the whole thing sounds borderline illegal (it wasn't) and as it turns out fanmail is often seen as a part of the job for those very much in the public eye.
I have autographs (many personalised 'To Shane') from hundreds upon hundreds of returns. From Robin Williams and Dick Van Dyke, to Maureen O'Hara and Donald Trump.
There's Tony Blair and Whoopi Goldberg, to Martin Sheen and John Travolta - actors, astronauts, politicians, entertainers... you name it.
My postman became so familiar with me that eventually I would just open my bedroom window when I heard his van coming up the drive, and he would throw letters directly into my room. There were usually two or three envelopes every day!
There were also of course sports stars, and here is just a snippet of some of those autographs...
===
BOXING - Foreman / Ali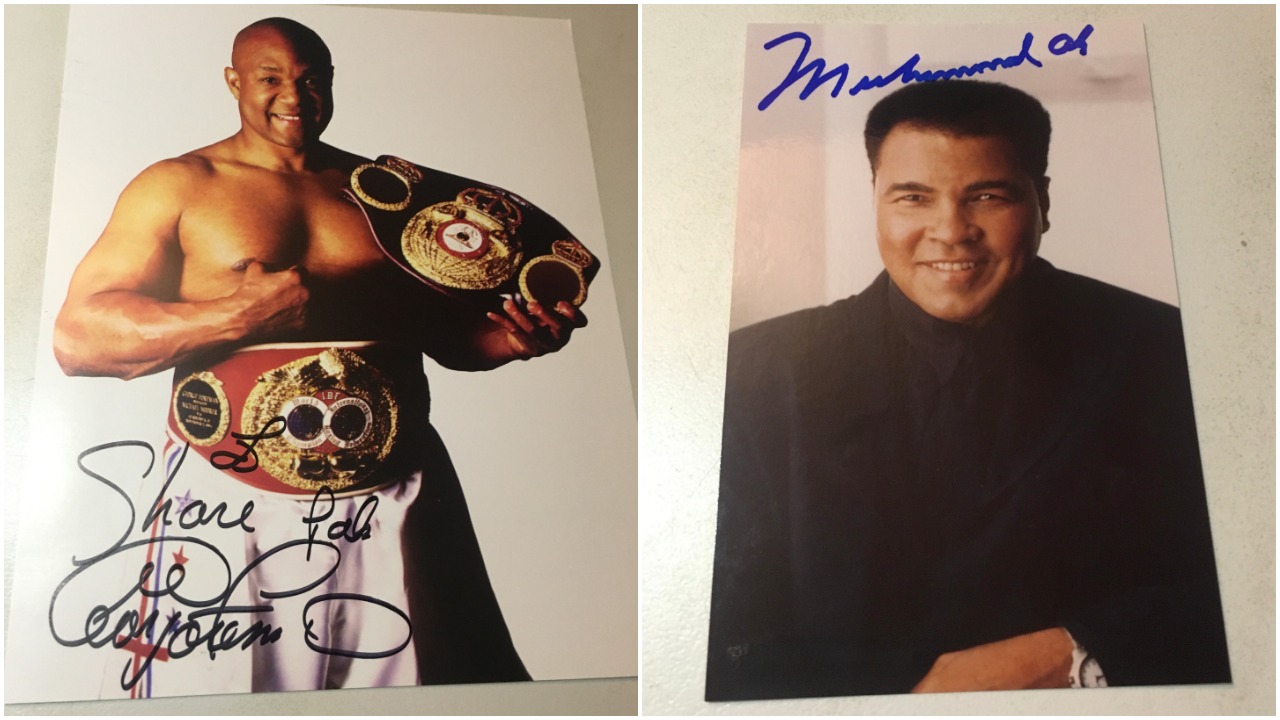 The 'Rumble in the Jungle' pair. Big George and The Greatest.
Ali signatures can do serious business financially - check your attic to see if you happen to have a boxing glove signed by the former heavyweight champion of the world. It might go towards the mortgage.
Did you know the George Foreman Grill has sold over 100 million units since its introduction in 1994? And that he sold the naming rights in 1999 for $138 million? Yeah, neither did I.
I do recall the grill tagline though from the TV ads - "It's so good I put my name on it!" Well, apparently I'm so good he put my name on the signed photo...
===
FOOTBALL - Beckenbauer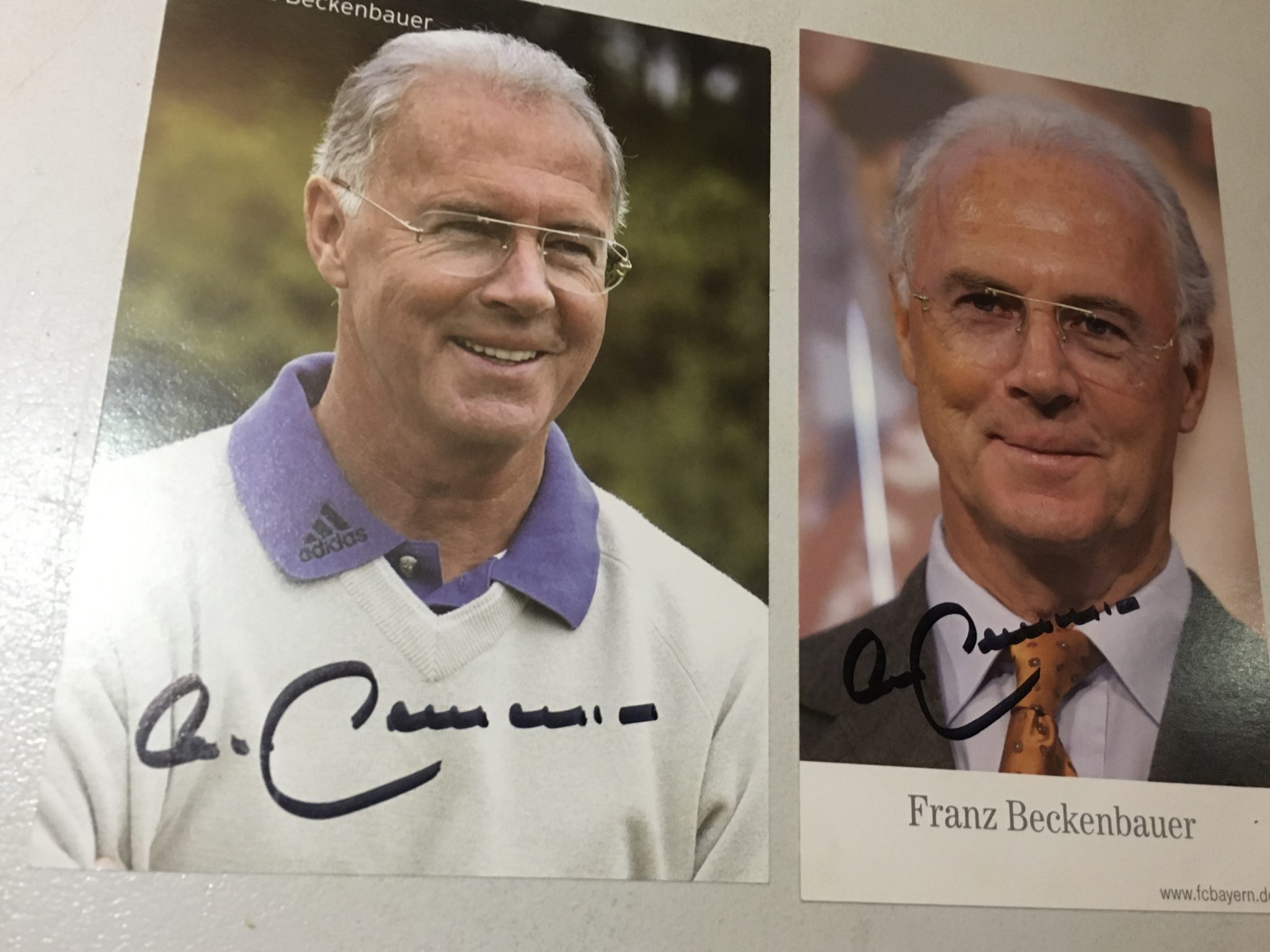 I'll always remember getting this one in the post, because it was the first reply I ever got back.
Ironically, I was playing football in the front garden and Mum shouted out to let me know I had a letter that appeared to be stamped from Germany.
I knew straight away who it was from - one of the greatest players of all time, Franz Beckenbauer. Autograph #1.
===
FORMULA 1 - Schumacher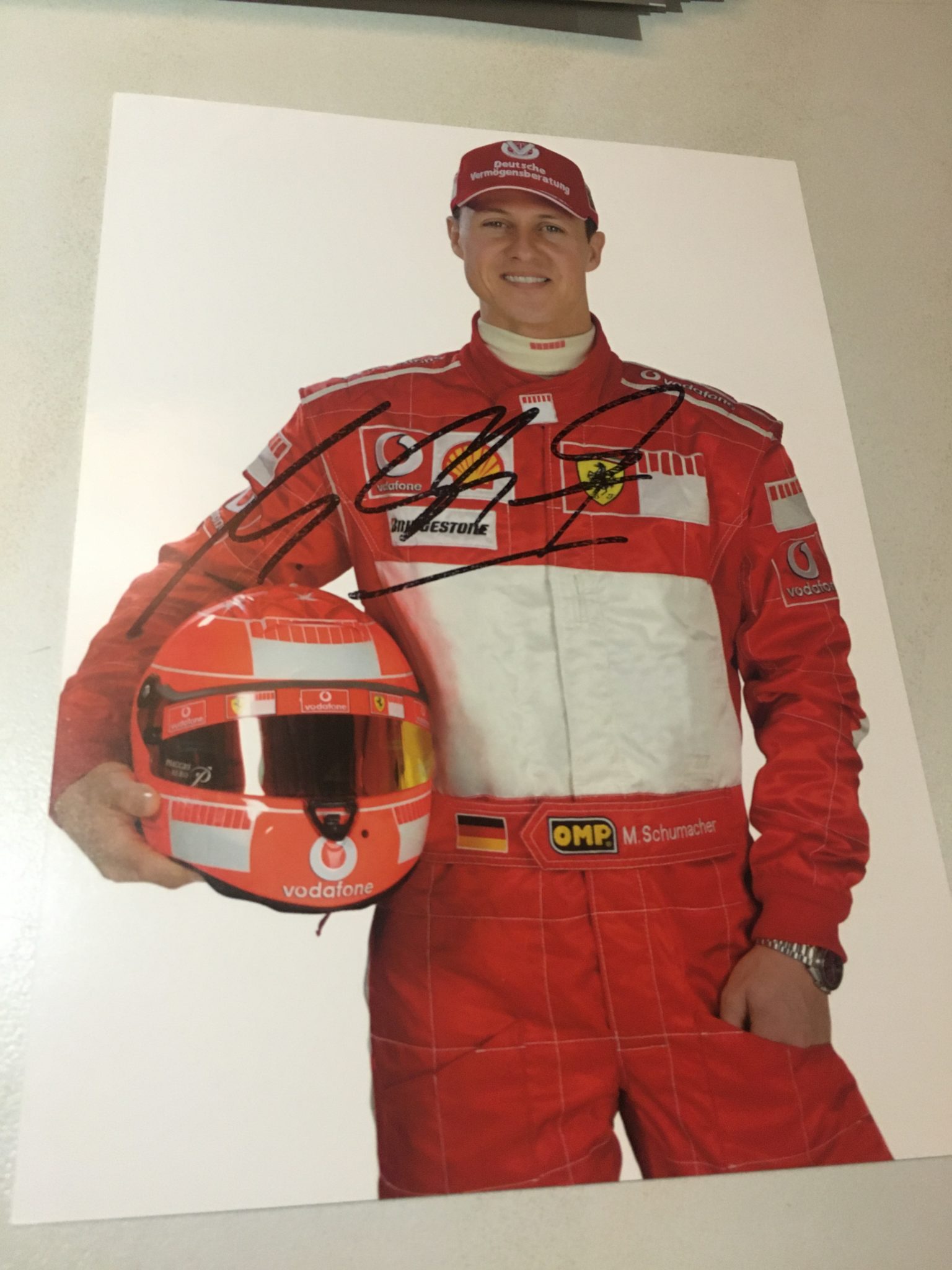 I've really gone down some Formula 1 shaped holes on YouTube of late, after watching and reviewing the Netflix series 'Formula 1: Drive to Survive.'
It takes a certain marriage of bravery and madness to get behind the wheel of such a powerful machine, and there's no doubt that Michael Schumacher is the most recognisable name in the sport's history.
Lewis Hamilton is now just one World Drivers' Championship title away from the German's magical seven, but whatever happens Schumacher's legacy is secure.
I received this in the post a few years before his horrific skiing accident in 2013, which leaves him still receiving medical treatment and rehabilitation as a result of his injuries.
===
FOOTBALL - Republic of Ireland (Charlton, Keane, McGrath etc)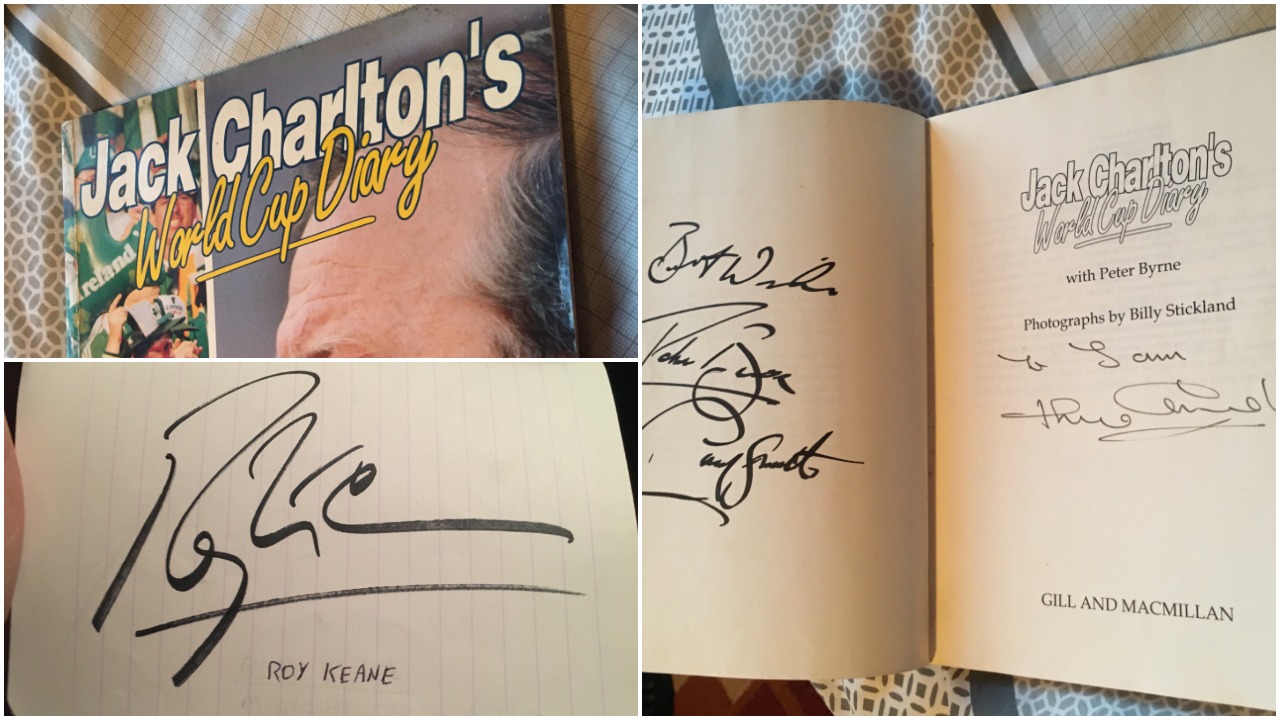 Jack Charlton's World Cup diary includes some great recollections of Italia '90, the Republic of Ireland's first World Cup appearance.
The index page was signed to my grandad Tom years back, and much later I had the opportunity to add Paul McGrath and Packie Bonner when they opened an all-weather pitch at Monaghan United's grounds.
I have a number of Roy Keane autographs from my many visits to Old Trafford and Lansdowne Road when the Corkman was in his prime.
Keane decided he wasn't actually signing autographs after the match on the day I got the one above in Dublin 4 - but the head of security took my autograph book onto the team bus and asked Keane to sign it for me.
Persistence pays off.
===
ATHLETICS - Roger Bannister
Roger Bannister made athletics history in running the first ever sub-four minute mile in 1954. He saw his record of three minutes and 59.4 seconds broken just 46 days later. But who cares?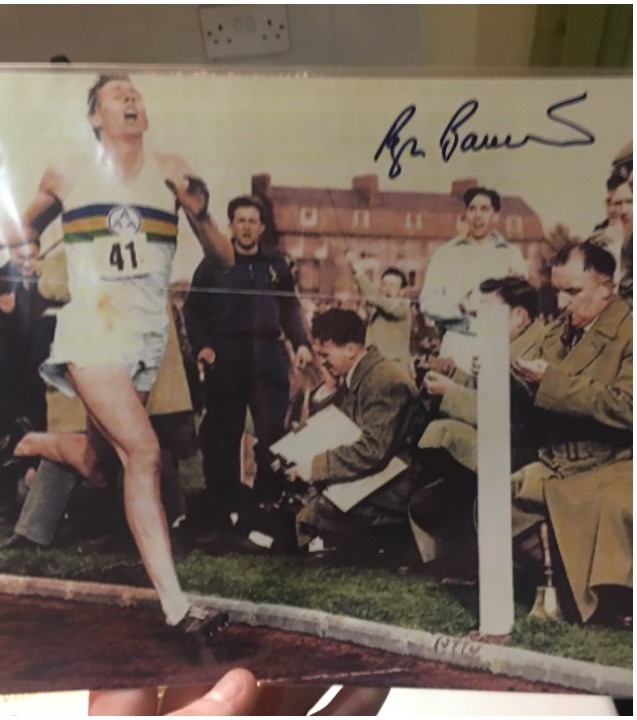 ===
SNOOKER - O'Sullivan / Hendry / White / Doherty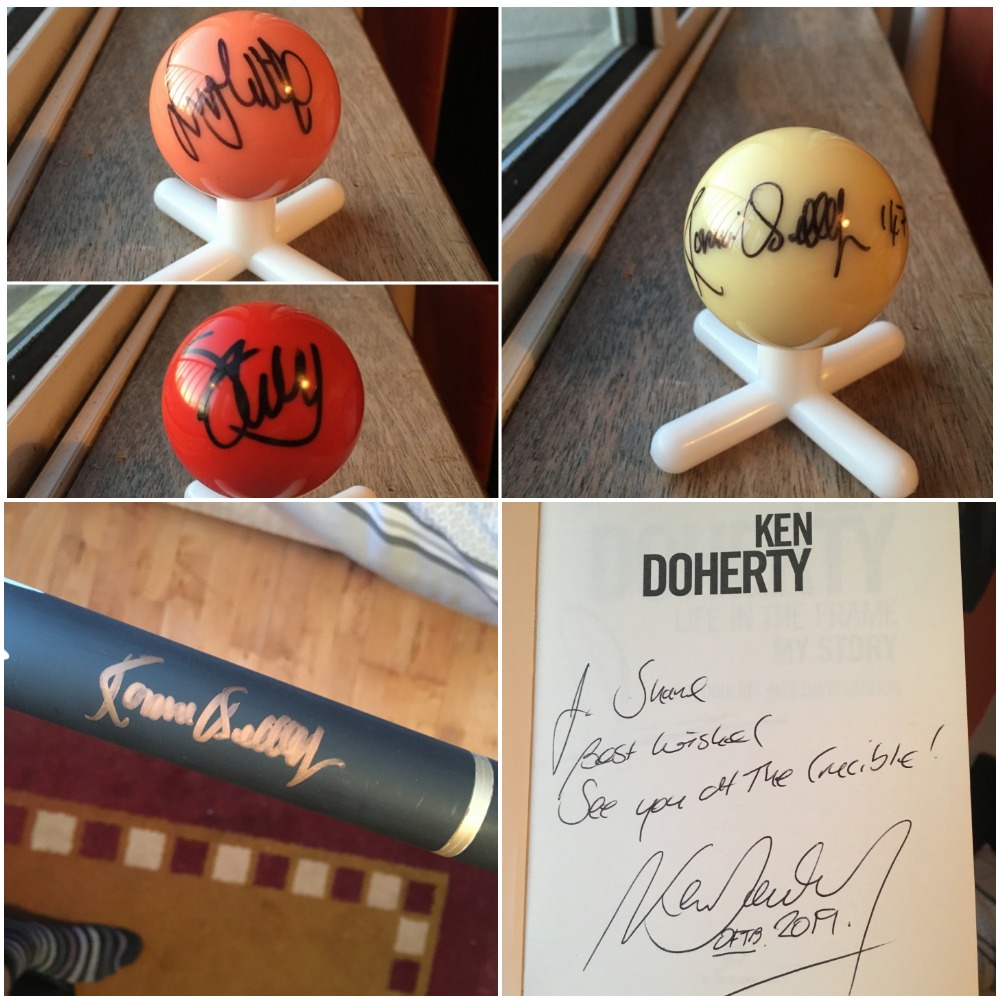 I'm a bit of a snooker nut and have managed to attend the last two World Championships at The Crucible in Sheffield, interviewing Ronnie O'Sullivan, Stephen Hendry, and the O'Sullivan-Jimmy White pair among others over the last number of years.
I was also delighted to produce, along with series producer Eoin Brennan, a radio documentary for the Off The Ball series 'The Classic' on Ken Doherty, and his 1997 world title win.
I've picked up a few bits along the way - the cue above was signed by O'Sullivan, Jimmy White, and John 'Where's the cue ball going?' Virgo after an exhibition. The balls above are signed by Jimmy White (pink), Stephen Hendry (red), and Ronnie O'Sullivan (white). And yes, white and red make pink. Confused yet?
===
GAELIC FOOTBALL - Galway's Golden Era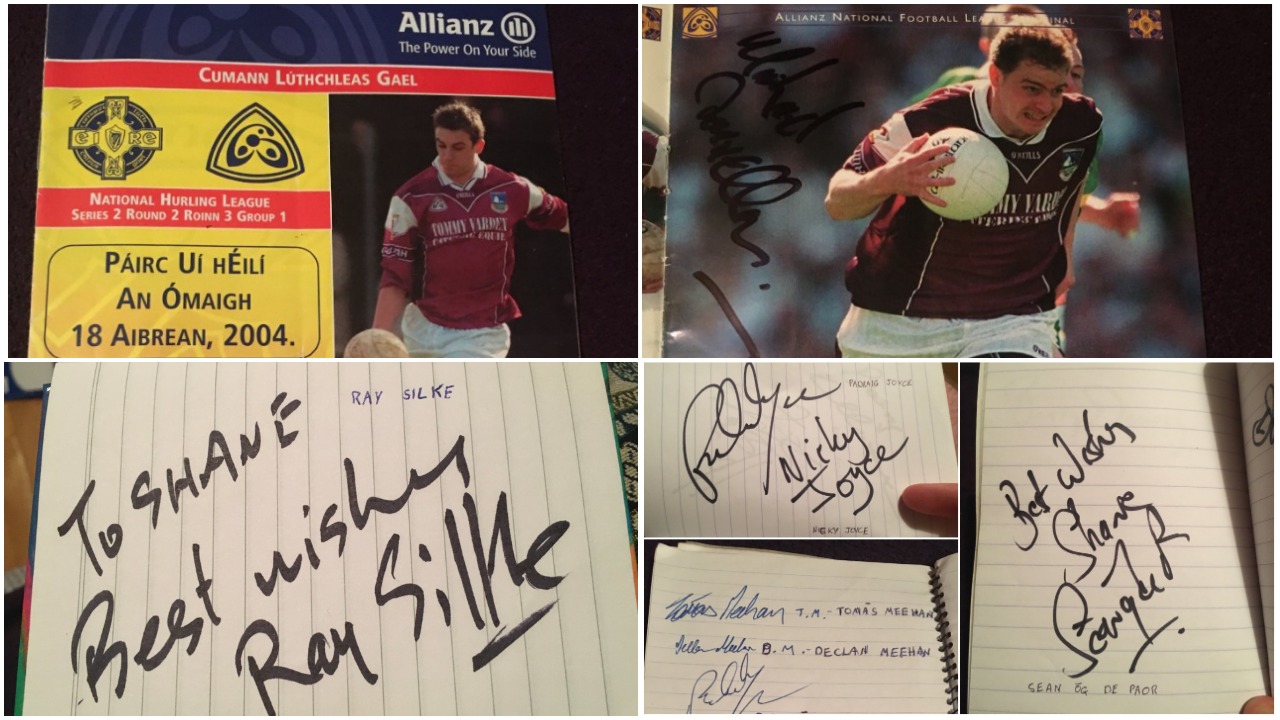 My Dad is a Dunmore man, and so I grew up idolising then Dunmore McHales clubman Michael Donnellan. I had also of course heard the stories of his family generations before him winning All-Irelands' in the maroon and white in the 1920s and 1960s.
Michael's own exploits in lifting Sam Maguire in 1998 and 2001 (especially a legendary performance in the '98 decider against Kildare) ensured his place in his county's sporting history.
I met many of that '98 team at different points over the years, and finally shook the hand of Donnellan at a Tyrone versus Galway league match in Omagh in 2004. He truly was different gravy...
===
MOUNTAINEERING - Edmund Hillary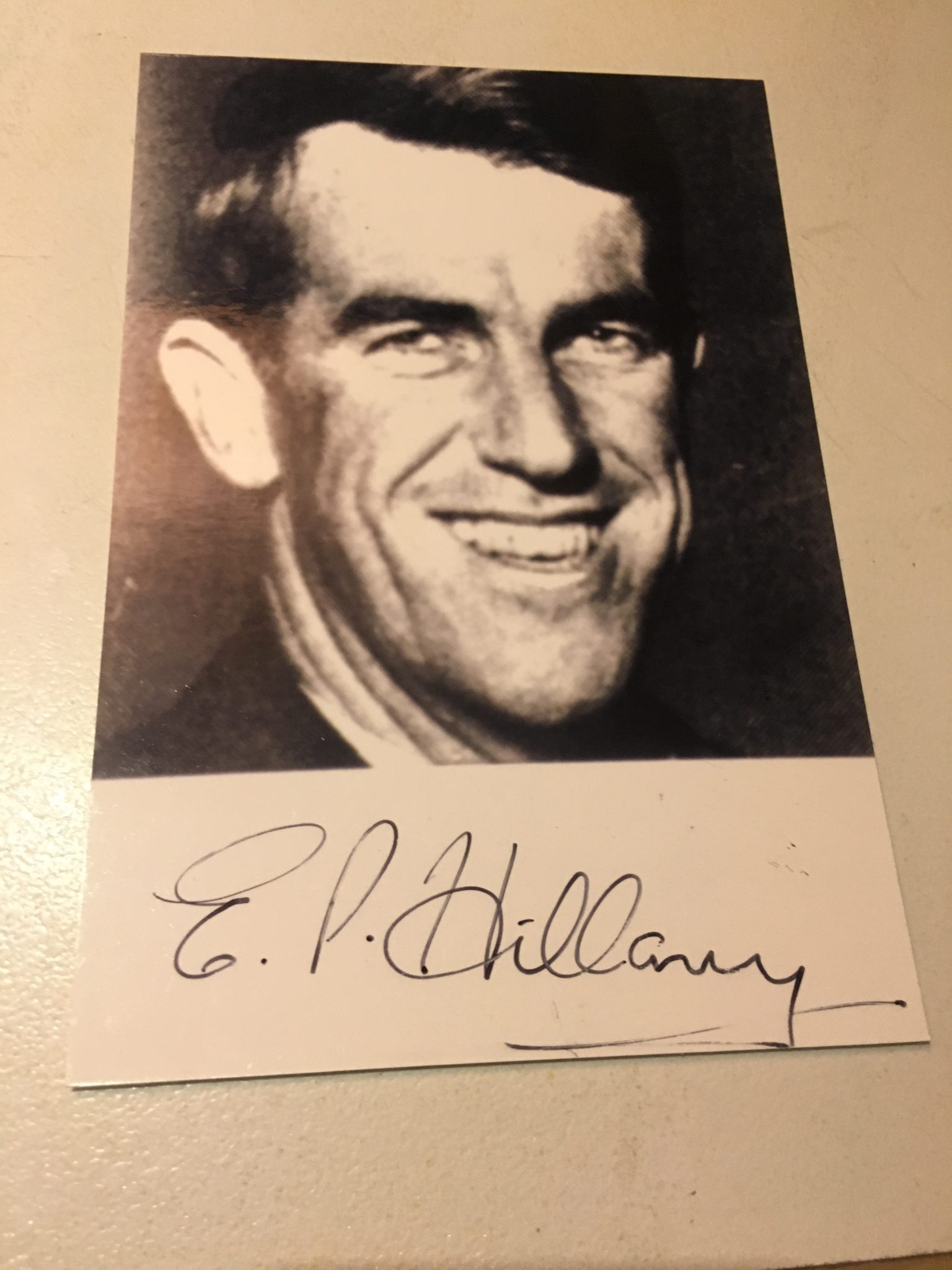 Like the first person on the Moon, the first to the South Pole, and the first southsider to cross the Liffey, being the trailblazer on Mount Everest is an historic achievement.
Edmund Hillary and Sherpa Tenzing Norgay reached the summit of the world's tallest mountain on May 29th, 1953.
Reading about his exploits (and those of our own Antarctic explorer Tom Crean) when I was younger gave me a determination to climb a bit myself - even if it's not quite to the top of Everest.
I managed one of the Seven Summits last summer though - the 5,895 metres of Mount Kilimanjaro, Africa's tallest peak. Here are a few tips if you're planning that trek in Tanzania yourself.
===
TENNIS - Billie Jean / Federer / Laver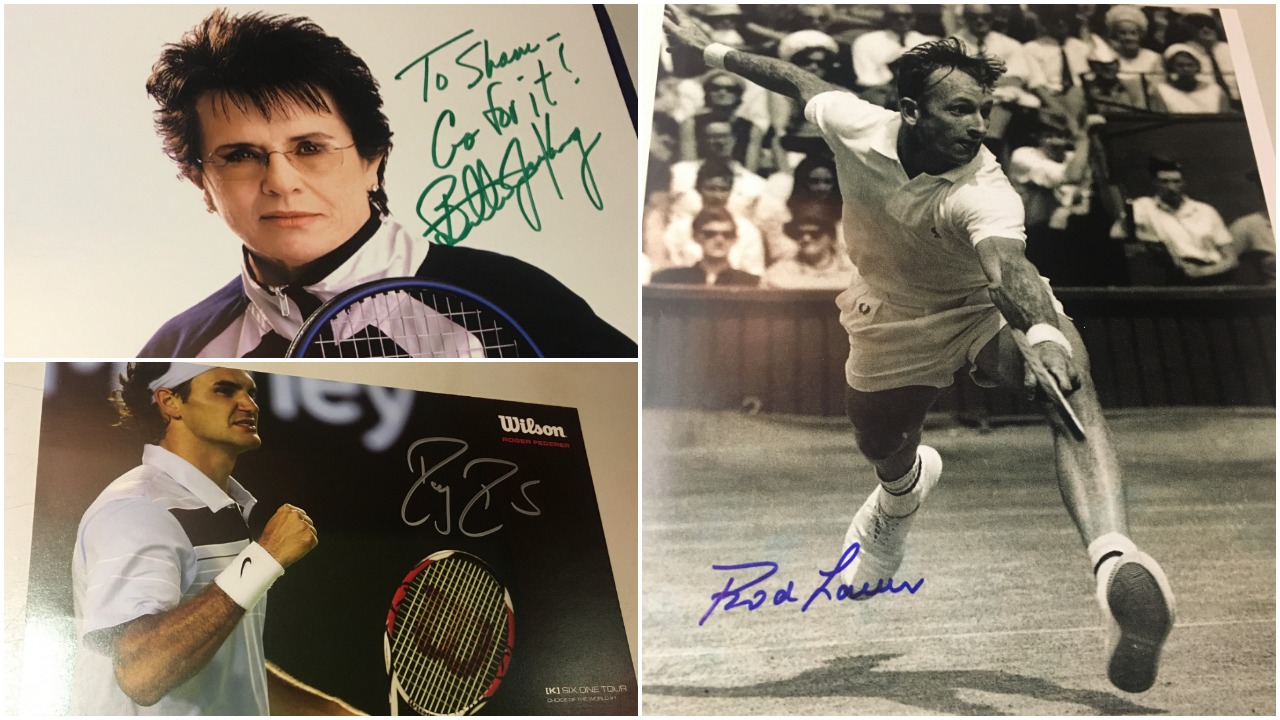 In the song Billie Jean says "I am the one", and in fact all three of these occupied the world number one spot during their careers.
Rod Laver, Billie Jean King and Roger Federer - 43 Grand Slam singles titles between them (20 of those courtesy of Federer).
===
BASKETBALL - Shaq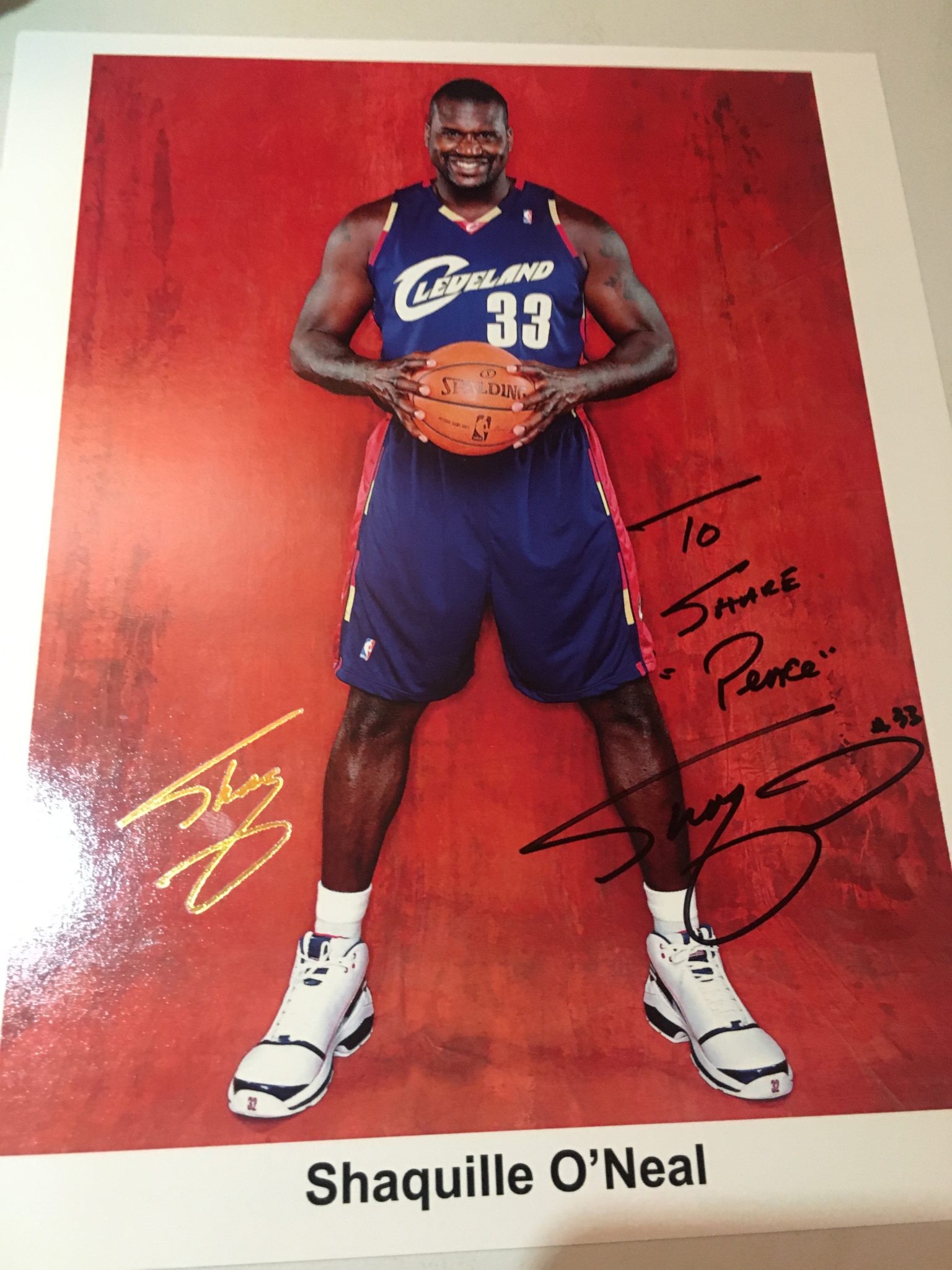 Forget the four NBA Championship wins, just look at THE SIZE of Shaquille O'Neal's feet in that photo.
===
FOOTBALL - Manchester United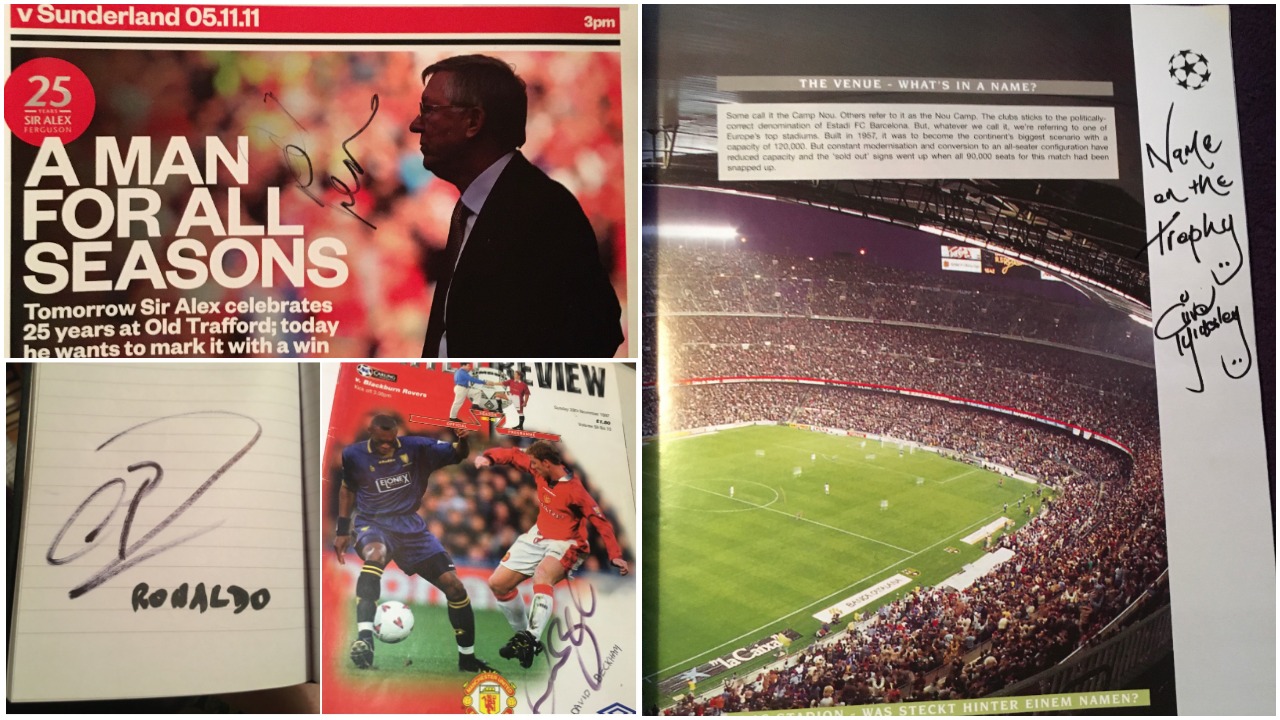 Watching Manchester United's 1999 Champions League final win in Barcelona on TV triggered my love of football in many respects, and I was delighted to sit down with Clive Tyldesley last year.
His iconic words 'Name on the Trophy' were uttered after that late Teddy Sheringham equaliser against Bayern Munich, and that's what he signed in my copy of the match programme.
The Ferguson signature I got while meeting him before his 25th anniversary match against Sunderland in the Premier League nine years ago, when the North Stand at Old Trafford was named in his honour.
Dad got a then 22-year-old David Beckham to sign the programme at a league match against Blackburn Rovers in 1997, while the Cristiano Ronaldo effort was one of many at Old Trafford over the years.
No matter how hard I tried though, I couldn't get Gary Neville's...
===
BASEBALL - Doerr / Fenway Park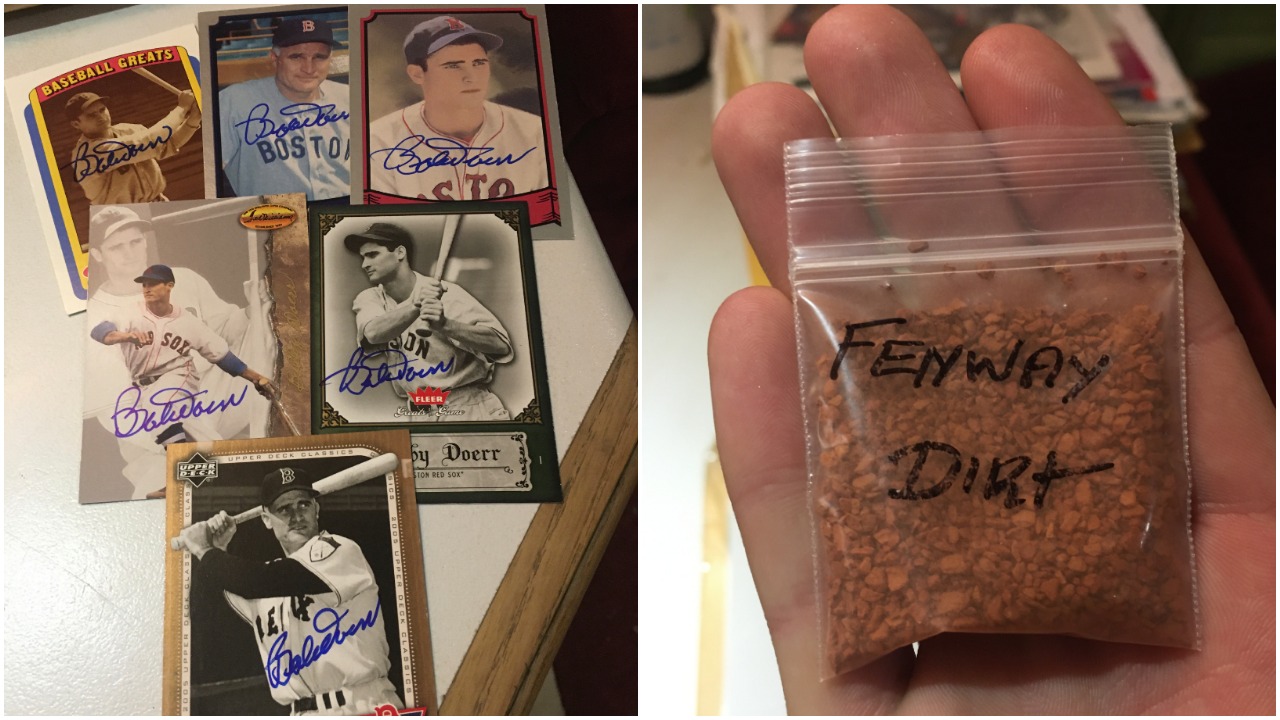 The late Hall of Famer Bobby Doerr played his entire 14-year Major League Baseball career with the Boston Red Sox, and he signed a few cards I sent through the post.
Then there's the bag of dirt! The Massachusetts franchise sent small bags of the Fenway Park infield dirt during a pitch re-development years back to any fans that asked.
Still haven't braved trying for a bag of true hallowed turf though - St Tiernach's Park in Clones.
===
GOLF - Greg Norman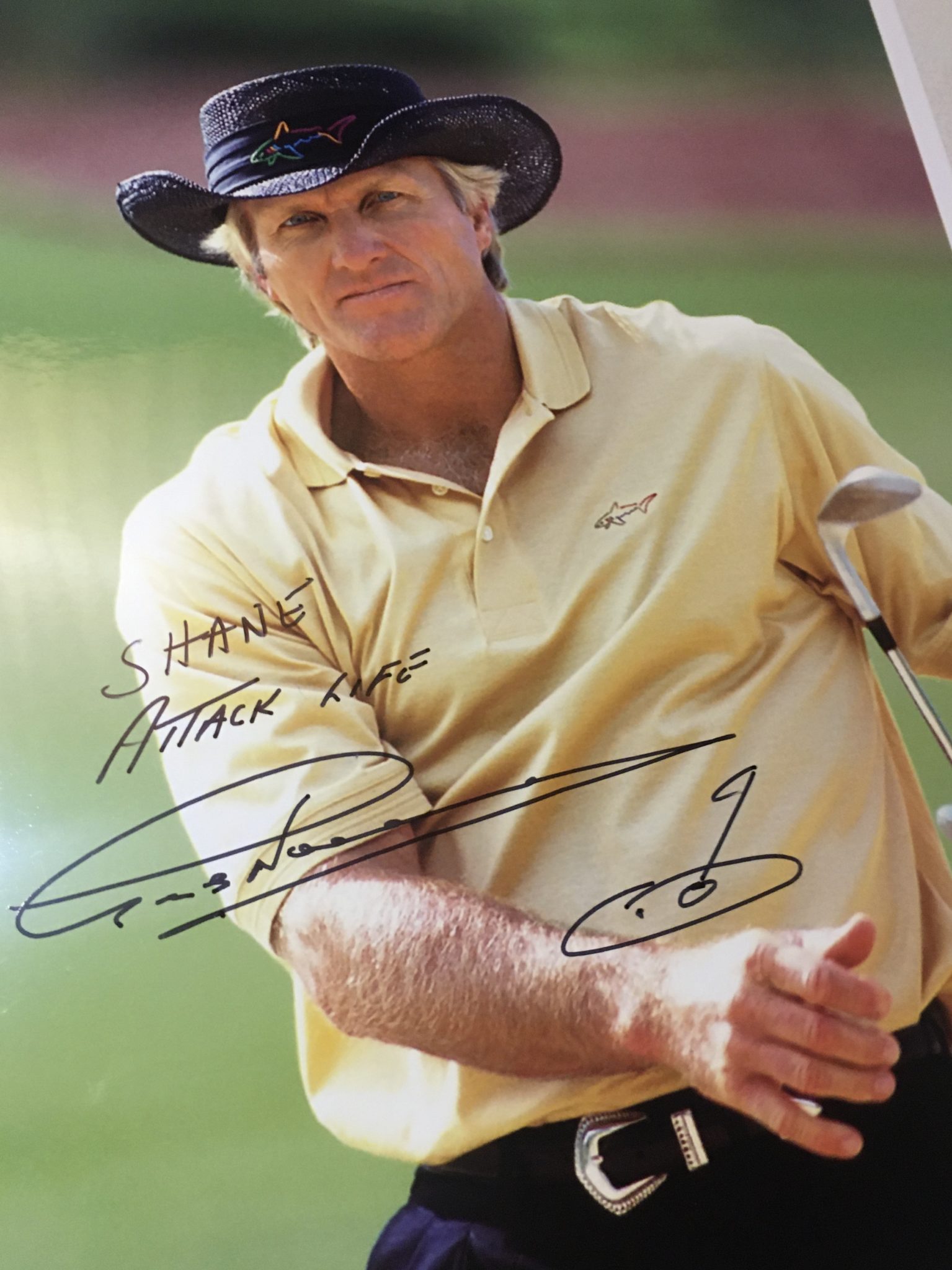 I didn't know who the Australian was until his reeling in the years performance at The Open at Royal Birkdale in 2008.
Thankfully, our own Pádraig Harrington went on to defend his title - but Norman certainly carved out an impressive career of his own.
He won two Open titles himself in 1986 and 1993, with second-place finishes at the three other majors.
I mainly like this autograph for Norman's decision to draw a putting green, complete with ball and pin. If Harrington wants to send in a signed golf ball or glove though to the Off The Ball Towers I'll happily add that to my old collection.
What autographs do you have - sporting or otherwise? Let us know in the comments!