Republic of Ireland manager Mick McCarthy has been impressed by Troy Parrott, who will make his senior international debut against New Zealand.
McCarthy confirmed the Tottenham striker will start in Thursday's friendly at the Aviva Stadium. 
The 17-year-old has scored goals at underage level in the green jersey and will now be given the opportunity to impress at senior level.
McCarthy has had a good look at Parrott in training and speaking at his press conference in Abbotstown, the Ireland boss said: "A bright, very intelligent footballer that's really good with the ball at his feet, he did some really good things yesterday (Tuesday)."
McCarthy was also asked if the Spurs striker was a special kind to be pitched in as a 17-year-old.
"It doesn't take a special kind to be pitched in, it takes a special kind when they are pitched in to thrive, to do well, to make an impression, impress everybody and I hope that's going to be the case with Troy.
"Robbie (Keane) did it instantly and continued to do it of course."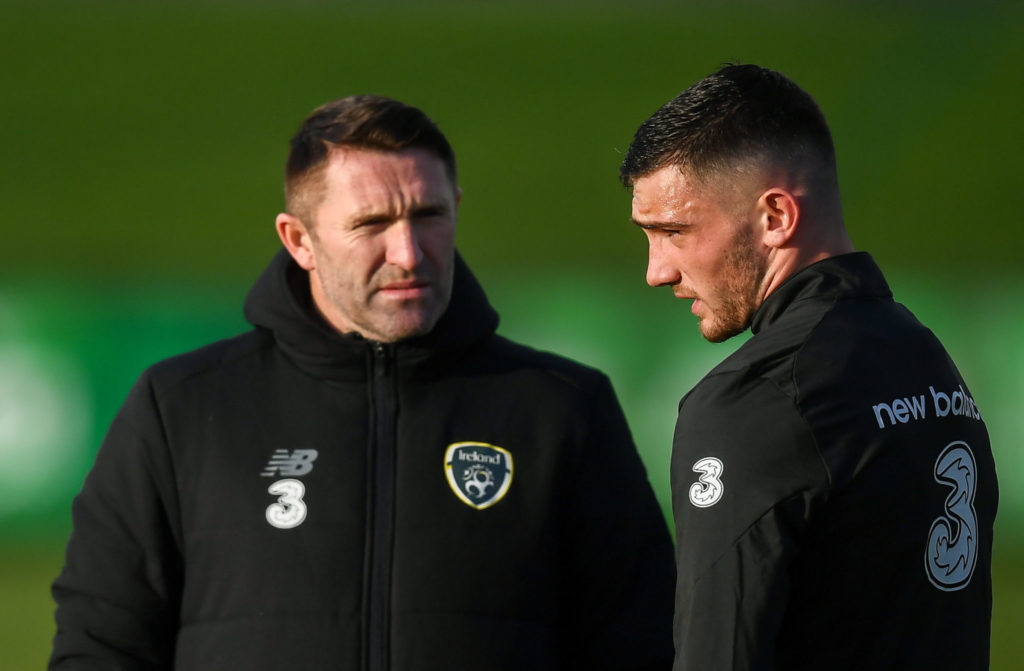 Keane is now one of McCarthy's assistants and Ireland's record goalscorer is in constant conversation with the current strikers in the squad.
McCarthy said it makes sense to use the experience of Keane: "Robbie's a help to all the strikers and he was working with some of them yesterday (Tuesday) and he was working with Troy for a while.
"In terms of the movement, he was one of the best, Robbie, his movement to get himself chances.
"Just the all-round play of a striker, Robbie's been one of the best and if he can't learn from him, he's not going to learn from anybody."
McCarthy knows it's still early day in terms of Parrott's career but he has seen a few things this week to suggest the former Belvedere striker has a bright future ahead of him.
"I don't think I've seen the full potential just yet in the couple of training sessions we've had.
"He did something yesterday (Tuesday) when a ball came into him and he turned and got his shot off which was terrific and you can just see from that one little cameo, he's got something special."
McCarthy will use the New Zealand game to give fringe players a chance but it's highly unlikely Parrott will feature in the Euro 2020 qualifier against Denmark.
However, it was put to McCarthy that there would be a clamour for Parrott to start against the Danes if he scores a couple of goals on Thursday night.
"I hope he scores two goals, and then I'll deal with it. It's hypothetical and I don't really talk hypothetically.
"Let's hope he does it, let's hope he gets the goals, let's hope he plays really well and if he plays really well and scores two goals I might have a clamour in my own head to include him in the game (against Denmark) as well so fingers crossed he does that."
Regardless of what happens against New Zealand, McCarthy doesn't want to put too much pressure on the shoulders of a 17-year-old.
"One game doesn't define (an international career), there might have been a few that's had one game and never played again, I may well have played some of those as well but that's not for Troy.
"Troy's just a young lad who'll need the help of everybody else and he'll get that well in terms of what I say to him.
"He's got a bright future ahead of him, let's hope he stays fit and well and he can enjoy it."