The four Bundesliga clubs that qualified for this season's UEFA Champions League will donate €20 million to the other clubs in Germany's top two divisions.
Bayern Munich, Borussia Dortmund, Bayer Leverkusen and RB Leipzig have agreed to forgo their share of the national media revenue which is approximately €12.5 million.
The quartet will also contribute €7.5 million from their own reserves with the money being used to help clubs that are struggling without their regular matchday and broadcasting revenue.
Football in Germany, like the rest of Europe, has been suspended due to the coronavirus pandemic and this week the governing body, the DFL, extended the suspension until April 30.
The distribution criteria for the €20 million is to be decided by the DFL Executive Committee whose spokesman Christian Seifert expressed thanks to the four clubs.
"This initiative shows that solidarity is more than just lip service in the Bundesliga and Bundesliga 2," said Seifert.
"The DFL Executive Committee is very thankful to the four Champions League participants for their gesture towards our community of clubs."
It is hoped that the distribution of the fund will help prevent job losses and keep clubs running during the enforced break.
Borussia Dortmund chief executive Hans-Joachim Watzke was keen to send out a message of solidarity with the rest of the clubs in the divisions.
"We have always said that we would show solidarity if clubs, through no fault of their own, should run into difficulties that they can no longer overcome themselves," said Watzke.
"BVB is currently having a major impact on society through a wide range of initiatives.
"And naturally we are prepared to help out other professional football clubs if it is ultimately a matter of cushioning the financial effects of the pandemic."
German World Cup winner and Bayer Leverkusen sporting director Rudi Völler was able to give his perspective as a player playing in the second tier.
"As a child of the Bundesliga, I find it incredible that our football is now in serious existential difficulty," said Völler.
"I started playing in the second division, had a great time back then and I know and value both leagues – they are precious and we have to come together to protect them.
"With all the rivalry between the clubs, it's important now for us to help each other."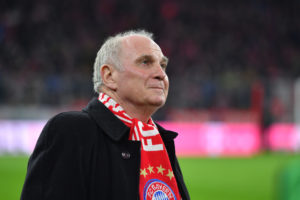 Bayern Munich's honorary president Uli Hoeness (pictured) echoed Watzke's sentiments.
"Together with the three other Champions League participants, we want to send a signal of solidarity to all clubs in the Bundesliga and Bundesliga 2 with this initiative," said Hoeness.
"In these difficult times, it's important that the stronger shoulders support the weaker shoulders. With this, we also want to show that football is standing together right now."
Oliver Mintzlaff, the managing director of RB Leipzig, spoke of discussions with the other three clubs and how important it is to try and keep people employed throughout the divisions.
"We agreed that despite the difficult situation for each individual club we want to make a contribution to the clubs that have hit and will be hit harder than us.
"The Bundesliga is a great competition and consists of a variety of 36 clubs that have to pull together in the crisis.
"In such a situation there are different responsibilities for us: One is to ensure that we do not have to make any personnel cuts and also to stabilize the club as much as possible - at the same time, of course, we want to guarantee the preservation of the Bundesliga and provide solidarity wherever we can.
"We also want to continue to do justice to social responsibility in the city and region. It is important to use these pillars holistically and responsibly. This is what we do."