This article first appeared on 98FM.com on 24/04/2016. On 27/01/2019, Becky Lynch won the Royal Rumble match to secure her title shot at Wrestlemania. Darren Cleary met Becky in Dublin shortly after Wrestlemania 2016.
Less than a month ago an Irish woman took part in one of the biggest sporting events of 2016.
101,763 fans were in attendance on the night, and more than 5.4 million viewers watched on TV in the US. The event was Wrestlemania 32 at the AT&T Stadium in Arlington, Texas on April 3rd.
Chances are many Irish sports fans have no idea who Becky Lynch is, but the Dubliner was one of the headliners on the card and she's quickly become a star in the WWE.
Her match, a triple threat bout for the Women's Championship was regarded by fans, fellow wrestlers and commentators as one of the best of the night.
Before she was headlining the biggest event on the wrestling calendar Becky Lynch was better known as Rebecca Quin, a sports nut from Baldoyle in Dublin. She tried them all growing up, horse riding, swimming and basketball before wrestling piqued her interest.
She enrolled in a wrestling school in Bray when she was just 15-years-old. Quin loved it and it quickly consumed her teenage years. Summer holidays were spent in England; she would travel to the UK to take part in various summer camps for wrestlers.
After finishing secondary school at 18-years-old Quin, who was wrestling under the name Rebecca Knox then made the move to Canada to pursue a career as a professional wrestler.
The Dubliner made her mark wrestling there, and opportunities arose that took her to Japan, Germany and France to perform. She appeared to be destined for the top; her meteoric rise was only heading in one direction before disaster struck.
She was injured, and it was bad. Quin suffered a head injury, and it was feared she damaged her eighth cranial nerve in a match:
"I took off overseas and I was getting well known around America, Japan and Europe, then at 19-years-old I got lost and got confused and didn't know what I wanted. I got hurt in a match and I decided to step away."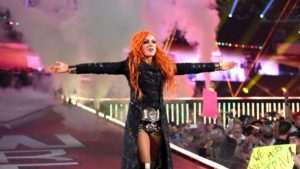 "I started to think about what else I wanted to do. I was a personal trainer and I worked as an air hostess for Aer Lingus for a couple of years and I just went off travelling."
"I did martial arts before going back to college, I studied acting in DIT, and I was basically doing everything I thought I might possibly want to do."
"The whole time there was this siren in my head telling me you're not doing what you're supposed to do, no matter how much I tried to quiet it down it wouldn't stop, I knew I had unfinished business."
After a period doing everything else in the World except for what she wanted to do, Quin returned to the ring, as it happens by chance.
She was working as a stuntwoman on the TV show 'Vikings'. She made a return to the familiar surrounds of the squared circle, originally with no intentions of getting back in the ring:
"I went down to a wrestling school to just try and work on some stuff for stunts".
Lynch: My dream is to main event Wrestlemania
There she crossed paths with Joe Cabray, a fellow Irishman who was working on the independent wrestling scene. He encouraged Quin to go for a tryout with WWE.
Seven years after quitting wrestling, Becky Lynch was signed to WWE's NXT talent development programme.
"As soon as he (Joe Cabray) said go for the tryout, I knew I was going to get it, there was no way I wasn't. This was what I was meant to do."
"I spent years doubting and wondering, but as soon as this was presented to me I thought that's it I'm taking this ball and running with it."
Reaching the pinnacle of the wrestling industry has not been easy for the 29-year-old. The trip back to Dublin this week gave her with the opportunity to reflect on her journey: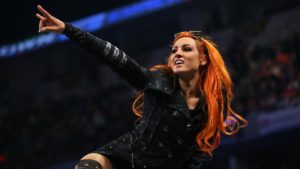 "I was at home last night, I came home and I've all these journals, I've kept journals my entire life, I've got tonnes of them.
"It was crazy to open them up and look through them and see that all that time when I was lost, when I was confused, when I trying to find out what I wanted to do, I just wanted to be in WWE."
Growing up in Dublin, a career as a professional wrestler in the WWE was beyond a dream for Quin, it hadn't been done by any other Irish athlete up until that point.
"This is what I want to do with my life."
She became the first Irish woman to be signed to the company:
"I couldn't have dreamed about it, it wasn't on my radar. Nobody else (from Ireland) had done it. To be where I am, where Sheamus is, that was beyond a dream."
"I didn't think about it growing up, not until I was 17-years-old. I remember I was at a show in Kilkenny and I tagged with my brother and I remember coming back and thinking this is what I want to do with my life."
[playlist ids="481725"]