Sinn Fein has called for the controversial O'Devaney Gardens housing project to be scrapped.
It's after An Bord Pleanala lifted a ban on cuckoo funds buying the homes, as reported by the Business Post.
That means the investment funds could potentially buy about half of the 1,047 homes planned for the site.
Sinn Fein Housing spokesman Eoin O'Broin says this project should've been 100% backed by the state in the first place:
"It should always have been a Dublin City Council lead development, funded by central Government, to deliver 100% social and genuinely affordable homes to rent or buy."
"What this latest revelation from An Bord Pleanála demonstrates is yet another reason why the scheme should be scrapped and the original proposal to have a fully public development on that land should be put in place."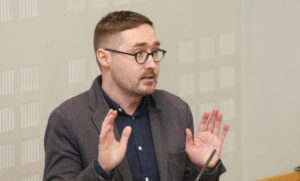 Priced Out
The Dublin Mid-West Deputy continued to say this is a missed opportunity for such a prime plot of land:
"That is an appalling use of such an important, valuable strategic asset that was previously in public ownership."
"It shows why this Government simply cannot be trusted, either with land policy or housing policy."
"The only winner at the end as a result of Government Policy is private developers."
"So the big losers are working families who will be priced out yet again of being able to rent or buy an affordable home in their own neighborhood."
Dublin City Council
Meanwhile a spokesperson for Dublin City Council said:
"The final agreement, as voted through by Councillors was that 30% of the site be Social Housing, 20% Affordable Purchase and that a deal to secure a further 30% from the remaining 50%, originally intended for private sale by Bartra, which would be allocated to cost rental, would be pursued."
"This remains the case."
"The story in today's Sunday Business [Post] relates to a technical condition on the 50% remaining with Bartra."
"I can also confirm that discussions between Bartra and AHB's [Approved Housing Bodies] are ongoing with regard to the remaining 50% to secure a deal on 30% or more of this as public housing."