With St Patrick's Day just around the corner, some of the worlds most famous buildings and sites are going green to mark St Patrick's Day this year.
These new sites will all join Tourism Ireland's Global Greening initiative for the first time in 2019:
Victoria Falls.
York's medieval City Walls.
The Eden Project in Cornwall.
A Leopard statue called 'Chiu' in Nairobi.
Nation Towers in Abu Dhabi.
The Château de Beaulieu on the banks of the Loire.
The Atakule Tower in Ankara.
The Shizuoka Stadium ECOPA in Japan, where Ireland will play Japan in the Rugby World Cup in September.
Turning Niagara Falls green ahead of #StPatricksDay2019 with Min @RichardbrutonTD @TourismIreland @IrlEmbCanada @NiagaraParks 💚#GlobalGreening #niagaraparks ☘️🍁 pic.twitter.com/54o6qPQApy

— Jim Kelly (@jimkelly2006) March 10, 2019
These new sites will join some 'old favourites' which have gone green in previous years, including:
The Colosseum.
The Leaning Tower of Pisa.
Niagara Falls.
The 'Welcome' sign in Las Vegas.
Sleeping Beauty castle at Disneyland Paris.
The Sydney Opera House.
Burj al Arab.
Christ the Redeemer statue.
The London Eye and many others.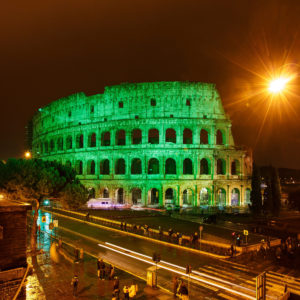 St Patrick's Day
To mark the 10th year of Global Greening and to celebrate this unique global campaign, Tourism Ireland is launching a new book, called Ireland's Greening of the World.
It tells the story of Tourism Ireland's Global Greening since it began in 2010 and how it has since captured the imagination of people everywhere.
Big thank you to Taoiseach @campaignforleo for launching our #GlobalGreening book today pic.twitter.com/hPiJJactXH

— Tourism Ireland (@TourismIreland) March 8, 2019