Eh, what the plan here lads?
With some serious Irish representation at the Oscars this year, we decided we needed to get  some eyes and ears on the premises!
We've decided to send Darren & Joe from the 'Stall It' podcast over to LA and what happens from there…well we don't think they've figured that out yet. How easy is it to get a media accreditation anyway?
Follow their journey below to see if they manage to blag their way into the Oscars here and tune into Suzanne on 98FM every morning after 10am as she catches up with the lads, live from LA! 🏆
The lads tell Suzanne Kane their plans:
---
Day 1: Darren & Joe land in LA
So we're off to a good start, they made it! Suzanne checked in on them at the start of the show and the lads revealed they haven't slept in 27 hours.
What's at the top of their minds? Well in Darren's words, they just want to live the American Dream. The first thing they did when they sussed out the Airbnb was get a Wendy's.
Tune in to hear how the hell they got this picture of a real-life BAFTA on the flight over and what famous Irish singer they bumped into at baggage claim 💼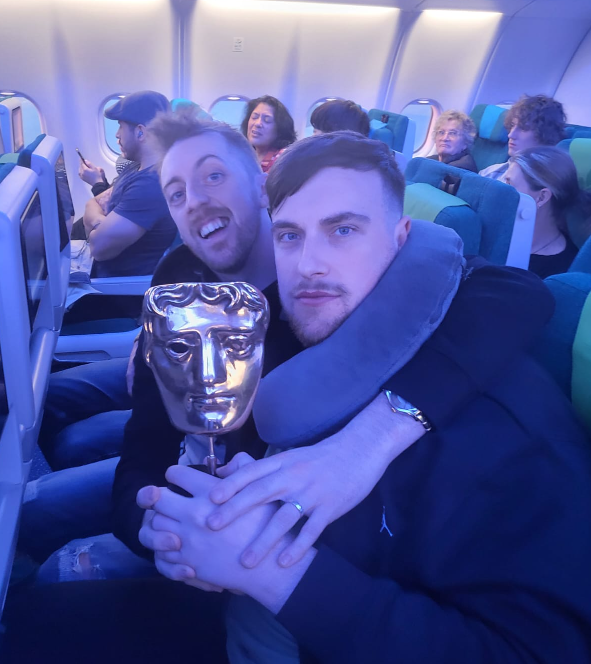 ---
Day 2: Darren & Joe See The Sights
The Oscars are a few days away yet so Darren & Joe take this time to climatise to LA livin'. First up, go looking for the stars! They go on a tour of and spot...Lady Gaga? That's what their grifting taxi driver tells them anyway 😂
The lads hit their first success of the trip... they managed to get into the elusive Oscar Wilde party! The annual awards ceremony is always held the Thursday before the Oscars and specifically celebrates the Irish in the film & TV industry. Aptly named we'd say! Tune into their chat with Suzanne above to hear who they bumped into while they were there!
---
Day 3: Darren & Joe on The Oscars Weekend
It's Oscars Weekend and Darren & Joe chat to Rachael Ryan on 98FM's Saturday Social and recap on their week so far and give us an update on their challenge to secure a meeting with Barry Keoghan.
---
Day 5: The Night After The Oscars