Over 40 chippers across Dublin are joining forces tomorrow to raise funds for Pieta House after losing a member of their community to suicide.
The Irish Italian Chipper Communities are coming together on Wednesday, January 15th in memory of Enrico Marsella, who passed away in August last year.
They are introducing a €5 meal deal on Fish & Chips, 1/4 Pounder & Chips and 2 Piece Southern Fried Chicken Snack Box.
There will be donation buckets in each store. Each chipper will also be giving a personal donation to the suicide and self harm prevention charity.
Below is the list of eateries taking part tomorrow: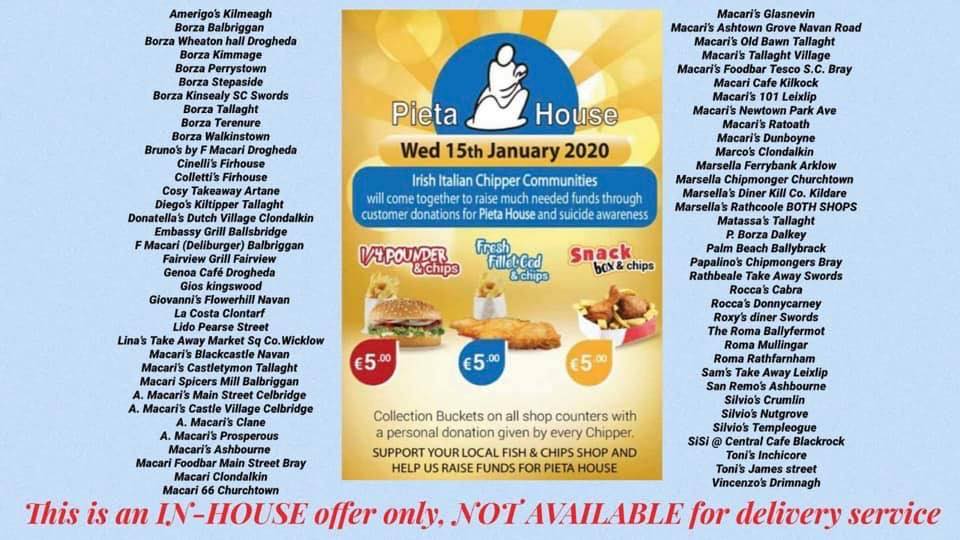 A spokesperson for the initative said:
"Enrico was just 21 when he passed. He was a huge part of our family and our community. Never ever feel alone in the fight for help. Emotional pain is just as serious as physical pain. With the support you'll get from Pieta House, you'll start to heal.
"Support our campaign to support Pieta House, Preventing Suicide and Self Harm so they can help men, women and children to find help & hope for the future."
If you or someone you know has been affected by suicide, you can contact the below numbers:
Pieta House - 1800 247 247
Samaritans helpline - 116 123
Aware helpline - 1800 80 48 48
Follow @98FM on Twitter for the latest Dublin news