This is lovely to see ❤
The first-ever Barbie doll with Down's syndrome has been unveiled by the Mattel, the toy-making company behind the iconic doll.
To mark this significant moment in Barbie's history, the brand teamed up with 21-year-old British model Ellie Goldstein, who has Down's syndrome.
Ellie, who has done modelling for Gucci Beauty and Adidas, said: "I am so happy that there is a Barbie with Down's syndrome."
"Seeing the doll, I felt so overwhelmed - it meant a lot to me and I'm so honoured and proud that Barbie chose me to show the doll to the world."
"Diversity is important to me as people need to see more people like me out there in the world and not be hidden away."
The first Barbie doll with Down syndrome has been unveiled.

The release of the new design "continues to expand on inclusion in doll play," says Lisa McKnight, the global head of Barbie and Dolls for toy maker Mattel. pic.twitter.com/9KsNXlBfmD

— The Associated Press (@AP) April 25, 2023
Mattel worked with the National Down Syndrome Society in the US to design the doll, to make sure the model accurately represented individuals with an extra chromosome.
The NDSS and medical professionals were involved in every part of the design process!
The Barbie with Down's syndrome has a shorter frame and longer torso that's more illustrative of women with the condition.
In terms of her face she has a rounder shape, smaller ears, a flat nasal bridge, and almond-shaped eyes eyes.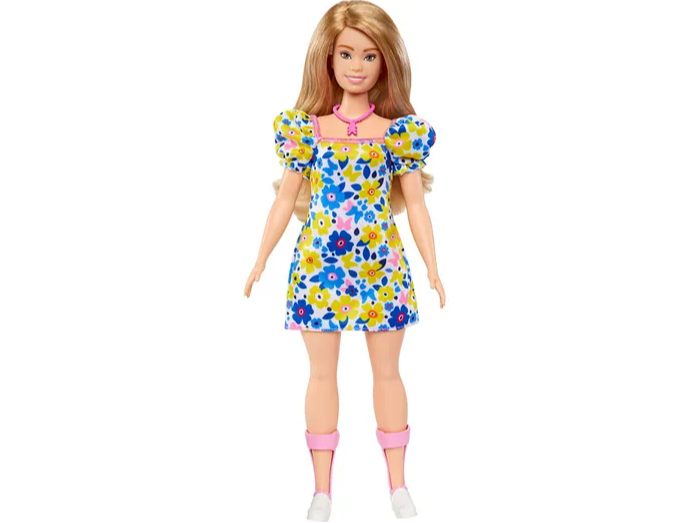 Stylistic choices were also made to represent the doll's Down syndrome. She has a pink pendant necklace with three upward chevrons which represent the three copies of the 21st chromosome.
The Barbie's dress pattern features butterflies and yellow and blue colours, symbols associated with Down's syndrome awareness. She also wears pink ankle foot orthotics often worn by children with Down syndrome.
Speaking at the launch of the doll, Lisa McKnight, who is the executive vice president and global head of Barbie & dolls at Mattel, said: "Our goal is to enable all children to see themselves in Barbie, while also encouraging children to play with dolls who do not look like themselves."
This Barbie is part of the Barbie Fashionistas line, a range dedicated to celebrating Barbies of all kinds. The range features over 175 dolls that have different skin tones, body types and hair textures.
There are also dolls with disabilities, including ones that use wheelchairs, wear hearing aids, and have prosthetic limbs.