Michelle Obama gives Stacey Solomon a mention on Instagram
Stacey Solomon was shocked to learn she got a shout out on Michelle Obama's Instagram page this week
The former First Lady took to social media yesterday to pay homage to the world's first line workers.
 

View this post on Instagram

 
In her status she wrote, 'If you're feeling as grateful for our first responders as I am, now's the time to let them know.'
'From our medical providers and hospital staff to our grocery, transit, and delivery workers, so many extraordinary people are putting their lives on the line to get us all through this moment.'
'Let's take the opportunity to tell them and their families that we see their sacrifices and we're behind them.'
'A handwritten letter, an Instagram post, or a simple "thank you" text can go a long way in letting someone know just how incredible they are and how much you appreciate what they're doing.'
Michelle shared a number of notes written to healthcare employees.
And the first one read, 'Dear Mum, This coronavirus has everyone going crazy.'
'However, we wouldn't be getting through it without nurses like you on the NHS. Well done for being so strong.'
It finished, 'Tomorrow is a new day, get some sleep, relax and let Stacey Solomon get you giggling, we love you!'
 

View this post on Instagram

 
Stacey reacts
Stacey responded to the post on Instagram..
She wrote, 'So many of you are tagging me in this.... Me and Hoe can't stop laughing that I'm on Michelle Obama's grid.'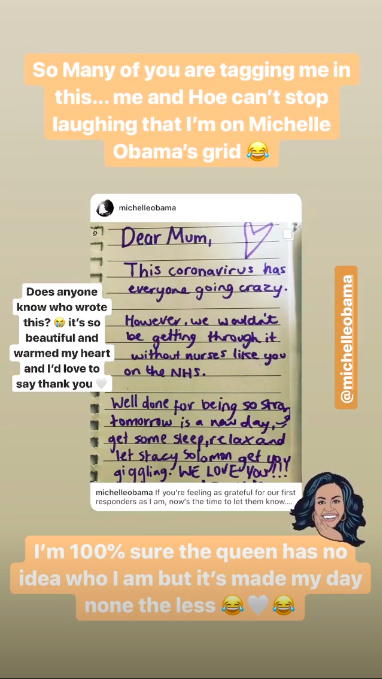 Stacey finished, 'I'm 100% sure the queen has no idea who I am but it's made my day none the less.'