Congratulations to Maryvonne Clarke in Stepaside. She called into 98FM's Big Breakfast and told Cooper her guess… "Somebody stepping onto a weighing scales"… and has picked up an amazing €12,000!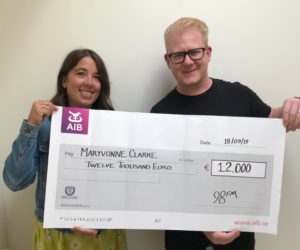 Maryvonne lives in Stepaside, has 4 kids and is currently celebrating her 16th wedding anniversary. The clue was "Cooper got this as a wedding present", and so did Marie!
98FM's Secret has been going for exactly one year.
The Clues
1: This sound has nothing to do with a car
2: This sound was recorded in a house.
3: Copper got this as a wedding gift.
Incorrect Guesses
- Locks on a car door
- Hitting a deck of cards on the table
- Opening/Closing a Microwave door
- Stamping documents
- Opening/Closing a glovebox in a car
- Closing the back doors on a transit van
- Pressing the button on a flask
- A Stapler
- Closing a ring binder folder
- Using a nail gun
- Pressing a button on a briefcase
- Microwave Door
- Punching a time card into a clocking machine
- Closing the clips on a lunchbox
- Throwing a basketball into a basketball hoop
- Closing a washing machine door
- A car locking from inside the car
- A stamp
- Coffee pod falling into a coffee machine
- Frank Machine
-Hitting ice out of ice tray
- Kicking a ball off a wall
- tap shoes on a stage
- Opening/closing a lunch box
- pushing down the lever on a toaster
- Ink Stamper
- A push to open door/cupboard
- Hitting a stack of paper off a table
- a clicky pen
- fasteners on a large plastic storage box
- pushing the lever for the back windscreen wiper on a car
- a chiropractic table
- closing a filing cabinet
- clicking a pen
- a safe door closing and locking
- a judges gavel
- a stapler
- a hole puncher
- deck of cards hitting off a table
- Closing a drawer in a desk
- ATM Machine dispensing money
- Glove box
- Hole Puncher
- A punching machine
- A cord on a shower
- tapping a stack of paper on a table
- opening/closing a fridge door
- Ink Stamper
- Opening/Closing a pedal bin
- Fuel cap on a car
- Tapping on a cheap plastic football
- A Hole Puncher
- A train on train tracks
- Clicking a pen
- magnetic latch on a press
- opening the clasps of a brief case
- a cat flap
- changing a record on a jukebox
- a pogo stick
- cleaning a blackboard with a duster
- Opening/Closing a velux window
- a typewriter
- Central locking on a car
- opening a can of minerals
- clicking your tongue
- stepping on a bin pedal and the metal lid opening
- Ice maker in a fridge
- a door knocker
- last two steps of an Irish jig
- flashing your lights in the car
-Soap dispenser being used
- Banging a hammer on a table
- A car boot being closed
- A letter being dropped into a letterbox
- The back doors of a van closing
- Closing a bin lid
- A Stapler in a printer
- Pop socket on the back of a phone
-A Judges gavel
-Folding Shower Door Closing
- Central locking on a car
-Closing a cassette player/disc man
-When a printer is out of paper
- The overhead compartment on a plane
- Ink Stamp
-Plugging in a microphone
- Paper Towel Dispenser in a bathroom
- Heavy doors swinging back into place
- The Clip of the umbrella opening and closing
-Filing cabinet drawer opening and closing
-A lever on a Binding Machine
- A picture changing on a slide projector
-Putting a boxset back on a shelf
-Putting Kettle back on it's base
-Opening/Closing a washing machine
-Pulling the chord on a bathroom mirror light
-A Car mirror folding in or out
-Pushing down the lid on a bin
-A car going over a speed ramp
-A sound from the 98FM Big Breakfast Intro music
-an old fashioned manual credit card imprinter
-Pressing the button on a Punch bag machine in an arcade
-Pulling the chord on a bathroom light
-Ejecting a game from the Super Nintendo
-doing the bottle flip trick
-Taking out a video game out of it's case
-Emptying the recycle bin on your computer desktop
-The button on a toaster popping up by itself
-A Paper Guillotine
-Using a staple gun
-Pressing down on a bar to open an emergency door
-Self Ink Stamp
-Latch on a tool box
-Dice in a dome on frustration game board
-Rolling pin being placed on a table
-Price tagger
-Sliding Door
- Can falling down in a vending machine
-A can crusher
-A paper punch
-Putting a DVD in a case in a closing it
-An extendable ladder
-The arms on a pinball machine
-Circuit Breaker on a fuse board
-Clicking a Ski Boot on to a Ski
-Cracking Ice out of an Ice Tray
-Ticket Machine on a bus
-click clack sink plug
-A paper guillotine
- Bars on an emergency door
-A Library stamp
-A Push pull door
- Pressing down a button on a computer keyboard
- Windscreen Wipers moving
-Closing a washing machine foor
-Tablet compartment on a dishwasher
-Putting in the combination and opening a door on a safe
-Putting a kettle back on it's holder
-pneumatic hammer
- Storage compartment on a suite of furniture
-Lever on an office chair going up and down
-A Photocopier
- an old credit card reader
-Tenderising a steak with a mallet
-Putting post in a letterbox
-Standing on a floor lamp button
-Pressing down the buttons on a typewrite
-Replacing TV remote batteries
-Chopping vegetables
-Sliding open a Vent
-Magnetic lock on a door
-a wheelie suitcase going over some steps
-two strikes of a bass drum
-Disc going into a CD Player
-Closing the over head storage on a plane
-A horse taking a step onto a horse box
-Luas doors closing
-Taking a picture at a press conference
-A ticket machine in a car park
-Eject button on a CD player
-A Hole Puncher
-A tin opener clamping on to a tin and cutting in to the metal
- A hand held suction to reseal a bottle of wine
-A tape going into a VCR
-A clocking in machine
-Changing the gears on a bicycle
-Opening the locks on a briefcase
-Closing a school binder
-Putting a cordless hoover back on the charger
-Coin slot on a Dublin Bus
-Locking a door
-Closing down the handle on a coffee machine after you put the coffee pod in
-Closing your kitchen cupboard
-Closing the egg tray in a fridge door
-Filling a printer with paper and closing the drawer
-When you put a bank card in an ATM and it makes a click sound as it takes the card in
-Pressing eject on a cassette player
-A hole puncher
-Lock on a public toilet - turning it to occupied and back to vacant
- A price tagging gun
-Snapping open and closing the lid on a tupperwear box
-Putting a lid on to the end of a pen
-Opening and Closing a bread bin
-Paper drawer being opened closed on a printer
-Lid back on an aftershave bottle
-Lock in a bathroom on a train
-Opening of an airplane door
-wheeling a wheelie bin down off a curb
-Opening a pad lock
-Punch Bag in an arcade
- Pressing down a bubble dice on a board game
-Opening a door into a cold room
-Ice Machine on an American Fridge
- Clicking the joy con on a Nintendo Switch
- Old credit card imprinter
-Putting your card into a cash machine
-Door of a dishwasher opening and closing
- A Horse Kicking a door
-A Vending Machine in a toilet
- Putting the hotel key card into the door
- loading and shooting a NERF Gun
- A Rivet Gun
- Pulling a power chord on a power shower
-A ticket turnstile
-Opening the plastic clips on a lunch box
- Door of an old commuter train opening
- Right Clicking a mouse
-Franking Machine
-Slamming a car boot closed
- A defibrillation
-Cleaning mud off a pair of boots
- Pop up weight on a sink
- Suitcase handle going up and down
-Putting your feet up on a desk
- Opening and closing a shampoo bottle
- An attic window opening and closing
- Closing the doors on a shower door
-Releasing a glass compartment on a TV stand
-Laying down timber flooring
-Pressing the button on an air flosser
- A Kitchen cabinet that you push in to open
- A recliner chair opening and closing
- A sandwich maker opening/closing
-Putting a shower head back on its holder
- Toilet seat lid closing
- Hammering a nail into a wall
- Opening/closing the latch on a stair gate
- Opening/closing latch on a shed door
-Trying to open a press with a child lock on it
-Pushing the handle up on a patio door
- Closing the door on a dryer
-Vegetable Dicer
-Pedal Bin
- Twisting the top on a bottle of soap
-Opening a loft hatch
-Opening an extractor fan
-A Dimmer Switch
- Door on a fuse box
-A pull chord in a bathroom
- Clicking a cordless dyson onto the wall
- retracting the cord on a hoover
- Desk lamp
- Opening/closing a cake box
- Replacing ink in printer
- closing a photo frame
- a coffee maker
- putting something on a shelf
- closing a suitcase
-Clicking in the back of the remote control
- Placing something on an old mechanical kitchen scales and taking it off
-Coffee machine pressing down the pod
- Changing the head on a food mixer
- Water dispenser on an American fridge freezer
-Opening/Closing a Microwave
- An oven door  closing
- closing the handle down on a coffee pod
- Lid on a pressure cooker
-Top flap on a coffee machine when you release the capsule
-Opening and closing an old writing desk
-Unblocking the sink with a plunger
-opening and closing a canteen of cutlery
- wooden table being put back into a nest of tables
- Pressing the button on a microwave
-Chopping Board
-Dishwasher door closing
-Deep fat fryer closing
-Velux window closing
-Home phone being placed into cradle
-Wine bottle opener
-Rap Master
-Emptying bin on cordless Dyson
-Changing blades on electric carving knife
-Sandwich maker lock
-Automatic bottle opener
-Fancy cutlery box locking
-Closing a bread bin
-Soda stream
-Closing the clasp on a watch
-Closing the lid on a rice cooker
-A motorcycle helmet
-Turning on and off a fan
-A tin foil holder in the kitchen
-Vinyl record loaded on to a record player
-A cigar cutter
-Putting knives back into a block holder
-Closing the lid on an acti-fry
-Clicking open a cutlery box set
-Hand press chopper device
- Antique Camera
-Projector slide being changed
- Pushing the leaver on a coffee machine
-A Recliner chair
-View pointer closing on a Camcorder
-Digital photo printer
- Throwing an exercise ball against a wall
-Opening/Closing the lid on a Henry Hoover
-Hitting the snooze button on an alarm clock
-Turning a food processor bowl to lock it in place
-Closing a drawer on an air fryer
-Click on a washing machine door
-Changing a pic on a digital photo frame
-Wedding photo album
-Opening a cutlery case
-A Pedal bin opening/closing
-Changing the record on a JukeBox
-Closing down a Sandwich Toaster
-Gas switch on a BBQ
-Putting a cordless kettle back on it's base
-Salad Shaker
-A trouser press
-The arm of a record player
- Opening a luxury box of liquer
-Clicking in a memory stick in a camera
98FM's Big Breakfast with Cooper and Luke
Weekdays from 6am