Daniil Medvedev has won the season-ending ATP Finals in the last match of this tournament to be played at the O2 Arena after 12 years in London. It moves to Turin, Italy from next year.
In a gruelling encounter on Sunday evening in front of 17,500 empty seats, the world no.4 and first-time finalist Daniil Medvedev overcame the world no.3 and last year's runner-up Dominic Thiem, 4-6, 7-6 (2), 6-4, to claim his maiden ATP Finals title.
Twelve months ago, Medvedev lost all three of his round-robin group matches on his ATP Finals' debut. This year, Medvedev has gone unbeaten all tournament and becomes the first competitor in the event's 50-year history to win the championship by beating the world's top three players.
The crucial moment of this final occurred at 2-2 in the third set when, at the ninth time of asking, Medvedev finally broke Thiem's serve and the Moscow man did not look back to claim the biggest title of his career to date.
Defeat for Thiem represents the reigning US Open champion's second successive epic loss here having fallen to Stefanos Tsitsipas in a final set tiebreak in 2019.
Along with straight-sets wins over Alexander Zverev and Diego Schwartzman over the past week, Medvedev has created history by defeating Novak Djokovic, Rafael Nadal and Thiem, aka. the world numbers one, two and three en route to this momentous victory.
An incredible moment 🏆

🇷🇺 @DaniilMedwed, you are a #NittoATPFinals champion!

🎥: @TennisTV pic.twitter.com/cf9ITXSzYo

— ATP Tour (@atptour) November 22, 2020
This marks the end of the Finals' 12-year run in London which was bookended by two Russian winners - Nikolay Davydenko in 2009 against Juan Martin del Potro and, in 2020, Daniil Medvedev, who pockets an estimated $1.5m for his week's work; down from last year's $2.6m due to the loss of revenue in the absence of an audience.
Make no mistake, the final that most fans wanted is not what occurred on Sunday night as Djokovic and Nadal were each eliminated on Saturday by these two extraordinary players.
However, the results this weekend represent the potential beginning of a new era and an end to the decade-long dominance of the Big Three. Time will tell on that front as the jury is still very much out when it comes to the recent grand slam record of the rest.
Nevertheless, this was high-quality tennis from the first toss of a ball. Medvedev took just two minutes to hold before forcing Thiem into a 10-minute game where the Russian missed the first two of nine break point opportunities.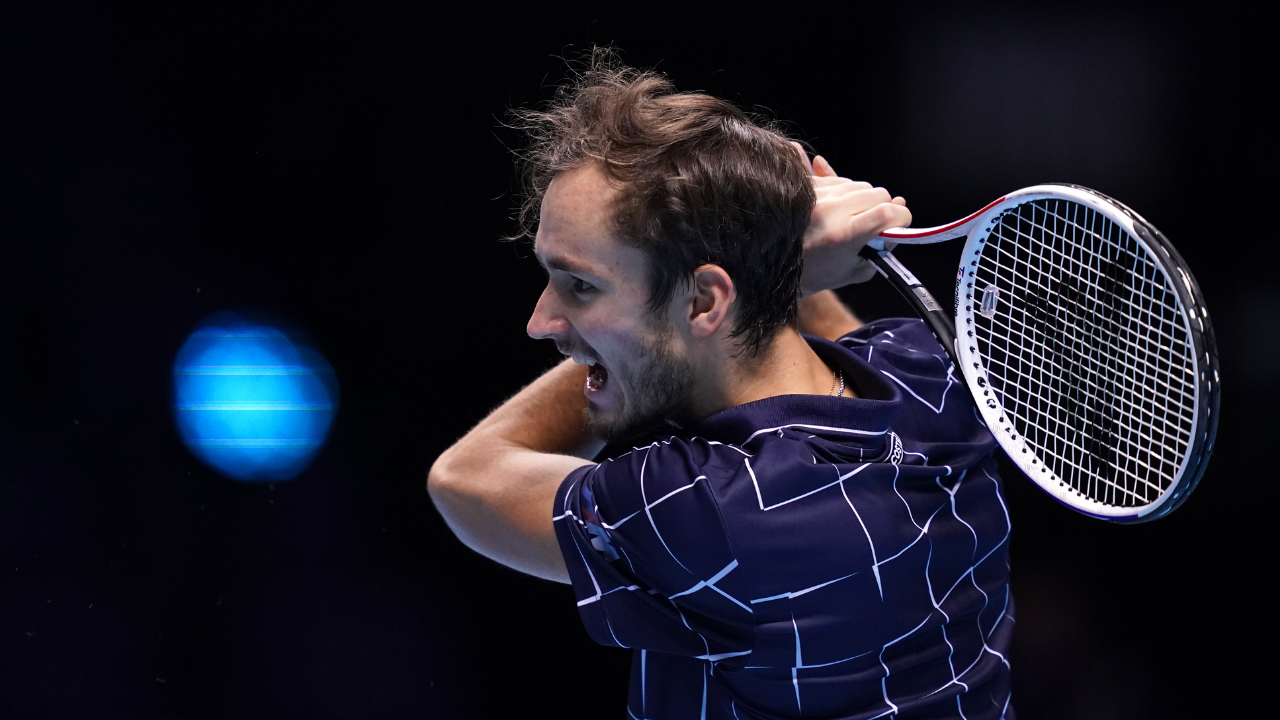 Like against Nadal in the semi-final, Medvedev was forcing Thiem to work very hard early on.
What struck the viewer about this final was each player's ceaseless energy and constant movement. There were no lost causes with much of the match contested from the back of court until Medvedev decided to move in.
This proved to be a successful tactic for the metronomic Medvedev, who by the halfway point of the opening set was winning about a third of his points from inside the baseline.
These pair were well-matched. Thiem has had the year of his life having narrowly lost the Australian Open final to Djokovic in a deciding set before winning his first slam at the recent US Open (where he beat Medvedev in straight sets in the semi-final).
Like Medvedev, he too has beaten both Djokovic and Nadal in the last week and pounced on his opponent's first signs of vulnerability when Medvedev went from 40-0 up at 2-2 to losing his serve by double-faulting under the pressure being applied by Thiem.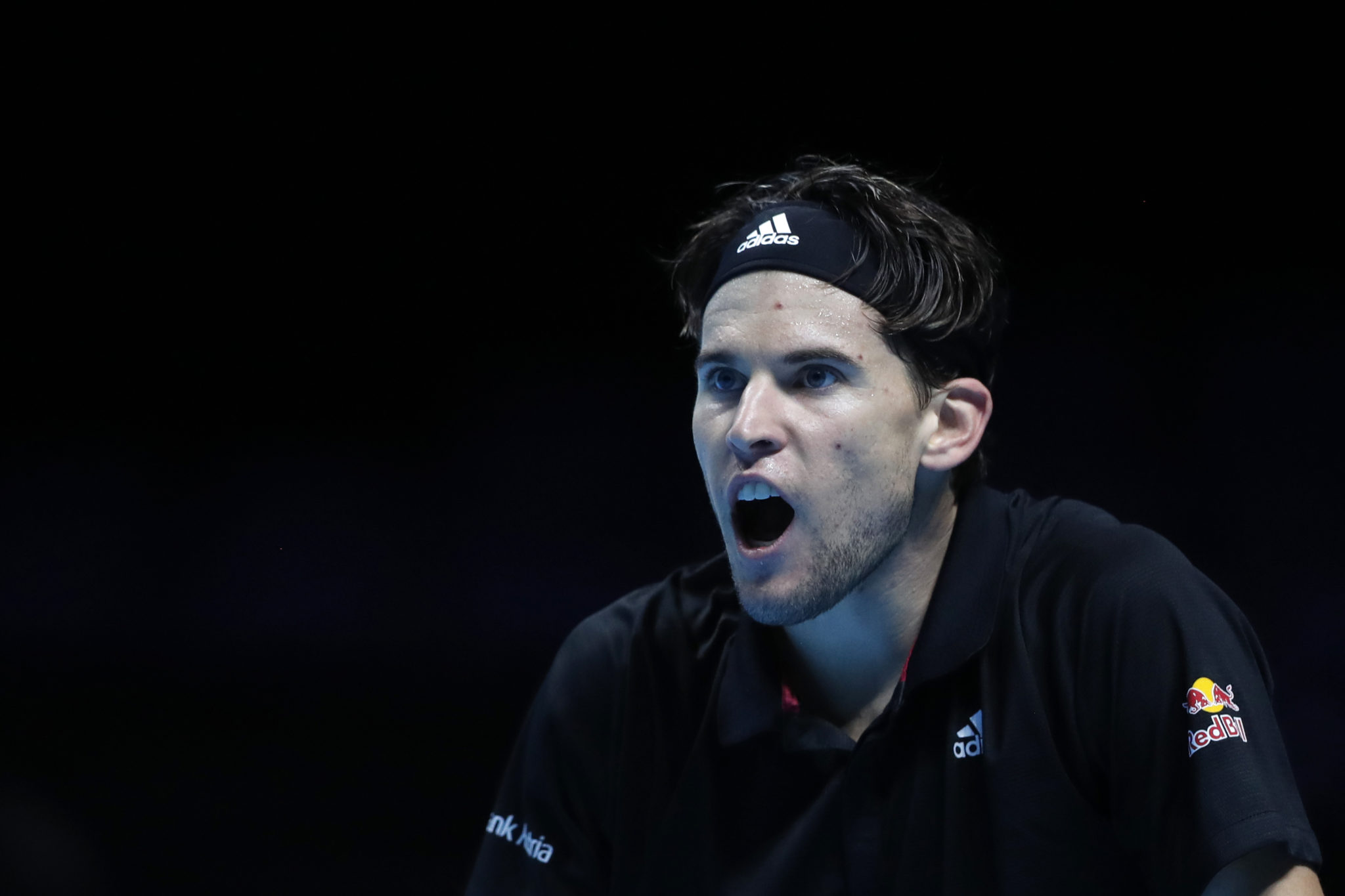 That mishap was sufficient to lose a first set where Medvedev was arguably the more proactive player despite his first serve percentage dropping from the mid-70s against Nadal to the low-50s here. Medvedev was 3-6, 4-5 down to Nadal in the semi-final but recovered spectacularly so despite losing the opening set on Sunday, one still believed he was in the match all the way through - Thiem certainly knew it.
Regardless, Medvedev was living on the edge. At 2-2 in the second set, a volley hit long was followed by a backhand struck wide which set up a break point for Thiem. Medvedev responded by striking an ace.
At 3-3, Medvedev went long again and Thiem missed a massive break point opportunity by hitting wide from an advantageous position at the net.
Medvedev survived another break point in the same game before holding and then setting up his own break point at 4-4 after a beautiful cross-court forehand.
Thiem held to take the set to a tiebreak, but Medvedev was beginning to dictate play by using Thiem's aggressive shots against him. The Austrian responded by slicing more, forcing Medvedev to generate his own power from his groundstrokes. Medvedev adapted. Thiem won the first two points of the tiebreak but Medvedev claimed the next seven to set up the last set of ATP Finals tennis to be played at the O2 in London.
All momentum was with Medvedev now. Thiem was 0-40 down at 1-1 and even though Medvedev failed to capitalise on these triple break point chances, Thiem was starting to wilt, the end of an exhausting, if truncated, season now visibly apparent. The decisive moment arrived once again at 2-2 when Medvedev volleyed home at the net to finally break his opponent.
After that, Medvedev sprinted to the finish line just weeks after winning the Paris Masters. This, however, is the 24-year-old's greatest achievement. He becomes the fifth first-time winner in a row.
Singles champions in London 🇬🇧

09: Davydenko
10: Federer
11: Federer
12: Djokovic
13: Djokovic
14: Djokovic
15: Djokovic
16: Murray
17: Dimitrov
18: Zverev
19: Tsitsipas
20: Medvedev@DaniilMedwed #NittoATPFinals pic.twitter.com/Ld2iETrLq8

— ATP Tour (@atptour) November 22, 2020
And so concludes tennis for 2020 in a season that was suddenly halted by COVID-19 last spring only to come back with a bang in the summer without supporters.
Attention now turns to whether the Australian Open will proceed on January 18th as planned following suggestions that players will not be able to enter the country until New Year's Day before undergoing 14 days of quarantine.
Players had wanted to arrive in Australia in the middle of December to commence preparations for the Australian tennis season. However, because of a reported increase in coronavirus cases in South Australia - the bordering state to Victoria where the Australian Open is staged - authorities want players and their teams to delay their arrival and then undergo two weeks of quarantine.
This could present problems not just for the Australian Open, but also the ATP Cup and other warm-up events. Should every player officially quarantine for the currently suggested fortnight and should the first grand slam of the year start as presently scheduled, then there will only be a matter of days available to train before the action starts.
RELATED ARTICLES: DJOKOVIC WAVES GOODBYE AS THIEM PROGRESSES TO ATP FINALS DECIDER
RELATED ARTICLES: MEDVEDEV THROUGH TO FINAL AS NADAL AND DJOKOVIC CRASH OUT IN SEMIS