Tottenham have the advantage after the first leg of the League Cup semi-final. Spurs grabbed a 1-0 win over Chelsea at Wembley on Tuesday night.
Harry Kane's first-half penalty secured victory for Mauricio Pochettino's side. The call was contentious - the penalty was awarded by the VAR official Chris Kavanagh.
The spot-kick was given when the Spurs striker was taken down by Chelsea goalkeeper but there were shouts for an offside.
Referee Michael Oliver checked the decision with VAR to decide whether or not Kane had been onside when he received the ball.
The VAR replays appeared to show Kane as being level with Cesar Azpilicueta. The plot twist came after the game when Chelsea produced footage from their in house video analysis department which appeared to show Kane was offside.
VAR FOOTAGE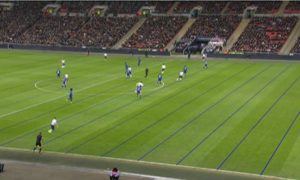 Chelsea Footage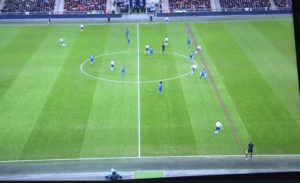 The managers view
Chelsea manager Maurizio Sarri felt that his staff had a better vantage point:
"I saw the video from our camera a few minutes ago, it was offside. Our camera was in line with Kane, and it was offside, but it's not important.
"With the head, it's offside. But it's not important. It was important that the linesman stopped the run, he didn't follow the ball, so he had a big influence on our defenders, and at the moment I think the English referees aren't able to use the system.
"They need to study better the system. It is very strange in the Premier League there is not this system and then in Carabao Cup there is."
"I think it was a clear penalty, it's just whether it was offside or not. VAR is there for a reason and I'm sure they got it right."

Harry Kane on the decision that led to his match winning penalty.

Watch the reaction now on SS Football or follow here:… pic.twitter.com/IIDEz3t5IQ

— Matched Betting Lad (@Matchedbetlad) January 8, 2019
Mauricio Pochettino was just as unhappy as his counterpart despite the contentious call leading to their winning goal: "I don't like it, today we got the benefit but watching the World Cup and La Liga - no one is happy. To get the benefit is nice but I'm not happy to win the game like this.
"I prefer the technology but in a different way and to be clear in the way we use it. I am pro-technology as you can't stop the evolution.
"When are you going to use it? I don't think it's clear - before we use it all clubs need to agree with ideas. If not it's going to be difficult.
"We still have six months to improve the system - there's a lot of work to do."