Dublin manager Jim Gavin spoke to Off the Ball about the efforts to keep his wider squad happy after yesterday's thirteen-point win over Cork. 
The Dubs had 11 different scorers, including five different goalscorers, as a late goal surge put paid to Ronan McCarthy's Rebel challenge.
"We were grateful the guys took those opportunities. Cork started off really well and got six points on the spin. I thought our guys responded really well to that Cork challenge.
"The final scoreline probably doesn't reflect the closeness of the game, but I think both sides were just trying to get two points on the board tonight and we're glad it's for Dublin."
Gavin told Jamie Moore that performances like that of yesterday make matchday squad selection that little bit tougher.
"From our perspective, you'd have to be pleased with that spread of scorers. It's a challenging role that we have to select the 26, we've another ten guys that didn't travel today. The most impressive part of this Dublin squad is their ethos to represent each other for their communities and their clubs. There was a serious intent by them this afternoon, and it's just a pleasure to work with them."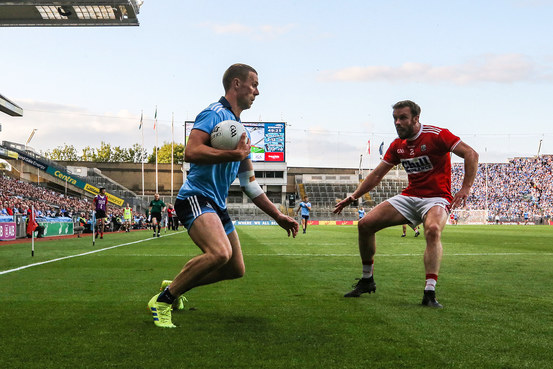 The game was played in front of just 30,214 paying spectators at GAA Headquarters, but the Dublin manager's focus is on a clash with Anthony Cunningham's Roscommon next weekend - after the Westerners lost out to Tyrone in their opening Super 8 clash.
"They all go back to work on Monday, there's obviously recovery that needs to be done. We'll get back together for one or two sessions next week. There's a whole host of guys that didn't [get game time] and will want to train hard to try to get on the matchday squad.
"Most of our training is game-based, we practice relentlessly the skills of the game. We're looking forward to the Roscommon game, we had a really tough game with them in [Dr] Hyde Park, they were very impressive. They're a very skillful team, very athletic, very strong, it's going to be a tough game."
'The final score probably doesn't reflect the closeness of the game' 💭

Jim Gavin speaks to @JamieMooreSport after Dublin's 13-point victory over Cork at Croke Park. A flurry of late goals secured the win for the reigning All-Ireland champions 🎤 pic.twitter.com/AeokU14HSK

— Off The Ball (@offtheball) July 14, 2019
And Gavin, who himself played with the Dublin footballers and won the 1995 All-Ireland, says this group of players take their roles as ambassadors to the younger generation very seriously.
"The overall philosophy is that they have all made a choice to commit themselves to Dublin GAA. It's a representative sport in its purest form. I know a lot of the guys are involved in summer camps, and you hear them talking about the great fun they've had with the next generation of kids coming up."
Dublin are up second in a Croke Park Super 8 double-header next Saturday evening July 20th at 7 pm, with the clash of Cork and Tyrone preceding that game at five o'clock.