Dublin manager Frank Browne feels that the addition of Philly McMahon to the senior camogie set-up is making his team harder, better, faster and stronger.
The defender with the county's senior footballers was brought in by the Dublin Camogie board last October in a partnership deal with McMahon's fitness club Bedo7.
McMahon is tasked with overseeing the strength and conditioning of all Dublin squads from U14 to senior and Browne can already see his work with the senior team pay dividends.
"He's been helping them on two fronts," Browne told Off The Ball. "One is through Bedo7, looking after all our strength and conditioning and all that and I think it's really, really paying off.
"I can certainly see it in terms of the girls, their conditioning, how they're getting on."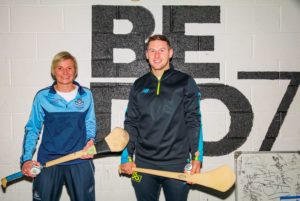 Picture: wearedublin.com (McMahon & Dublin Camogie chairperson Jenny Byrne)
The Girls in Blue are striving to match their achievements of 2017 when they reached the All-Ireland semi-finals for the first time in 27 years.
Browne believes that the Ballymun Kickhams club man's experience of playing in and winning six senior football finals will be of huge benefit to his players with that aim in mind.
"The man has six All-Ireland medals in his back pocket. When he talks, you have to listen because not alone does he talk the talk but he's walked the walk as well.
"He's been a huge addition to us, he's a great fella and he'll admit himself that his knowledge of camogie is limited enough, he'll be the very first to admit that.
"But his knowledge of performance and how to win games is unquestionable. The six All-Ireland medals are proof of that.
"I'm really enjoying working with him and I think he's really enjoying working with us as well which is really important. It's part of that whole culture and dynamic as well."
Browne handed out five debuts in the opening Championship Group 2 win against Meath last weekend; goalkeeper Ciara Tierney, corner-backs Dee Johnstone and Orla Gray, and forwards Sinead Wylde and Kerri Finnegan.
The Dublin boss feels that they all played well enough to earn a start in this weekend's clash with Waterford at Walsh Park which will be streamed live on the Camogie Association's official Facebook page(Saturday from 3:45 pm).
"I was really delighted with them," said Browne. "They're bringing freshness and they're bringing an enthusiasm to it. They're bringing something totally different to it as well and I think that's very important.
"But also they don't have any fear. They're going out to play a game, be it against Kilkenny or Galway, Meath, Waterford, they're going out to put on the Dublin jersey.
"They're not carrying any baggage into the game, they're not carrying big defeats or big wins or big losses or anything into the game. They're just going out to play the game.
"They're just going out to play the game of camogie that's there in front of them. I love that joy of youth that they bring to it."