Whatever of the frustrations Rob Kearney faced in acquiring a contract extension from the IRFU, Alan Quinlan acknowledged that the Leinster man is nevertheless occupying a charmed existence. 
Speaking to Off the Ball shortly after announcing his as yet unsigned contract, Rob Kearney admitted that the real sticking point between he and the IRFU was whether the contract should run for nine-months or two-years.
At 33-years-old, the nine-months both parties ultimately ended up agreeing on will likely see Kearney become Ireland's sixth player to eclipse the 100-cap mark. Be it with some measure of World Cup success also, all the better for the Leinster man.
Yet, considering his own final years with Munster, Quinlan, a player whose own career would admittedly be the envy of most others, detailed the difficulty of trying to hold on when it seemed the province could decide one way or another whether the Tipperary native was worth keeping around.
"I had this experience at the end," Quinlan explained on Tuesday's OTB AM, "but it was very different from Rob's.
"He's been a starter in the Irish team all the time, I wasn't."
In the earlier days it was very interesting. There was no negotiating, we just got an offer and you kind of just accepted it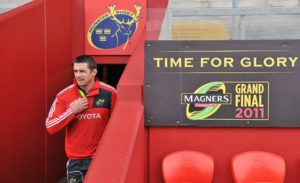 "It all depends on what level you're at," Quinlan recalled.
Playing throughout an era where Irish Rugby transformation into a high-functioning professional unit, Quinlan's recollections of early contract negotiations at Munster bear little or no resemblance to the individually catered format currently being used.
"In the earlier days it was very interesting," Quinlan explained, "there was no negotiating, you just got an offer and kind of accepted it.
"Then I remember Philip Browne (IRFU CEO) came out to our hotel and there would be meetings going on all day, guys just going in and out."
Nearer the end, however, Alan Quinlan's priorities took on an even greater simplicity.
"I was fighting," Quinlan admitted, "trying to hang on with Munster at the end just to get another one-year-deal."
Retiring in 2011 only a few weeks shy of his 37th birthday, it's a fight Quinlan clearly won on a number of occasions.