FIFA has confirmed the match schedule for the 2022 World Cup in Qatar. 
The 60,000-seat Al Bayt Stadium will host the tournament's opening game on Monday November 21 2022.
During the course of the group stage there will be four different kick-0ff times, 1pm Doha (10am Irish time), 4pm (1pm Irish), 7pm (4pm Irish) and 10pm (7pm Irish).
The 80,000 capacity Lusail Stadium will host the final, exactly a week before Christmas, on Sunday December 18th with a 6pm local kick-off time (3pm Irish).
The final round of group games will have 6pm (3pm Irish) and 10pm (7pm).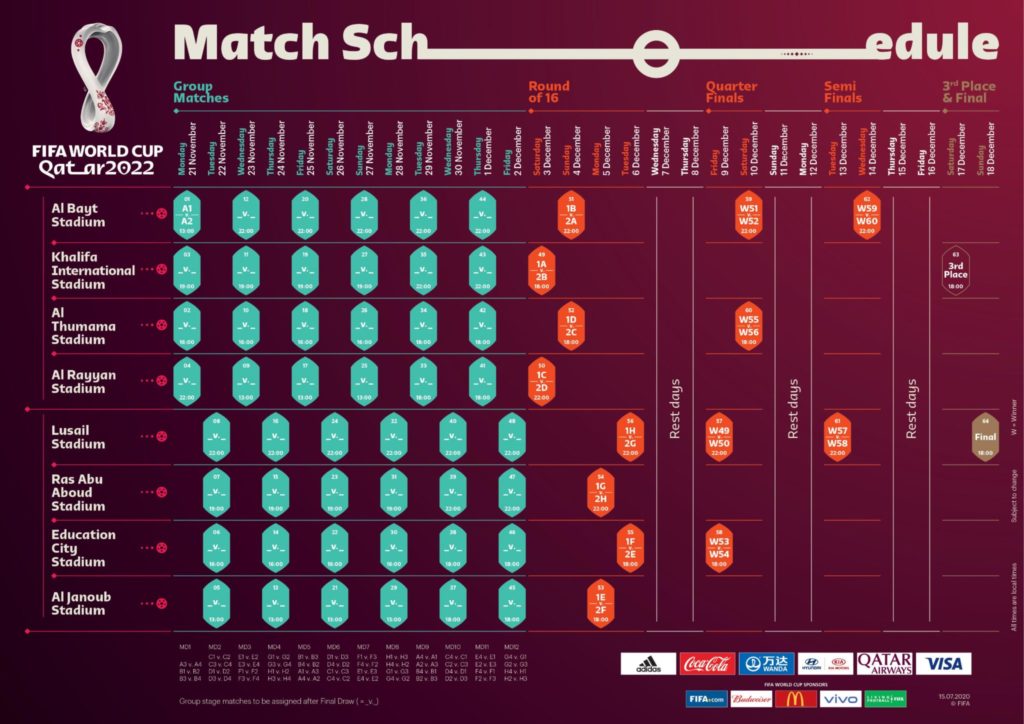 FIFA claim that the compact geographical nature of the 2022 World Cup "will allow organisers, for the first time, to optimise specific match demands for the benefit and comfort of fans, teams and media."
They say kick-off times will be allocated to provide a more beneficial viewing time to those watching at home.
Meanwhile, a United Nations report has highlighted "serious concerns of structural racial discrimination against non-nationals" in Qatar.
Around two-million migrant workers are employed in the Gulf state, the majority hailing from south-east Asia and east and west Africa.
The UN report claims that a "de facto caste system based on national origin" exists in Qatar, "according to which European, North American, Australian and Arab nationalities systematically enjoy greater human rights protections than South Asian and sub-Saharan African nationalities."
The European World Cup qualifiers were due to get underway in March of 2021. There will be ten groups of five or six, with each of the group winners qualifying automatically.
The ten group runners-up would be joined by the best two Nations League group winners who finished outside the top two of their qualifying group.
Those twelve teams will then be divided up into three play-off paths, with three more teams qualifying for the World Cup.