This morning on 98FM's Big Breakfast, we caught up with Peter Andre who is staring in Grease the Musical at the Bord Gáis Energy Theatre later this month.
Peter is taking on the role of Teen Angel, which he'll share with our very own Samantha Mumba when the show comes to Dublin on the 17th September.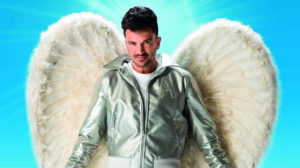 While chatting about new music, Peter came up with the AMAZING idea for his son to re-record Mysterious Girl when he's a bit older.
"I said to Junior, he's 14 years old right, he's got an eight-pack, I said to him.. when you're twenty years old you should re-do Mysterious Girl..make it a really fresh version, do your own take on it... it'd be quite funny"
Junior who also loves singing and dancing is the spit of Peter..
We would LOVE to see this remake happen.
Peter also told us about his thoughts on that famous scene in Human Traffic where Danny Dyer's character rips the absolute piss out of him..
And then told us how years later the pair of them ended up eating dinner together.
"So I remember in the 90's when this came out, everyone was ringing me, saying oh my god you gotta sue this company because they've been saying all these derogatory things about you.."
Even though he heard loads about the movie at the time, he never actually got around to watching the scene with Danny Dyer.
"Years later, I'm sat on a table with Danny Dyer, I had no idea this was the guy everyone had told me about years earlier and we're talking about family.. and he's a really nice guy.. and when he got off the table, someone turned around to me and said did you know that's the guy in Human Traffic"
After their dinner, Peter went home and finally watched the movie. He LOVED it!
Now the question arises, will he get a cameo in the sequel?
Catch Peter as Teen Angel in Grease the Musical from the 24th - 28th September.