A couple of weeks ago, Cooper from 98FM's Big Breakfast took on the challenge to create a Bollywood Remix of Maniac 2000!
Why you ask? Well, that's a good question.
It all started when Cooper revealed he was asked to DJ at Dublin's Biggest Bollywood Dance night in Club M!
But there was just one problem... Cooper has never played a Bollywood club night or know many Bollywood dance songs!
A listener called Kevin had the perfect suggestion for Cooper and that was to do a Bollywood remix of Ireland's favourite dance song.
And so began the journey to create Maniac 2000, the Bollywood Remix.
Tomorrow on #98fmBigBreakfast we're FINALLY going to hear Maniac 2000, The Bollywood Remix 🎉🎉 pic.twitter.com/L4nrNT7Hbq

— 98FM (@98FM) October 10, 2019
We enlisted the help of Aayush Man who is an Indian pop star and rapper who just happens to live in Dublin to lay down the vocals on the track.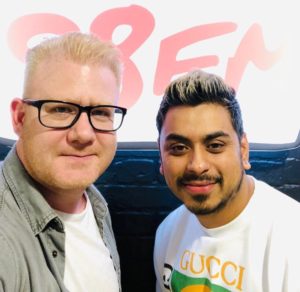 Take a listen to a little teaser clip below and to hear the full track, stay listening to 98FM's Big Breakfast, weekdays from 6am.