Health officials have announced a further 68 coronavirus-related deaths alongside 556 new cases.
Officials said 50 of the deaths happened in February while 15 occurred in January and two occurred in February.
Of the cases announced this evening, 163 were in Dublin with 45 in Limerick, 38 in Galway, 34 in Cork, 29 in Waterford and the rest spread across 20 other counties.
This afternoon, there were 1,106 COVID-19 patients in Irish hospitals with 182 people in intensive care with their symptoms.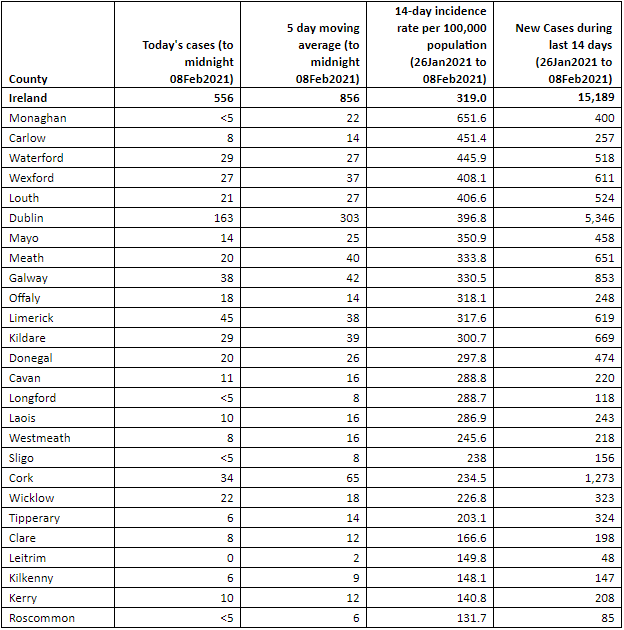 Ireland's 14-day coronvirus rate per 100,000 people. Image: Department of HealthThe 14-day rate of the virus in Ireland now stands at 319 cases per 100,000 people.
Monaghan still has the highest rate in the country at 651.6 with five counties reporting 14-day rates higher than 400.
Some 121,399 COVID-19 PCR tests were carried out in the past week - with 5.9% coming back positive.

As of Saturday, some 236,996 vaccine doses had been administered around the country.
152,652 people had received their first dose while 84,344 people had received two doses.
The seven-day incidence is 138.8, while the five-day moving average is 856.
The death toll in Ireland now stands at 3,752 with the total number of cases at 204,940.
The figures account for the denotification of three deaths and 13 cases. One death is still under investigation.