GAA analyst Joe Brolly has reacted to his dismissal from RTÉ's All-Ireland Final replay analysis panel this weekend.
It's after a row erupted over remarks made by the analyst about Meath referee David Gough during the drawn Dublin/Kerry match.
The Derryman has been replaced with Donegal selector Stephen Rochford.
If anyone has a spare ticket for the replay, I've just been let down..
— Joe Brolly (@JoeBrolly1993) September 11, 2019
A group of Dubs fans is protesting at Croke Park this afternoon about the decision.
Josh Pray Calls It A Day
Meanwhile, it's hoped there can be a "positive backlash" after abuse towards Josh Pray.
The American comic was brought here by Tourism Ireland after he posted videos about the GAA to his 175,000 subscribers.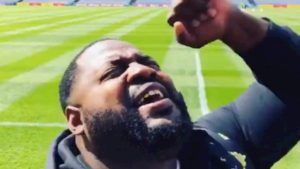 But he has announced that he will no longer be posting about Irish culture after receiving some abuse online.
Darrach O'Se hosts a podcast promoting the Irish language- he says it's a real shame.
"A lot of people in Ireland are very surprised and very disappointed by the fact that he feels he can't talk about this anymore.
He continued, "I say come back Josh, we'd love to see you again- and maybe next time, we might even teach you some Irish."
Follow @98FM on Twitter for the latest Dublin news