Thousands of people on their way to All Together Now in Waterford are stuck in stand-still traffic.
Drivers heading to Curraghmore Estate are complaining of queues of well over an hour to get into the car-parks.
Festival organisers and Gardai are being criticised for not having a physical presence, and for not updating those sitting in cars.
One person tweeted:
"We've been in traffic for 2 hours and are about 700m closer to the festival. Terribly management and communication. Nobody knows what is happening. Very close to bailing and going home."

Organisers of the sold-out festival are advising people to follow the directions of Gardai.
However, many of those queuing say they have yet to see a Garda or Garda vehicle.
IMPORTANT TRAVEL INFO❗️
Please do not put Portlaw into your maps. Please follow the Garda Traffic Plan: https://t.co/9fngJqarhJ & go to the correct gate

🔵 Blue gate map link: https://t.co/nmz1zg7Fa5

🔴 Red gate map link: https://t.co/y9zPJzmLdihttps://t.co/hWhAU608Qj#ATN19

— All Together Now (@ATNfestival) August 2, 2019
People have been tweeting of "hours delay no support no guards and incredible bad tail backs".
A number of people have likened the All Together Now traffic to the doomed Fyre Festival in their social media posts.
Pictures and videos online show hundreds of cars lined up on back roads, with people standing outside them.
Organisers have even had to deny the gridlock is so extreme that the festival has been cancelled.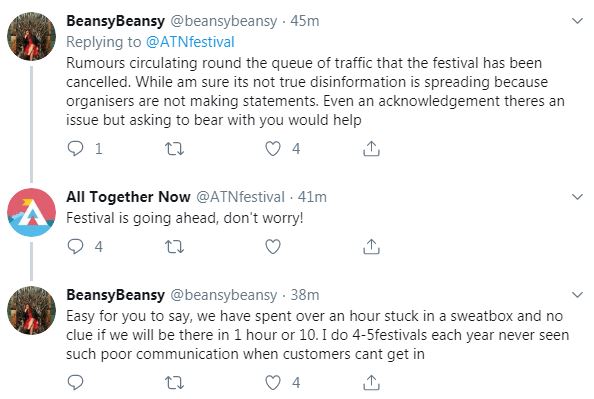 All Together Now opened to rave reviews for its first year last year, prompting organisers to up the capacity.
The crowd has swelled from 10,000 in 2018 to 15,000 in 2019.
It is believed a combination of more people and a poor traffic management plan have led to the gridlock.
The National, Patti Smith and Hot Chip will headline the festival at Curraghmore Estate this weekend.
Follow @98FM on Twitter for the latest Dublin news