Creme Egg McFlurry
We're not usually ones for rumours, but we've a good feeling about this Creme Egg McFlurry one.
Over in the UK it's been announced that the Creme Egg  is back on the menu.
This is the 17th year in a row that it has return for a limited time.
In the UK, it's also been announced that the Cadbury Caramel ice cream is also back.
The two icons flavours that were removed from the McDonald's menu a while back, but made a return last year - just in time for Easter.
We've contacted McDonald's are are awaiting  confirmation.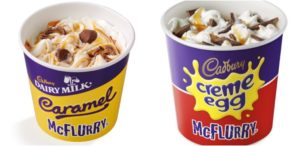 Follow @98FM on Twitter for the latest Dublin news